Description
Welcome to Of Course!, Cambridge Center for Adult Education's Gala Benefit Party
Of Course! is a celebration of all that is best about CCAE, featuring irresistible mini-classes at CCAE on topics that have caught the fancy or passion of our best CCAE instructors, followed by a brass band parade to The Charles Hotel. There we will enjoy small bites from the best restaurants in the city, cocktails, wine, and beer, and best of all, the spirited conversation and sense of convivial community that CCAE is famous for, all while celebrating CCAE's 80th birthday, and raising a toast to our Honorary Chairs, Jeannie and Matey Smith.
Agenda:

4 - 6:30 pm
"A Menu of Classes at CCAE"
42 & 56 Brattle Street, Cambridge, MA
Choose your Learning Adventure! Enjoy interactive mini-classes on everything from card trick magic to Spanish tapas, as well as conversations on food, art, and literature with special guests and CCAE faculty.
7 - 9 pm
"A Taste of CCAE"
The Charles Hotel Ballroom
Individual Tickets - $275
($200 of each ticket is tax-deductible)
"Tastes" Provided By: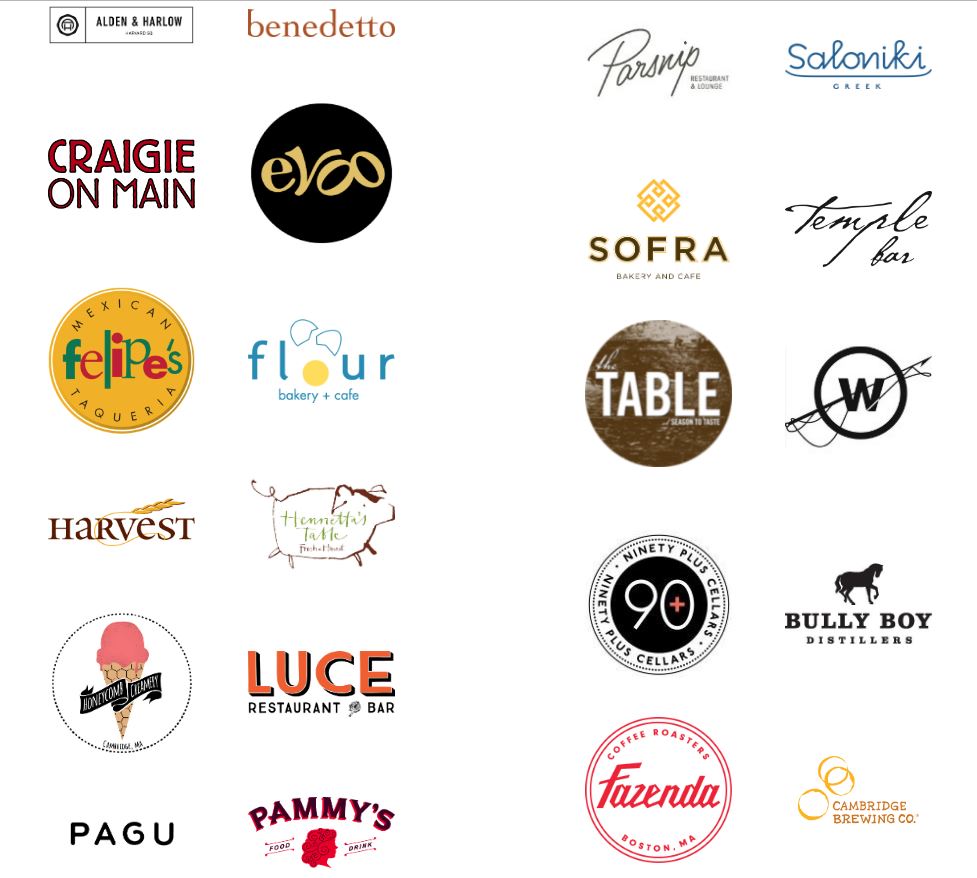 Visit ccae.org/ofcourse2019 for more information.
---
Mini-Classes for Of Course!
Your ticket includes 2 mini-classes. Please note, some classes are offered for both session 1 (4:45 pm) and session 2 (5:45 pm). Please select your top two choices, and we will do our very best to accommodate your wishes.

EAT, DRINK, AND BE MERRY
The Romance of Chocolate and Wine with Victoria Kichuk
Come on a journey to discover the intertwining story of chocolate, good wine, and romance. Why does this decadent combination make your heart flutter and your spirits soar? Learn how to match your favorite chocolates with the compatible wine varietals. Best of all, sample some delicious wines and chocolate treats from around the world in irresistible pairings. Sessions 1 & 2

A Trip to the Tempting Terrain of Tapas with Luis de Haro
Friends, family, and food are a way of life in Spain and nothing signifies this cultural lifestyle better than the making and eating of classic tapas—little bites with big flavors! Come learn how to make an array of regionally authentic tapas. We'll pair our tapas with Spanish-style homemade sangria. Sessions 1 & 2

Welcome Spring with a Cocktail! with Brendan O'Toole
Let's brighten up your evening with a sampling of enticing springtime cocktails. Learn how to mix and make seasonal cocktails with locally-sourced spirits. Taste classic and craft drinks, and learn to make large batch and single-serving cocktails. Session 1

Beer and Art History with Kris Butler
Beer and art have a long history together, from Egyptian hieroglyphics to Picasso, Renoir, Manet, and Dr. Suess! You will taste historic styles while traveling through time and across cultures on a survey of beer in art history. Session 2

Go Natural – A Tasting of Natural Wines with Lauren Hayes, Sommelier, Pammy's Restaurant
At Pammy's, the wine list is made up exclusively of natural wines from growers and makers who embody the restaurant's ideals of quality, care, and compassion. Taste your way through the fascinating world of natural wines with the Wine Director at Pammy's, Cambridge's hottest new restaurant and the Boston Globe's Restaurant of the Year. Session 1 & 2

EXPRESS YOURSELF
Special Edition of the Unknown Italy with Elena Lori
Discover the hidden treasures that abound in the region around Venice. You will get a guided tour of the secret jewels of Elena's native region, as well as a great lesson on how to survive—by using a smile in place of Italian fluency! Session 2

Lift Your Voice in Song! with Robin Romine
Everyone is able to sing—you just have to believe (and learn) that you can. In this class, we will explore the fundamentals of singing and improve your tone and pitch. Singing is the greatest of human expression and pure joy. Just take a seat and channel positivity! Sessions 1 & 2

Line Dancing 101 with Aly Madan
Looking to be the star of the next wedding you attend? You'll learn choreographed patterns of steps to popular songs and feel comfortable on the dance floor with or without a partner. Line dancing is a great way to burn calories, gain confidence, and most importantly, have fun! Session 1

From Cha Cha to the Waltz: Ballroom Dancing with Jim Spellman
This beginning class provides the foundation of moving to music in partnership. We will learn basic dance components, timings, rhythms, key foot patterns, and essential leading and following techniques. We will be going over the Foxtrot, Waltz, Merengue, Cha Cha, Swing, and American Tango. Come partnered or not! Session 2

Mindful Consumption with Billie Jo Joy
Self-care is the first step to take when aspiring to a healthy life. If you take good care of yourself, you are automatically taking good care of your family, community, and society. In this class you will become more aware of your habits of consumption in four main areas of life—food, body, technology, and sleep. Session 1

A Guided Meditation with Carol Goodman
Have a seat, close your eyes, and allow your instructor to take you on a quiet, personal journey. This guided meditation will bring you into the present moment, cultivating a greater self-awareness, contentment, and relaxation. The relaxation response helps to slow the heart rate, lower blood pressure, improve the immune system, deepen sleep, improve digestion, and alleviate stress. Session 2

Why Tiny Houses, Why Now? with Miranda Aisling, Artist and Founder, Miranda's Hearth
The past decade has seen the emergence of the tiny house movement as people move away from larger homes towards simple living in less than 450 square feet. Join Miranda Aisling as she discusses the timely emergence of this movement, why it is growing, and what it means. See pictures of her wonderful tiny house "Aubergine," which she built as a public art project in 2015. Sessions 1 & 2

EXPLORE
CONVERSATIONS Start Here! with Anthony Brooks
Join Special Guest Anthony Brooks, Senior Political Reporter for WBUR, as he and panelists Beth Lindstrom (former Republican candidate for Senate) and Wilnelia Rivera (Democratic political strategist most recently for Ayanna Pressley) seek to untangle the thickets of the 2020 presidential race. Session One will examine the candidates, and Session Two will talk about various slates. At the conclusion of the second session, Anthony will solicit your ideas about next season's topics for Conversations on the Edge.

This Of Course! session is the final discussion of the year of CCAE's new cutting-edge series, Conversations on the Edge, which addresses pressing issues through dynamic conversations with thought leaders, scholars, and activists, encouraging the declaration of diverse voices through stimulating audience participation. Sessions 1 & 2

Why Opera Was Once Considered Pop Music with Michael Frank
While opera historically has been portrayed as the most difficult, obscure, inaccessible, and snooty form of musical art, in fact, it was quite the opposite! For a good part of its history, opera was seen very much as a mass market, popular genre, often looked at superciliously by those of "refined" musical taste. Focusing on Mascagni's Cavalleria Rusticana, we will explore both why this art form was once considered popular art and—perhaps more important—why it is among the most beloved musical art forms today. Sessions 1 & 2

A Civil War Incident with Rick Johnson
A young Rebel soldier discovers a Yankee soldier in a Virginia barn in the last winter of the Civil War. In the ensuing shootout, the Rebel has to make a difficult moral choice. What ended up happening? How did he make his final decision? What would you have done if you had been in his place? And what questions about today's world might this story pose for us in 2019? This fascinating narrative comes from a Civil War aficionado and great story-teller of this tale about his forebears. Rick the brother-in-law of our Of Course! 2019 Honorary Chairs, Jeannie and Matey Smith. Session 1 & 2

Is Your Home Computer Safe? with Vadim Droznin
Learn about the dangerous threats that imperil every home computer-user. Discover how you can defend and protect your computer, network, and mobile devices against cyber threats. We will explore how to create safe passwords and protect your personal Wi-Fi and important data. Session 1
Snap It: iPhone Photography with Marjorie Wein
Photos reflect what we see in the world. With an iPhone, we can now share our vision of what we see easily and more spontaneously. In this class, we'll explore the different features on the iPhone camera. We'll also introduce you to features in the Photo App so you can find, edit, and share your favorite photos. Session 2
Constitutionally Speaking with Brian Bixby
It's not just a document. The Constitution determines how we elect Presidents and why you can't be ordered to put up soldiers in your bedroom. This class will examine several episodes in which the Constitution influenced the course of American history. Session 1
Now You See It…The Trick of Card Magic with John Bach
Have you ever seen amazing card tricks on YouTube or TV talent shows and wondered how they are done? Wonder no more! Professional magician John Bach will teach you some spectacular card tricks to baffle family and friends—tricks that are easy to perform and require no sleight of hand. Sessions 1 & 2
A Beginner's Guide to Palm Reading with Sally Cragin
Of all divination practices, reading palms is one of the oldest and most highly regarded. We start with larger observations about palmistry and what it can reveal, and we'll work our way into reading your palm, with more nuanced details about your character, your potential, and even your life expectancy! Sessions 1 & 2
CREATE
The Joy of Jewelry-Making with Laurie Savage
Try your hand at making jewelry you can wear out of the workshop and into the party in this enjoyable and practical workshop. Join us to create a sterling silver pendant or pair of earrings using surface textures. Basic metalsmithing skills will be covered, including hammering, drilling, and plier work. Sessions 2
The Wonderful World of Watercolor with Bryan Ramey
Whimsical, immediate, and highly expressive, watercolor is a vibrant medium used by master and novice alike to put life in even the most mundane image. In this sampler class, we will work from still-life, give expression to a rustic country picnic, while learning some basic and advanced skills of this marvelous medium. Sessions 1 & 2
Spitting Image? Portrait Drawing with Jeremy Durling & Brett Gamache
Enjoy a drawing lesson in portraiture from our two acclaimed Studio School instructors. Working from two live models, we will analyze the face and its relationship to the entire head. By simplifying the human head down to basic planes, shapes, and lines, we will learn how to achieve a "likeness" of the sitter. Sessions 1 & 2
Printmaking: Transfer Ink with a Touch with Kelly Slater
Printmaking has a rich history, and the materials used to create prints have been as diverse as art styles throughout history. Each student will fashion an accordion-fold artist's book using the versatile trace-monotype technique—a printmaking method favored by Paul Gauguin, and easy to do on any flat surface! Sessions 1
---
Raffle
Tickets are on sale before the event at the registration desk at CCAE or at the event. $20 per ticket, six for $100.
A Night on the Town: Nab the toughest reservation in town at Pammy's Restaurant, named Best Restaurant by the Boston Globe. Owners Pam (on our Host Committee!) and Chef Chris Willis will oversee your experience - dinner for six with wine pairings. Not only do you have a reservation, but you have it for 7:30 pm on a Saturday night this spring!
A Weekend in Town: Come to Harvard Square for the weekend, with a two-night stay at The Charles Hotel, breakfast at Henrietta's Table, Sunday brunch at Alden & Harlow, and chef's tasting menu for two at Parsnip Restaurant.

Croquet, Anyone?: Enjoy an afternoon of backyard croquet in Longfellow Park for six people with Reid Fleming, 7-time National USCA Croquet Champion and his wife and CCAE's Director of Development, Mary-Catherine Deibel, followed by a tea party with cucumber sandwiches, restorative iced tea, and, of course!, Pimm's Cup!

Hidden MIT: You are invited to take a 2 1/2 hour tour to uncover the hidden parts of MIT: the second cyclotron ever built, unusual art, underground tunnels and more. See the parts of MIT even students don't know about. This is a walking adventure, with plenty of stops, for up to 10 people. Led by Dr. Peter Fisher, Head of the Physics Department. Possible dates are May 4, 5, 25, or 26.
Cuisine Chez Nous: You've always wanted to--now you can! Arrange for you and 9 friends to take a cooking class in CCAE's cheerful teaching kitchen with our charismatic and accomplished chef and culinary program director Ploy Khunisorn. She will customize a class to your liking: Asian street food? Dumplings? Knife Skills? Vegetarian/Vegan? Your choice!
Combing Cambridge for Art with Jason Weeks: Experience and appreciate the array of art in our fair city with a Cambridge Arts Council Public Art Tour. Take a tour that features highlights of Cambridge's impressive collection of public art with Cambridge Art Council's Executive Director, Jason Weeks, and meet one of the artists who created one of the works of art. Tour can include up to 15 of your nearest and dearest friends, or use this as a team-building exercise for your business!