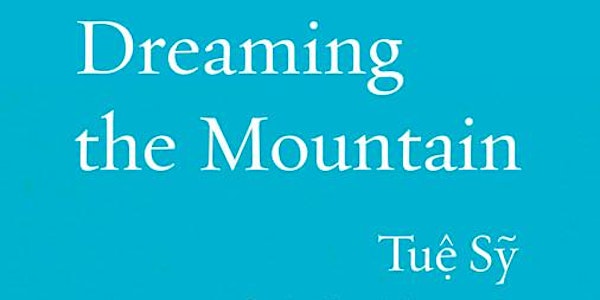 Of Consequence: Dreaming the Mountain
Please join us as Martha Collins and Nguyen Ba Chung read from and discuss Dreaming the Mountain, their translations of Tue Sy's work
Date and time
Wednesday, June 14 · 4 - 5pm PDT
About this event
Although this event is free, donations to support our mission and our projects such as the Of Consequence series are greatly appreciated. Thank you.
Dreaming the Mountain compiles and translates poems written over a period of almost forty years by Vietnamese Buddhist poet and scholar Tuệ Sỹ, who was imprisoned in Vietnam for fourteen years and at one point condemned to death. Translated by poet-translators Nguyen Ba Chung and Martha Collins, the poems trace Tuệ Sỹ's journey from his student and professor years in Saigon, through a time of solitude following the 1975 end of war, and into the years of his first imprisonment and temporary release. The book concludes with two poetic sequences written between 2000 and 2006.
Tuệ Sỹ's poems reflect one of the most turbulent periods in Vietnamese history. They make only occasional reference to his life as a monk, which began when he was seven years old; but images of his early life, deepened by his study of Buddhism, permeate his poems and layer his perceptions of the natural world with significance. In solitude, Tuệ Sỹ dreamed of a distant peak in the Truong Son mountains, which became for him a representation of Vietnam in a time of upheaval and is the source of the book's title. The country's difficulties are most explicitly referenced in poems written before and during his first imprisonment and release, which are suffused with concern and sorrow. Tuệ Sỹ wrote no poems during his final ten years in prison, but following his release he wrote the book's concluding poems, which, though tinged with sadness, are much more hopeful. Recognized as one of the most important Buddhist scholars in Vietnam, Tuệ Sỹ is well known in the United States for both his dissidence and his poetry, as he is in Vietnam, where he lives in what is now Ho Chi Minh City.
~
"Dreaming the Mountain is the first English anthology of Vietnamese Buddhist monk Thich Tue Sy's poetry. Although he's a prominent figure in Vietnamese culture, you won't find much of Tue Sy's work in the West, but translators Nguyen Ba Chung and Martha Collins have taken a step toward filling the void with their forthcoming bilingual book. An evocative, lyrical, and quietly complex collection, Dreaming the Mountain gives English speakers a taste of a truly extraordinary man's work."
—Rachel Abrams, Tricycle: The Buddhist Review
https://tricycle.org/magazine/dreaming-the-mountain-review/
~
Nguyen Ba Chung is a writer, poet, and translator whose essays and translations have appeared in Vietnam Forum, New Asia Review, Boston Review, Compost, Nation, Manoa, and elsewhere. Beginning in 1987, he was associated with the William Joiner Center of the University of Massachusetts Boston, responsible for bringing Vietnamese writers to Boston, translating their poetry and short stories, and introducing them to an American audience. In 1996, he started working full-time there and began a Summer Study Program with Hue University, Vietnam. He is the co-translator of over a dozen previous works, including A Time Far Past; From a Corner of My Yard; Distant Road; Six Vietnamese Poets; Le Nguyen Zen Poem; and Carrying the Mountain and River on Our Shoulders. Several collections of his own poetry have been published in Vietnam.
Martha Collins has published eleven volumes of poetry, most recently Casualty Reports (Pittsburgh, 2022) and Because What Else Could I Do (Pittsburgh, 2019), which won the Poetry Society of America's William Carlos Williams Award. Her previous books include a trilogy of works that focus on race, beginning with Blue Front (Graywolf, 2006) and followed by White Papers and Admit One: An American Scrapbook (2012, 2016, Pittsburgh). Collins has also published four previous volumes of co-translated Vietnamese poetry, and co-edited a number of volumes, including, with Kevin Prufer, Into English: Poems, Translations, Commentaries (Graywolf, 2017). Founder of the Creative Writing Program at the University of Massachusetts Boston and former Pauline Delaney Professor of Creative Writing at Oberlin College, Collins lives in Cambridge, Massachusetts. Her website is marthacollinspoet.com