Description
Hello Brothers & SiSTARS....You asked for it and here it is!!!
Come join OES SiStars and Brothers for a weekend of fun and fellowship. For more information contact Sis. Katrina Williams 770-823-6114.
SiStars Reunion Cruise Getaway
3 Day Bahamas Departing from Port Canaveral Florida
Thursday October 27, 2016 thru Sunday October 30, 2016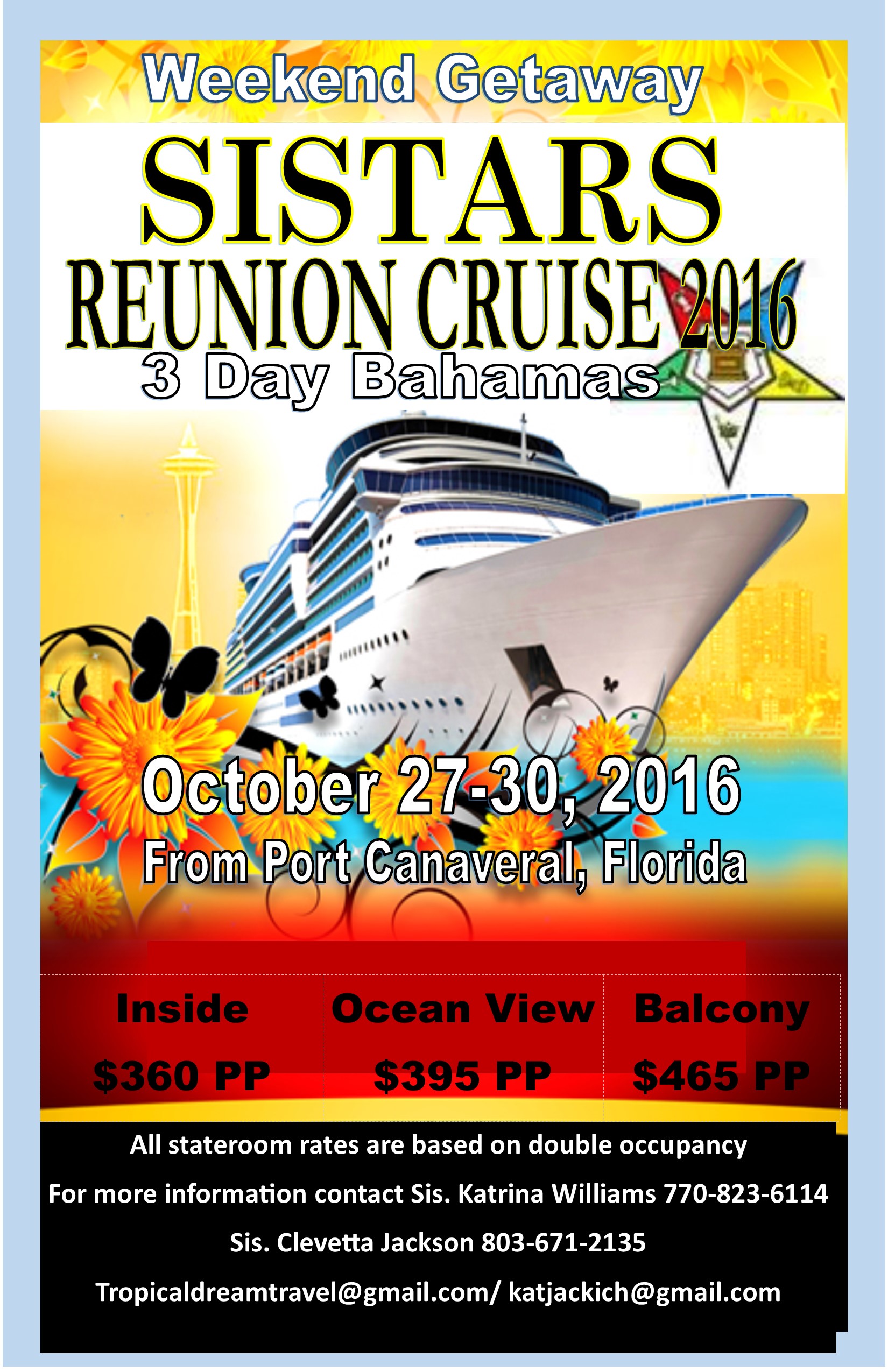 PRICES
Inside Cabin
Double - $360 per person
Triple - $312 per person
Quad - $290 per person
Ocean View Cabin
Double - $395 per person
Triple - $340 per person
Quad - $310 per person
Balcony Cabin
Double- $465 per person
Triple- $390 per person
Quad- $350 per person
Balcony and Suites are available, please call 888-705-0950 for pricing. Early Bird Specials and Military Discounts Available.
PACKAGE PRICE includes
Accommodations on the ship for 3 days aboard Carnival Victory
Private Cocktail Party
All meals, entertainment and most on board activities
All taxes and port charges
DOES NOT included
Gratuities of $46.00 per person
(Can be added to monthly installment or secured with credit card or $200 cash deposit, prior to boarding)
Travel Insurance (Premium can be added to monthly installment or can be purchased 2 weeks prior to sailing)
Transportation to Port Canaveral ( Transportation can be arranged). Air Travel can be arraged for you if needed. Travel from Allendale, South Carolina on Motor Coach is $100.00 Per Person. Stops will be made for pickup in the Hampton area.
DEPOSIT & INSTALLMENTS
"Hold My Spot" Deposit - $50 is due by no later than February 15, 2016. Full per person deposit is $100 Per Person ( Non-Refundable upon cancelation)
Monthly payments can be made each month
Additional $150 is due by no later than June 15, 2016
Final Balance is due by August 1, 2016.
Full Fare can be paid at anytime by calling the office at 770-823-6114.
POLICIES
Passports are not required but STRONGLY SUGGESTED.
(If you get off ship in the Bahamas and miss re-boarding, you will not be able to board any plane without passport)
If not using a passport, CERTIFIED BIRTH CERTIFICATE AND STATE/GOVERNMENT ISSUED ID is REQUIRED. In some cases a CERTIFIED COPY OF MARRIAGE LICENSE may be required.
Please register in the SAME NAME that is on the STATE /GOVERNMENT ISSUED ID that you will provide for boarding the ship.
All minors must travel with a parent.
All payments are non-refundable and non-transferable if booking on the group early saver.
Please adhere to the monthly payment schedule to avoid possible cancellation. If you are unable to make a scheduled payment please contact us as soon as possible.
**Agent will provide additional information regarding refunds..
TRAVEL INSURANCE (Call for Quote)
Ask yourself, "Can I afford to lose my vacation investment?" Sickness, injury or worse can occur when you are least expecting it. And not only to you, but to your non-traveling family members.
Without travel insurance:
Would you be able to pay all of your emergency expenses out of pocket and in advance?

Would you be covered if you injured yourself on your trip and required emergency assistance or medical evacuation back to the U.S.?

Would you be able to leave immediately if an elderly parent passed away or there was a medical emergency in your family back home while you were on your trip?

Would you get your money back if something happened before your trip and you needed to cancel?
Travel insurance helps protect against unforeseen emergencies which can occur at any time. It also helps protect you against other circumstances like travel delay, lost or stolen baggage and personal items, missed connections, hurricanes and so much more.
In short, travel insurance is Peace of Mind. It allows you to relax and enjoy your vacation without worry. If you don't think it's worth the cost, just ask someone who's needed to file a claim.
CONTACT INFO
Tropical Dream Travel
Office Agent Williams (770) 823-6114
Email: tropicaldreamtravel@gmail.com/katjackrich@gmail.com and Sis. Clevetta Jackson 803-671-2135 Cleveyj1@aol.com
If you would like information mailed or emailed to you or someone else, please send an email at tropicaldreamtravel@gmail.com or inbox us your email address.https://www.facebook.com/katjackrich