Sales Have Ended
Registrations are closed
Online ticket sales have now ended. However, we may still have space available. Please contact us at theresa@outdooredadventures.com or call 503-857-7884 to discuss late registration.
Sales Have Ended
Registrations are closed
Online ticket sales have now ended. However, we may still have space available. Please contact us at theresa@outdooredadventures.com or call 503-857-7884 to discuss late registration.
Description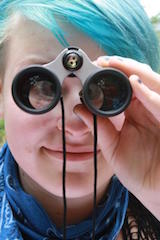 Looking for a fun way to spend a few days this summer? If you'd like to spend some time camping with other teens, Outdoor Education Adventures has what you're looking for!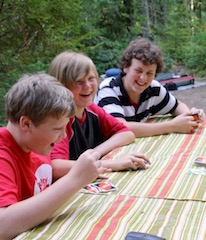 OEA Teen Overnight Adventure is your chance to join other teens (aged 12-15) for three days and two nights of exploring and relaxing in the great outdoors. Participants will spend the days exploring the forest and creek, using their imaginations to create stories and nature-inspired art, and learning simple survival skills. There will also be free time for teens to choose their activity, whether that's spending time playing board games and cards with friends, reading, being creative, or just hanging out. Know how to play a portable musical instrument? Bring it along!
You've never been camping before? Nothing to worry about!
Even if you don't have your own equipment, OEA has a few loaners to borrow.*

Our experienced hosts will teach you important camping skills like how to set up your tent, build and start a camp fire, and how to roast the perfect golden marshmallow.
OEA Teen Overnight Adventure includes meals, camping registration, and experienced guides. Please see FAQ's below for more information on meals.


On Friday, August 11, families are invited to join us for potluck dinner and fun around the campfire from 4:00 - 9:00 pm. Please ask for more information.
Some of the activities teens will be able to participate in: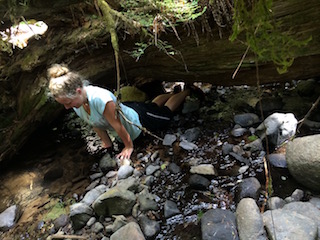 Challenge yourself exploring the creek in unusual ways - like crawling under a log instead of going over it.

Get to know the wildlife.

Go fishing, and maybe even catch a fish!


Learn survival skills, like starting fires without matches or lighters, and making your own wooden spoons using fire.


Be creative or just be silly.


Create stories and artwork that could be featured in future OEA camps for younger kids. Or, take them home.


Spend some time relaxing in your tent, reading, drawing, thinking about life, or even taking a nap.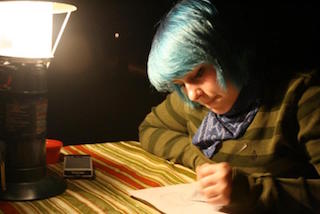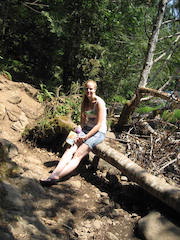 Relax by the creek with a good book or explore on your own terms.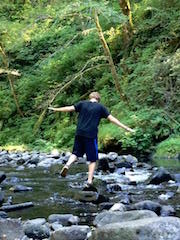 Image by Aislinn Sarnacki_BDN_bangordailynews.com
At the end of the day, gather around a campfire to eat, exchange stories, sing songs, or just relax with friends, new and old.
Then climb into your cozy tent and settle down for a peaceful night, lulled to sleep by the sound of the nearby creek.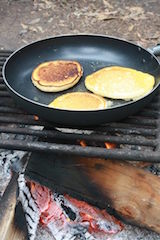 In the morning, wake to breakfast cooked over a campfire.
*Loaner equipment is on a first-come, first-served basis and OEA makes no guarantees to availability. Please contact us to inquire. It helps us to know if the need is greater than our supplies so we can prepare for future events.
About Flying M Ranch
Flying M Ranch nestles into the Coast Range outside of Yamhill, Oregon. - Photo taken April 14, 2017
Continuously operated as a farm, ranch, and timber land by the Mitchell family since 1922, Flying M Ranch has also been welcoming visitors since 1970. For more information on the ranch itself, visit the Flying M website or the Flying M Facebook Page.
Theresa and Neyssa visited Bear Camp in January, 2017. This is the camp we'll be using as home base for our Teen Overnight Adventure.
In January there was still snow on the ground. Come August, the camp will look much different.
More like this picture from August, 2010 - Courtesy of Flying M Facebook Page
We'll be exploring Petch Creek (above, courtesy of Flying M Facebook Page) and the North Yamhill River (below as taken in April, 2017)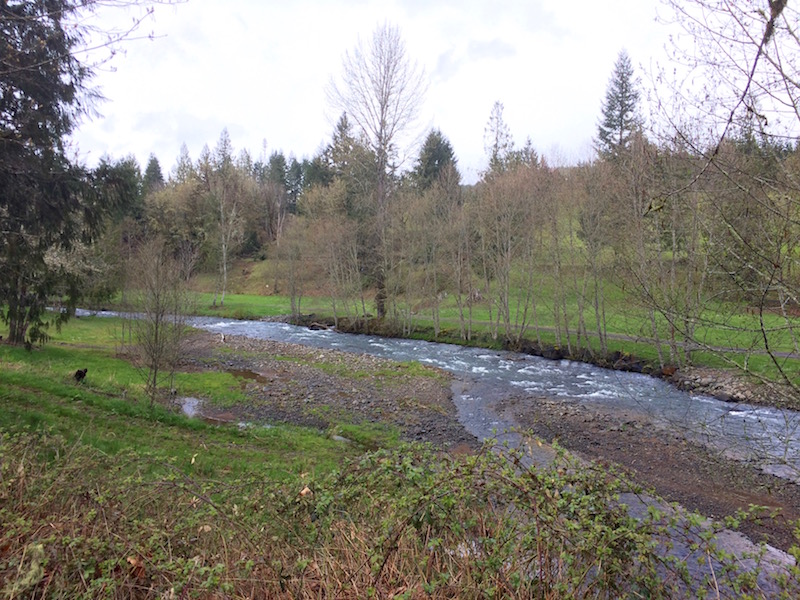 FAQs
Where can I contact OEA with any questions?
Please email questions to either Theresa@outdooredadventures.com or Neyssa@outdooredadventures.com.
Additionally, if your child has special needs (ie allergies, food sensitivities, etc), please let us know so we may prepare. For Teen Overnight Adventure, we will be providing meals, and some of our activities may involve treats such as cake, candy, nuts, etc.
What is provided with Teen Overnight Adventure registration?
Camping: Flying M Ranch is run as a business and there is a fee for camping. Your registration fee to OEA covers camping.

Food: OEA will provide lunch and dinner on day one; breakfast, lunch, and dinner on day two; and breakfast, lunch, and part of dinner on day three (this dinner is a potluck with participant families). We will also have snacks available for all three days. We are NOT in a position to provide specific foods for children with food allergies or preferences; if your child has special dietary needs for health reasons, please plan to provide food and let us know what their restrictions are.

Trained, experienced guides who will be on duty for 55 hours. In addition, all OEA staff and volunteers are given a background check.

Camping gear: we have a limited amount of loaner gear, so this is on a "first come, first served" basis. Please let us know right away if you will be needing to borrow gear, and what gear you think you will need.
I just heard about this and your online ticket sales are closed. Can I still bring my child?
Maybe. Please check with us for availability. "At the door" registration is cash or check only. For morning of information, please call Neyssa at 503-283-9660 by 7:00 am (there is no cell service at Flying M). We try to check and respond to emails before we head out, but cannot be held responsible for late inquiries.
Are there scholarships available?
A limited number of scholarships are available, so don't delay. For more information, please email or call us: Theresa: 503-857-7884 or Neyssa: 503-283-9660.
What should my child bring?
We will send registrants a complete packing list for two nights of camping. The following are suggestions to keep in mind as you're considering registering for this fun adventure:
This is an outdoor event and weather in the Pacific Northwest can be unpredictable. Please make sure your child is prepared. We encourage layering clothing and wearing articles and shoes that can get very muddy and that will protect them from stickery, prickly plants. We may be playing in the water while hiking, so if it's warm enough, hiking sandals of some kind would be appropriate. If you don't mind their sneakers getting soaked, that's fine, too. Depending on weather, rain gear or sunscreen would be a good idea. And a weather-appropriate head covering is always a good idea.
If your child has extreme allergies to things like insect stings, please send appropriate medications, written directions, and let us know.
Please put your child's name on everything and contact us as soon as possible if something gets left behind. It is likely to be chilly in the morning and warm in the afternoon, so layers are likely to be peeled.
What shouldn't my child bring?
Please do not send your child with electronic gaming devices. We want all of our guests to have a fun, "unplugged" time of connecting with nature. We will give time for taking pictures and free time can include listening to music, but again, we don't want picture taking and recorded music to take over the whole day. There is NO internet service available, so if participants want music, they will need to have it downloaded before they come. Toys or devices being used inappropriately during the program will be confiscated until the end, when they will be returned to parents.
Money: there is NOTHING to buy at our program, so there is no need for your child to have money with them.
OEA, Flying M Ranch, or their affiliates, staff, or volunteers will not be held responsible for lost or stolen items.
Refund Policy
In the event that days are cancelled due to insufficient registration numbers, participants will be refunded the full amount of each cancelled day, including the Eventbrite fee when applicable.
Should you find you need to cancel all or part of your registration, OEA's refund policy is the following:
Seven calendar days or more before the first day of camp: 100% refund of camp tuition, including Eventbrite fees
Six-Four calendar days before the first day of camp: 75% refund of camp tuition, minus Eventbrite fees
Three-Two calendar days before the first day of camp: 50% refund of camp tuition, minus Eventbrite fee
One day or any day during the week of camp: NO refund
In the event that you fall in the category of less than 100% full refund or you wish to donate your tuition, your funds will go into our scholarship account to be used by families in need.
A note on poison oak and stinging nettle

Oregon has both poison oak and stinging nettle. While we try to avoid having anyone get into them, we do take the campers off trail for a lot of our activities, and cannot guarantee they won't be affected. Here's what to do if your child thinks they contacted these plants:
Stinging nettle: If brushed against, stinging nettle injects a basic chemical that will immediately cause a temporary, minor rash. The rash is fairly uncomfortable and often invisible, but easily treated with a mild acid, such as vinegar. We generally do "on the trail" treatments with local plants that are known to relieve the sting (usually curly dock, which exudes an acid that neutralizes the base) or by applying banana slugs to the area. This sounds a lot like using leeches, but the banana slug slime is a natural anasthetic (numbing agent) and works wonders; plus, the kids think it's hilarious.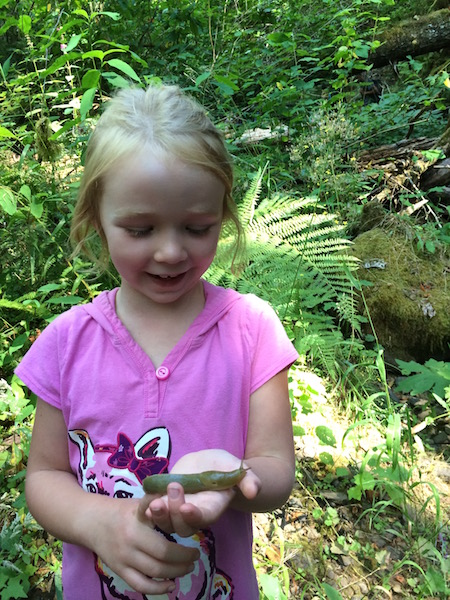 Poison oak: No matter the season, poison oak exudes an oil to which many people (including out staff) are allergic; the itchy rash takes at least 24 hours to appear, so most people don't realize they've come in contact until long after the event. Most children and animals are not sensitive to it, but they can spread the oils to people who are if they've contacted it. Your best protection if you think your child has contacted poison oak is to use a product called Tecnu. In Yamhill County the only place we've been able to find it is at Northwest Logging Supply in McMinnville. Follow the directions on the bottle; do not give your child a warm bath or shower to wash it off or you will only spread the oil. Clothing can be washed with Tecnu, and boots, backpacks, etc can also be wiped down with it. You can even use it on your pets!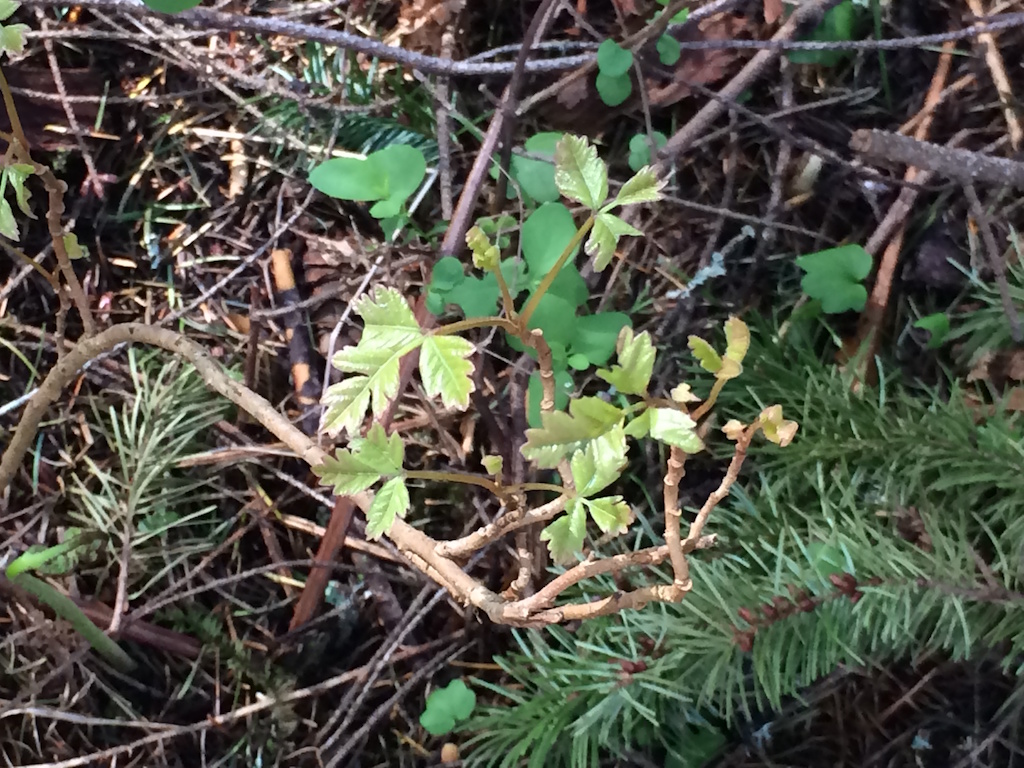 Except as otherwise noted, all images are either from open source or courtesy of OEA staff and friends and are used by permission of participants or legal guardians.