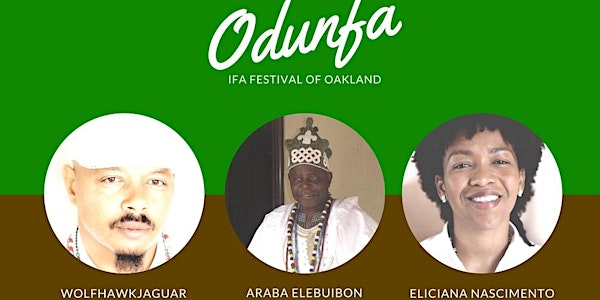 [ODUNFA] Ifa Festival Film Screening VENDOR
When and where
Location
Joyce Gordon Gallery 406 14th St Oakland, CA 94612
Description
On Wednesday May 18, Eliciana Nascimento and Adimu Madyun will screen their films, the Summer of Gods and Search for the Everlasting Coconut Tree, respectively. The Summer of Gods is short film about a young girl named Lili who unites with her Afro-Brazilian religious ancestry on a summer visit with family to their ancestral village in rural Brazil. During her stay, she encounters Orisas who help her find peace with a gift that has previously vexed her. The film is set in the Northeast of Brazil where Afro-Brazilian religious traditions remain strong. Lili's Grandma upholds Orisa traditions as an admired local priestess. SIX VENDOR MAXIMUM Visit www.Ifafestival.com

Who are we looking for
We are looking for high-quality products and services that in their creation support and strengthen our Community!
Crafts women and men, Artisans, Culinary artisans

Healers (massage therapists, counselors, herbalists, etc.)

Spiritual Leaders

Community Activists

Organizations that build and support humanity growth

Health, Nutrition & Fitness experts

For example, are you a Black yoga instructor, doula or nutritionist? Having a booth at the Ifa Festival is an ideal way to promote your business. Do you sculpt, paint or bead? The Ifa Festival draws people who will have a very keen interest and appreciation for your craft. Consider having a booth to promote your talent in a place where it will be very attractive and useful. Do you create body products, sew or produce music? Then consider getting a booth to sell your goods AND to demonstrate how you create your product!

Special instructions

We're limiting vendor booths to SIX so that you get maximum exposure. Applications will be reviewed on a first come, first serve basis.

DEADLINE: Application deadline is FRIDAY MAY 6, 2016.

REVIEW PROCESS: This is a juried show. Items for sale are to be handmade. No manufactured items! Photographs of the crafts to be sold and the booth set up are required from all vendors. The Ifa Festival Art Show Committee reserves the right to ask any vendor who has misrepresented items for sale to leave and forfeit the registration fee.

NOTIFICATION: You will receive an e-mail to acknowledge your acceptance or the return of your payment as non-acceptance. Additional information will be sent approximately two weeks before Ifa Festival.

SET UP: Set up access is from 5.30 - 6.30. If you arrive after 6.30 you forfiet your space. BE ON TIME!!! Space granted on a first come, first served basis.

REFUNDS: No refunds, period.

ENTRY: You must print out and display your Eventbrite ticket upon arrival

FACILITIES: You must bring your own table (10 ft maximum). Electricity is not provided
Because of the programming/performance aspect, Vendors should know that there will be segments throughout the event where we will ask participants to focus on the stage (which may interfere with your selling.)
***The event is scheduled to run until 10:00pm. Breakdown earlier than this is not permitted because it disrupts the flow of the event.***
PROMOTION
We have created a facebook page to promote this event and will be distributing postcards and posters. Please indicate if you would like postcards to mail to your clientele and/or invite your clientele via the facebook page.
SIX VENDORS ONLY: Visit www.ifafestival.com for details.