About this Event
The issue: In this global economy, women of color entrepreneurs need to build and prepare their businesses to be competitive locally and on a larger stage. Many of our underserved entrepreneur communities are not obtaining vital information and resources.
Our solution: ODOS Will hosts its second annual Women of Color Conference in East Palo Alto California. We will explore and hear expert speakers and panel discussions designed to propel female entrepreneurs to the next level in this global paradigm shift. Keynote speakers include an amazing lineup of business leaders and strategists who will connect you to the resources and strategies you need to succeed. Join us on Saturday, March 7, 2020, and get ready to transform!
Emcee: Nikki Thomas, KBLX Radio Personality and entrepreneur
Special guests Regina Wallace-Jones, Mayor East Palo Alto and City Councilwoman Lisa Gauthier
Panel topics include:
Government Contracts leveling the playing field.
Best Practices Social and Digital Media Marketing.
Emotional Intelligence.
Cyber Security Data Protection.
Capitalizing on Global Trade and the African Diaspora.
For information regarding becoming a vendor at this event, please contact shartavares@gmail.com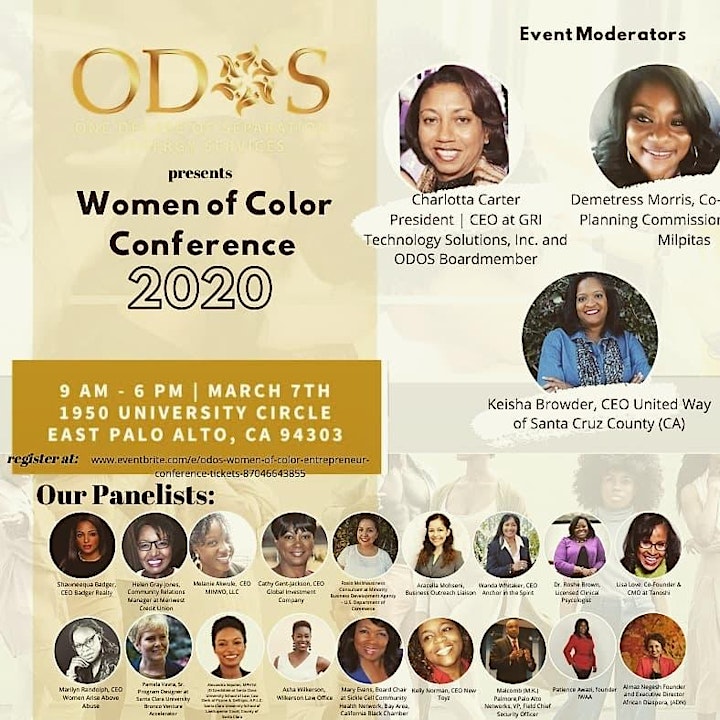 ABOUT ODOS
ODOS Synergy Services Global Entrepreneur Network is a 501c3 not-for-profit organization that empowers women of color entrepreneurs to topple barriers and open access to services to build and grow their businesses.