Description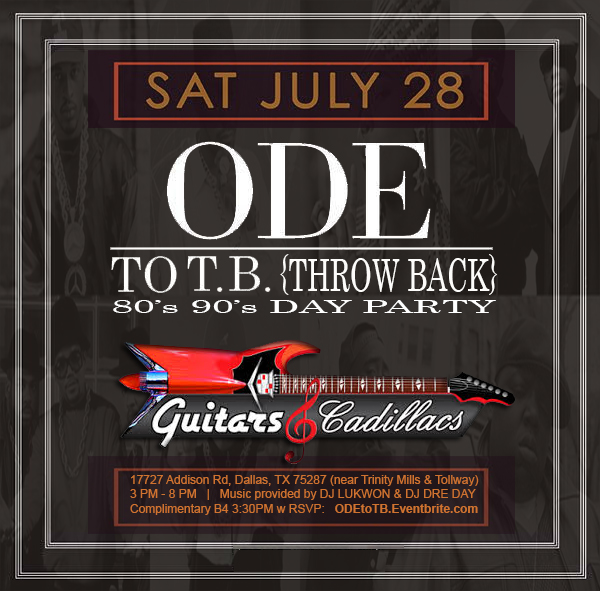 "Remember back in the time when…" Andre' 3000 (Sumthin' Wicked This Way, TLC)
The Event: ODE to T.B. {Throw Back} 80s 90s DAY PARTY
The Date: July 28th | SaturDAY
The Destination: GUITARS & CADILLACS
The Location: 17727 Addison Rd, Dallas, TX 75287
The S.c.e.n.e.: Chic, Cosmopolitan, Cool Vibes
The Age: Mature Audiences ONLY
The Attire: sundresses to sandals, cargo shorts to linen, maxi skirts to sailor shorts, etc.
The Music: 80s + 90s w/ Special Guest DJs LUKWON & Dre Day
The Accents: valet parking, exclusive location, drink specials.
The Extras: TEXAS SIZE' dance floor, free pool tables, games and covered outside patio
The Vibe: relaxed, casual, mature, fun, nostalgic.
The Admittance: RSVP/Purchase discounted tickets ODEtoTB.eventbrite.com
Let us fill your day with good music and good spirits to keep you in good spirits. From old school music selections to choice favorites from today's music; indeed we have something in store for everyone. Let's all give an ODE to the Throw.Back.
The Hosts: The Socially Astute + E3000 + Coop Events + DJ Lukwon + KISS Ent. + Social Nights + Top Of The World
#ODEtoTB #leisurelylounging #GrownAndProfessional #oldiestonewbies #OutKasttoKendrick #2PactoJayZ #BiggietoChance #MasterPtoDrake #DJQuiktoBigSean #UGKtoYoungMA #GoodMusicandGoodSpirits