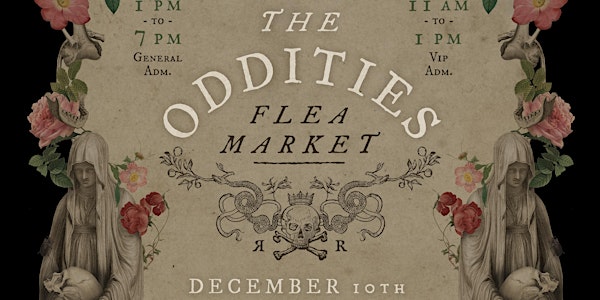 Oddities Flea Market New York City
Oddities Flea Market is thrilled to welcome you to the Metropolitan Pavilion in Manhattan this winter!
When and where
Location
Metropolitan Pavilion 125 West 18th Street New York, NY 10011
About this event
Prepare to be dazzled by wonders unimagined! Shop curated medical history ephemera, anatomical curiosities, natural history items, osteological specimens, taxidermy, home decor, jewelry, one-of-a-kind art, and much more.
PLEASE NOTE: Tickets are NON-REFUNDABLE.
Claiming a ticket or being a guest at the venue is an agreement to comply with all of the venue's discretionary safety protocols.
• VIP ✧ 11 am to 1 pm
VIP admission grants early entry at limited capacity, ensuring prime access to our vendors' collections
• General Admission ✧ 1 pm to 7 pm
Children age 10 and under enter FREE
✧ Sponsored by Machinations✧
Vendors
✧ A-F ✧
Afterlife Anatomy ✧ Alex Streeter ✧ Alligator Jesus ✧ Aviv Grimm ✧ Beakers & Bones ✧ Blood Milk Jewels ✧ Blue Bayer ✧ Bright Side Studios ✧ Brooklyn Taxidermy ✧ Cedar Creek Vintage Antique ✧ Century Guild ✧ Chasing Wolves ✧ Clarissa Eck Ceramics ✧ Cosmic Eye ✧ Crooked Teeth Keys ✧ Daayani Yoga ✧ Deadskull Curio ✧ East Village Hats ✧ Eclectic Garden Soap ✧ Ellipsis Rare Books ✧ Eyeba ✧ Feather & Foxglove ✧ Found Object Design
✧ G-K ✧
Gillie And Gloom ✧ Gotham Taxidermy ✧ Graveyard Wanders ✧ H. James Hoff • Mementos Entwined ✧ In Rooms Gallery ✧ Interesting Editions ✧ KIL N.Y.C ✧ Karen Bachmann
✧ L-P ✧
Last Rites Vintage ✧ Lory Sun Artistry ✧ Love Lorn Lingerie ✧ Margaret Cross ✧ Marianne R. Petit ✧ Matchbook Micro Portraits ✧ Memento Mori Designs ✧ Michael Kulick Artworks ✧ Mila Hardware ✧ Miss Havisham Curiosities ✧ Morbid Curiosities ✧ Mother Night ✧ Natures Oddities ✧ Octopus Chandeliers By Adam Wallacavage ✧ Open Sea Design Co. ✧ Paper Moon Gallery ✧ Phoenix Botanicals
✧ Q-U ✧
Ranbidermy ✧ Rave Nailz ✧ Rebels & Outlaws ✧ Red Scale ✧ Retro To Revolution ✧ Roadside Linen Arts ✧ ShopYouPlayYouPay ✧ Singkiang ✧ Sleeping Sirens ✧ Solid Wiggles ✧ Spirit Photography by Rose Callahan & Kellfire Bray ✧ Spiritus Arcanum ✧ Studio Hibernacula ✧ Susan Lloyd ✧ The Cauldron Black ✧ The Olde World Emporium ✧ The Somnia Tarot By Nicolas Bruno ✧ This Shit Blinks ✧ Thorns Clothing ✧ Tragic Doll Creations ✧ Trued Apparel
✧ V-Z ✧
Vintage Culture Antiques ✧ Wicked Florist LLC ✧ Wickiearts ✧ Wilder's Living Room ✧ Yamasden ✧ Zoa Chimerum Jewelry
✧ Sweets by Solid Wiggles
✧ Spirit Photography by Rose Callahan & Kellfire Bray
✧ Photo Opportunity by Cosmic Eye