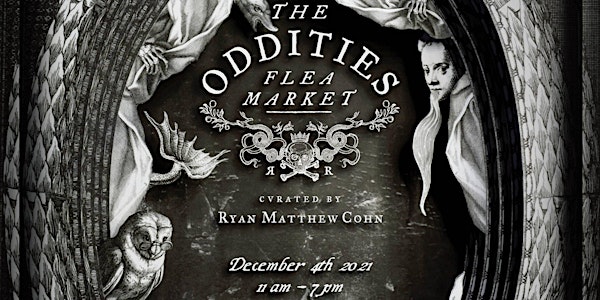 Oddities Flea Market New York City
We're back! Oddities Flea Market is thrilled to welcome you to the Metropolitan Pavilion in Manhattan this winter!
When and where
Location
Metropolitan Pavilion 125 West 18th Street New York, NY 10011
About this event
Prepare to be dazzled by wonders unimagined! Shop curated medical history ephemera, anatomical curiosities, natural history items, osteological specimens, taxidermy, home decor, jewelry, one-of-a-kind art, and much more.
PLEASE NOTE: Tickets are NON-REFUNDABLE.
Claiming a ticket or being a guest at the venue is an agreement to comply with all of the venue's discretionary safety protocols, including but not limited to social distancing and mask guidelines.
If you are not able to provide appropriate documentation, you will not be allowed to enter.
Warning: Do not buy a ticket unless you are able to comply with these requirements. Failure to comply with rules and requirements for entry will result in no access to the event, but will not result in a refund.
• VIP 11 am to 1 pm

VIP admission grants early entry at limited capacity, ensuring prime access to our vendors' collections
• General Admission 1 pm to 7 pm
Children age 10 and under enter FREE
Effective September 13, 2021, by New York City mandate, enforcement of the "Key to NYC" requirements begins for all indoor NYC events. All NYC indoor event attendees who are at least 12 years old and all event staff must show proof that they are vaccinated and have a photo ID to present upon request to prove identity.
Photocopies of vaccination cards are acceptable. Originals are not required. Go to New York City's Key to NYC page to learn more.
To ensure the safety of our patrons, all guests are required to remain masked while indoors. Multiple sanitation stations will be available throughout the venue.
VENDORS
3 Ring Traveling Apothecary • Octopus Chandeliers by Adam Wallacavage • Brooklyn Taxidermy • Karen Bachmann • Aviv Grimm • This Shit Blinks • B3 Balm • Love Lorn Lingerie • Alex Streeter • In Rooms Gallery • Gotham Taxidermy • Open Sea Design Co. • Blue Bayer • Chasing Wolves • EYEBA "Oddball Oddity" • Beans Of John • Margaret Cross • Morbid Curiosities • Last Rites Vintage • Soul Perchers • Thorns Clothing • Crooked Teeth Keys • Alternate Empire • Acid Queen Jewelry • Miss Havisham Curiosities • Teardrop Lollipop • Doll or Art • Zoa Chimerum Jewelry • Retro to Revolution • Afterlife Anatomy • Memento Mori Designs • Daayani Yoga • Yamasden • Marianne Petit • Found Object Design • Wilder's Living Room • Singkiang • Bright Side Studios • Nicolas Bruno • Deadskull Curio • Rebels & Outlaws • Phoenix Botanicals • Feather & Foxglove • East Village Hats • Mother Night • Wickiearts • Anne Arden McDonald • Mickey Alice Kwapis • Lucille Geist Jewelry • Tilly Garcia • Krampus Store • Paper Stranger • Wicked Florist • The Cauldron Black • VENU Magazine • Lil Miss Oddities • Ellipsis Rare Books • Spiritus Arcanum • Velvet Mush • Fiddlehead Reclaim • Weird Rites and Godless Revels • Machinations • Hollis J Hoff • Mikayla Bliss • Redscale • Beakers and Bones • Sophia Rapata • Euphorium Brooklyn • Ebb and Flow NYC • Nature's Oddities • Musea Study • KIL NYC • Fin Montauk • Eclectic Garden Soap • Bad Taste by Jen Monroe • Solid Wiggles