Description
_
DJ MetroGnome x Bring Down The Band x Old SOUL Entertainment presents Oddisee
Wednesday, October 9th @ The Jazz Kitchen
5377 College Ave.
Indianapolis, IN. 46220.
8PM. 21 & Over.
Also featuring
-Ajene Tha God
-Hinx Jones
-ComDot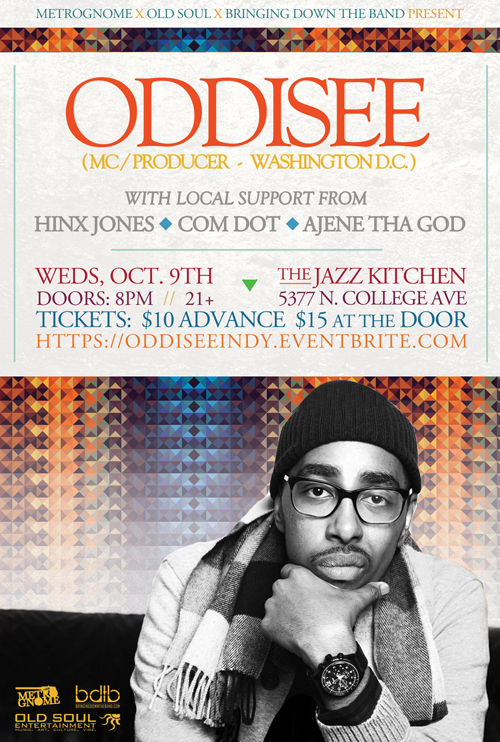 About Oddisee
Amir Mohamed el Khalifa, better known by his stage name Oddisee, is a rapper and producer currently recording for Mello Music Group and dividing his time between Brooklyn, New York; Washington, DC; and London. He was born in Washington, DC, and raised in Prince George's County, Maryland, and his love for this area is clear in his work. As a member of the Low Budget Crew, Diamond District, and as a solo artist, he has released more than ten records with various labels.

_
Oddisee was raised by his African American mother and Sudanese father. According to a National Public Radio interview with el Khalifa, Prince George's County is one of the wealthiest African American counties in the nation but borders some of the DC area's roughest parts. He moved to Washington after high school, where he began to develop his musical sound, which has been called observational rather than angry, with a clear vision combined with soulful beats After finding musical success and inspiration as a part of the DMV scene, he moved to the Brooklyn area for the much larger industry. He now shares his time between New York, Washington and London.
Oddisee was influenced musically at a young age by both sides of his family. From his father's Sudanese side, he was influenced by the accomplished singers, guitarists, and poets. His mother's side showed him gospel and bluegrass. According to Mello Music Group, he was first exposed to hip hop music by his older cousins, and it was his father who gave him his first vinyl record, which influenced him to start producing. On graduation from high school, he moved to Washington. He was set to attend the Art Institute of Philadelphia to study visual art but was drawn to the production of hip hop and jump-started his career in music during 2002 with his production of the song "Musik Lounge" on DJ Jazzy Jeff's Magnificent album, while he worked at A Touch of Jazz studios. However, he really began his focus on hip hop in 1999 and worked with many successful artists including Talib Kweli, J-Live, Little Brother, and Apollo Brown.
_

Soon after Oddisee's release of "Musik Lounge," he joined a group called the Low Budget Crew, which included several other local artists such as Kenn Starr, Cy Young, and Kev Brown. While working with this group, Oddisee signed with Halftooth Records and released the EP Foot in the Door in 2006.
In 2008, he signed a multi-album deal with Mello Music Group and released a series of projects over the years on which he either rhymed or produced, such as 101, Mental Liberation, Everything Changed Nothing, Odd Seasons, and Traveling Man. He also created a DMV hip-hop group named Diamond District which released the critically acclaimed album "In The Ruff" on Mello Music Group and is currently recording their sophomore album "March On Washington". His debut studio album People Hear what they See was released on June 5, 2012, on Mello Music Group. He is currently working on a number of new projects for Mello Music Group including an instrumental album "Music & Muses" as well as a producers album featuring a variety of vocalists tentatively titled "Good Company".

_
Influences and personal Life
Oddisee was originally influenced by his parents' heritages, combined with a hip-hop influence from his older cousins. In an interview with NPR, Mohamed explained why he was influenced by early East Coast emcees such as Rakim and A Tribe Called Quest. He said, "These rappers don't talk about drugs or murder, and I can relate more to their lyrics." His lyrics have touched on a variety of subjects, which include his hometown, boredom, and inequality. This is clearest in his song "I'm from PG," which is a direct ode to his hometown. Oddisee identifies with an assortment of emcees from the District of Columbia, Virginia, and Maryland areas who share a similar sound. This area is known as the DMV. These emcees share a similar determination to create original music using swinging percussion and identifiable rhythms.
Accomplishments
His work has been used by ESPN during the NBA finals and in commercials, and in sound bites for Adult Swim, DC Shoes, and Quiksilver.Oddisee's Odd Spring mixtape was listed on the Washington Post's Best Local Hip-Hop mixtapes of 2010. His mixtape Rock Creek Park was ranked as a Mixtape of the Week by Stereogum. His album "People Hear What They See" won Best Hip-Hop/Rap album of 2012 by iTunes UK.
Discography
Halftooth Records
Instrumental Mixtape Volume One (2005)
The Remixture Vol. 1 (2006)
Foot in the Door (2006)
Instrumental Mixtape Vol. 2 (2006)
Oddisee Music
Odd Summer (2009)
Odd Autumn (2009)
Odd Winter (2010)
Odd Spring (2010)
Mello Music Group
101 (2008)
Good Tree EP (2008)
Mental Liberation (2009)
New Money (with Trek Life)
Traveling Man (2010)
Odd Seasons (2011)

Rock Creek Park

(2011)

People Hear What They See

(2012)