Odd Salon at The Interval: The Heroic Antarctic

Tuesday, February 16, 2016 from 6:30 PM to 9:00 PM (PST)
Event Details
The Long Now Foundation welcomes
Odd Salon
(curious historians)
Heroic Antarctic: Rare Whisky, Silent Film, Explorers' Tales & Penguin Sex
@ The Interval at Long Now: check-in begins at 6:30; talk will start at 7:30

Ticket price includes a generous ration of
Mackinlay's Rare Old Highland Blended Single Malt Whisky
based on the 01907 original
At the dawn of the 20th century there was 
a frontier at the bottom of the world. Nations sent teams of explorers to the mysterious seventh continent for the sake of science and glory. Led by men like Ernest Shackleton, Robert Falcon Scott, and Douglas Mawson, this was the Heroic Age of Antarctic exploration. Probing the ends of the Earth and the limits of technology at the time; many died and all were changed. After 100 years, it's a good time to look back: there are stories to be told. There's also actual footage to see from that unimaginable place and time. And there is Scotch whisky, the almost exact spirit of these ultimate adventurers, to taste and toast their memories.

Heroic Antarctic is a special Interval event produced in collaboration with our friends at Odd Salon who specialize in explicating the strange extremities of history, science, art, and adventure. The night will feature a series of short talks about Antarctica, its explorers, and its natural history; also a showing of the documentary South (01919) with footage of Shackleton's Endurance expedition; and we will have bottles of a rare whisky that recreates the dram that went to Antarctica and (almost) never made it back.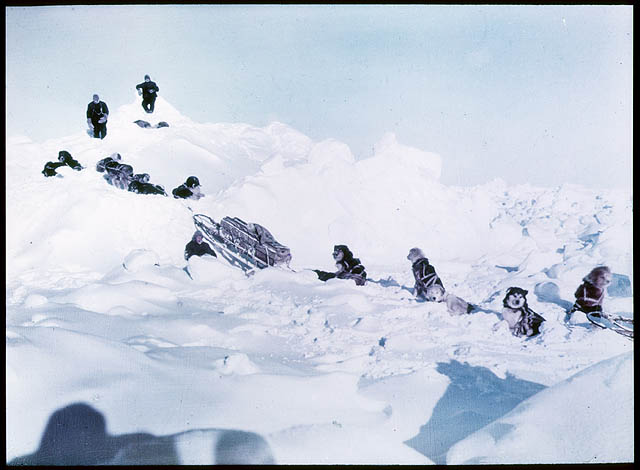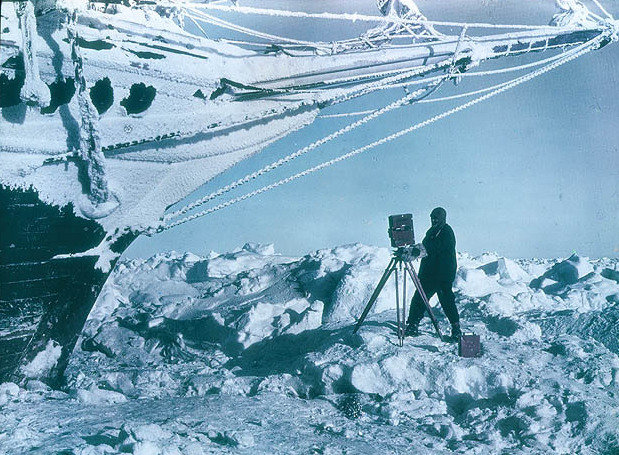 From the collection of the State Library of New South Wales

Photographer Frank Hurley used an early color process to shoot these photos while on Shackleton's Endurance expedition. He also made the film South (aka In the Grip of the Polar Pack Ice), a documentary of that journey which we will show at the event.

"Great God! this is an awful place."
— Robert Falcon Scott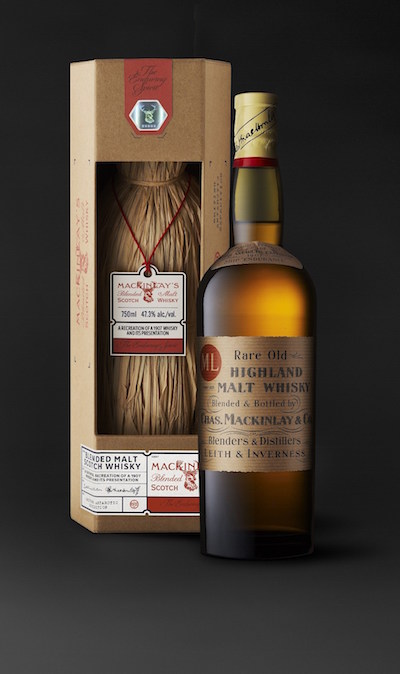 Each ticket includes a pour of The Journey whisky made by Scottish distiller Whyte & Mackay to recreate the spirit Shackleton brought to Antarctica and buried in the ice.
Mackinlay's Rare Old by Scottish distiller Whyte & Mackay is a Highland Blended Single Malt Whisky created with the same combination of single malts used in the original that Ernest Shackleton brought to Antarctica on his Nimrod expedition.
In 02007 a few crates of whisky were discovered buried in Antarctic ice near Shackleton's Nimrod expedition hut. Against all odds 10 bottles were intact and a few were flown to Scotland for scientific analysis.

Whisky experts painstakingly identified the component single malts including 01980 Glen Mhor (one of the rarest whiskies in the world), as well as Jura, Glenfarclas, Aultmore, Fettercairn, amongst many others. The blend was then recreated and aged in Limousin oak casks. And the spirit returned, in limited quantity and at a premium price.

The resulting spirit has been compared favorably to Johnnie Walker Blue. Each bottle's packaging is also a detailed homage to the original: wrapped in heavy straw with a replica label based on the bottles from a century ago.
There is very little availability of this premium saved-from-the-ice spirit in the US. The Interval has made a special acquisition of just enough to offer a generous ration to our guests at this event. This is a one time only offering.

"Antarctica is not a place, it is a disease"
— Russian aphorism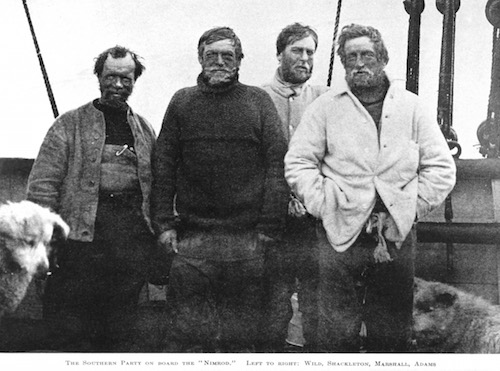 Shackleton and team aboard the Nimrod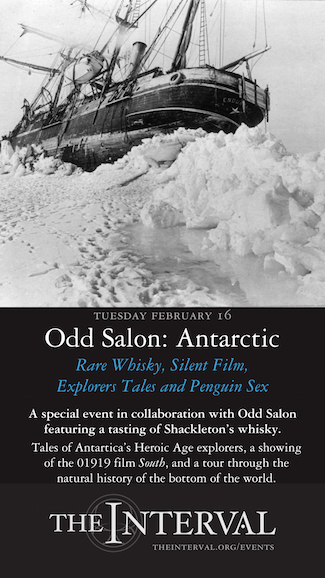 Odd Salon is a long-running San Francisco event series featuring short talks about strange and inspiring tales of history, science, art, and adventure. Odd Salon's "cocktail hour lectures" take place twice a month at DNA Lounge (and occasionally elsewhere) featuring experts and amateurs who give short presentations around a different theme each time.


"First you fall in love with Antarctica, and then it breaks your heart."
— Kim Stanley Robinson, first line of his book Antarctica


Join us for amazing tales of science and adventure and a rare, revived whisky with a story to tell.

Long Now members can buy tickets early, while they last: become a member today
When & Where

The Interval at Long Now
Fort Mason Center
2 Marina Blvd
San Francisco, CA 94123


Tuesday, February 16, 2016 from 6:30 PM to 9:00 PM (PST)
Add to my calendar
Organizer
The Interval at Long Now
The Interval at Long Now is a bar, cafe and venue for talks and other gatherings located in historic Fort Mason Center on San Francisco's north shore within site of the Golden Gate Bridge and Alcatraz. The Interval serves delicious beverages in a room full of mechanical wonders and thousands of books.
We are open daily from 10AM to midnight. Events are typically on Tuesday nights a few times a month. Tickets usually go on sale 2 weeks prior to the event. Our talks tend to sell out quickly due to our limited capacity.
Long Now members can purchase tickets before the general public.
The Interval is home to The Long Now Foundation which is dedicated to long-term thinking through projects including building a 10,000-year Clock, the monthly Seminars About Long-term Thinking (SALT), The Rosetta Project, PanLex, and Revive & Restore.
Odd Salon at The Interval: The Heroic Antarctic