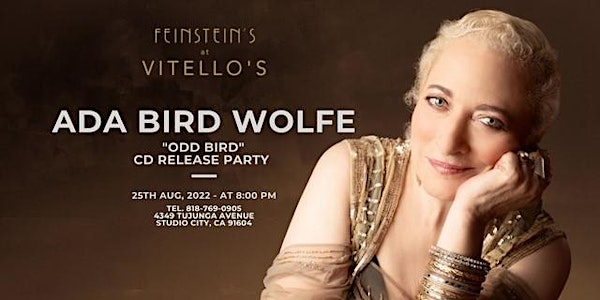 "ODD BIRD" RELEASE CELEBRATION
Location
Feinstein's at Vitello's
4349 Tujunga Ave
Studio City, CA 91604
When purchasing tickets - Please use the "BUY ON MAP" option to select your desired seats.
About this event
PLEASE NOTE, $25 MINIMUM ON FOOD OR BEVERAGES
Doors: 6:30pm //Show: 8:00pm
The show features the music of ODD BIRD, the third CD by jazz singer-songwriter Ada Bird Wolfe. This album of all original songs arose from the 2020 Covid lockdown. Unable to meet with Jamieson Trotter, her long-time collaborator and musical director, Wolfe began writing songs which reflected both the events of that time and the myriad of emotions and memories they generated. Each week, Wolfe wrote the lyrics and melodies of one or two songs. Then she and Trotter met over zoom while he wrote the harmonies and arrangements. By the end of 2020, Wolfe and Trotter had written 45 songs. Twelve of these appear on ODD BIRD.
The songs reflect a wide range of influences including standards of the Great American Songbook, Latin, blues, be-bop and post be-bop. They also spring from the shows and albums done by Wolfe and Trotter over the last years. In 2015, they performed jazz and blues shows called Jazzography and Blues-A-Licious, among others. Then in 2016, Wolfe created a series of live shows called Giant Shoulders, each of which highlights and interprets the works of a jazz legend. These shows also showcased Wolfe's lyrics to original instrumental tunes written by these jazz masters. The three shows were Monk-O-Sphere, And the Word Was Mingus, and The Saint and the Sinner Man: Miles Davis and John Coltrane. A fourth show, The Long and Shorter of It, featuring the work of Wayne Shorter, is in progress.
ODD BIRD is the third CD Wolfe and Trotter have worked on together and follows Birdie (2018) and He & Me (2020). Both albums were included in the top albums of their respective years by All About Jazz. Of He & Me, a duo recording, Midwest Records said, "A real tour de force where the two talents give each other room to really shine and bring it all home in a velvet jewel box. Top shelf." The Jazz Page said: "He & Me is one of the finest duets one could ever hope to hear. The writing, the arranging, and the performance artistry are exquisite.་ On ODD BIRD, Wolfe and Trotter are joined by Dan Lutz (bass), Peter Buck (drums), Scott Mayo (horns and flute) and Joey De Leon (percussion). Wolfe has worked with most of these outstanding musicians on her previous albums and in her live shows.
Wolfe has a smoky, warm, alto voice. Although she tells stories that can be emotionally intense, she is never bombastic. Rather, she invites you in with a conversational, intimate approach. A piano master with an extensive musical vocabulary and an endless font of ideas, Trotter is the perfect complement for Wolfe. With their deep relationship and stellar musicianship from everyone involved, ODD BIRD is an album of great subtlety with musical and emotional depth.
BIO:
About Ada Bird Wolfe
Wolfe, a native of Sudbury, MA, just outside of Boston, studied several instruments, including piano, cello, guitar, sax, and flute, throughout her school years. A deeply thoughtful person, she went to the University of Chicago, where she obtained a degree in Philosophical Psychology, which is an interdisciplinary field of study that links philosophy and the psychological sciences.
She has written novels and poetry as well as articles for local newspapers. She was in New York City on 9/11, which had a deep, emotional impact on her. Wolfe became a serious anti-war activist and worked for several years with organizations promoting social justice. A devoted jazz fan since her college days, she now focuses her energies on songwriting and performing.
She appears regularly at Feinstein's at Vitello's, Hollywood Studio Bar & Grill, The Gardenia and Bar Fedora.
--
A minimum of $25.00 is required per person while inside the showroom. Dining in the restaurant or any of our bars does not apply to the showroom minimum. Service fees apply to all tickets purchased via Eventbrite, at the door, and/or at the Box Office.
Guests requiring accessible seating should book directly by calling 818-769-0905