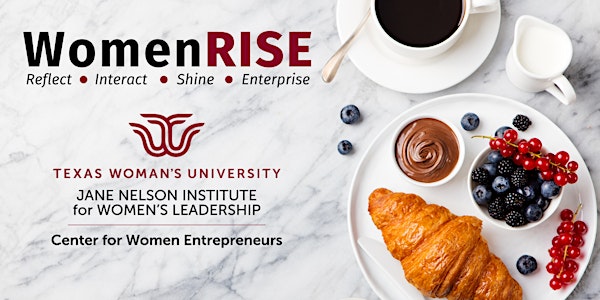 October WomenRISE In Person & Virtual
Succession Planning or How to Increase the Value of Your Business
About this event
**In-Person & Virtual Event
Join us in person or virtually for our October WomenRISE with Anne Salick, Financial Advisor & Certified Exit Planning Advisor, adaptation Financial Advisors for: Succession Planning or How to Increase the Value of Your Business
Though it might not have occurred to you when establishing your company, preparing for instances when you aren't available to provide leadership is a critical part of business ownership and its value. Whether in setting the stage for the next generation of management or in the face of a catastrophic event, having a plan in place strengthens your organization as a whole. For business owners to succeed in their venture, it is essential to have a plan in place to ensure changes in ownership and direction are as seamless as possible. You will learn more about establishing a long-term strategy for your business when you aren't part of daily operations.
What is Succession/Exit Planning? Why is it important to my business? How will it improve the Value of my Business? When should I start Succession Planning?
Everyone will receive the Zoom link regardless of how you register. Please do not register for both in-person and virtual.
In-Person Attendance
In-Person events will be held at Texas Woman's University, Denton Campus, Old Main Building, 2nd Floor, Rm 257.
Breakfast will be served at 7:30 AM. The official program starts at 8:00 AM. Come and network with other female entrepreneurs. Make sure you bring your business cards.
*It is a bit of a walk between the two parking areas and Old Main Building. You may want to consider wearing comfortable shoes to walk in and bring your dress shoes for the event.
*If you have special needs please email cwe@twu.edu to make special arrangements.
Parking Information
* Download ParkMobile @ https://parkmobile.io/ 
* Put in your information to include your license plate number.
* For the event, park in either the Visitor Parking Lot or on the 4th level of the parking garage. 
* Parking is FREE! The parking code will be included in your event confirmation.
* There will be directional signs to assist you in locating the event.
How to get from the parking garage to Old Main Building
How to get from the visitor's parking lot to Old Main Building
Online Attendance
If you are attending online you will receive the Zoom link to join. We will have an online host to help facilitate the event. We will continue to have pre/post networking opportunities.
Networking before the event: 7:35-7:55 am
Networking after the event: 9:05-9:25 am
Official program: 8:00 - 9:00 am
**All registered attendees will receive the replay link after the event.**
Speaker Bio
Anne works with business owners and their executives, and families to help them take positive -financial action in their lives. She advises how to manage and minimize risks while providing greater opportunities for ¬financial freedom and peace of mind.
She is a CEPA (Certified Exit Planning Advisor) to assist small to medium businesses in their exit and succession planning needs. She is also a CPFA (Certified Plan Fiduciary Advisor) to help Business Owners set up and manage Retirement Plans.
Anne has been selected five times in The Texas Monthly Magazine Five Star Wealth Managers for 2015, 2017-2019 and 2022.