About this Event
Horses emanate a great power to lift our spirits and make sense of the present. Join us every Saturday & Sunday in October:
Discover the joy of Thoroughbreds and find peace of mind amid our Herd in a beautiful, open air venue.
Connect hands-on to experience the personalities, minds, and emotions of our wonderful rescued Thoroughbreds. Discover their 'who-ness' and gain insight into how they experience their lives.
Learn the real rescue stories of our horses. They have come to us from all walks of life. Some made headlines, some visited the winner's circle, most made many foals, and all have earned our love and respect. Hear their hearts, and learn how you can help to protect and save Thoroughbreds.
Bring your camera and a smile to capture magical selfies with our magnificent Thoroughbreds. The Horses of Unbridled offer an unforgettable escape from the chaos afoot in the world.
ON SUNDAYS, at 11:30AM and 12:30PM, we will offer two Teacher led sessions to Read to the Rescued Horses. Students are welcome to bring their own reading material or borrow some from our Secret Forest Memorial Library of donated books. Each session is limited to 8 students. A $10 donation per student is appreciated, but not required.
We are a working farm. Please realize that there may be mud, flies and the typical odors of a farm. Our tours are self-guided. You will have the opportunity to feed treats, and groom the Horses with an experienced handler. You will be walking in between the fence rows on uneven, grassy ground.
Registration required.
Masks must be worn when physical distancing is not possible.
Cover your feet! No open toed shoes will be allowed in paddocks/stalls.
Read To The Rescued Horses is limited to 8 students per session.
Questions: UnbridledTBF@gmail.com | 518.731.4UTF
Admission fee is not required, but donations are greatly appreciated!
Unbridled is a volunteer-run, donor-supported 501(c)3 non-profit public charity. Since 2004, Unbridled has provided Thoroughbreds a safe haven to transition into loving homes and sanctuary.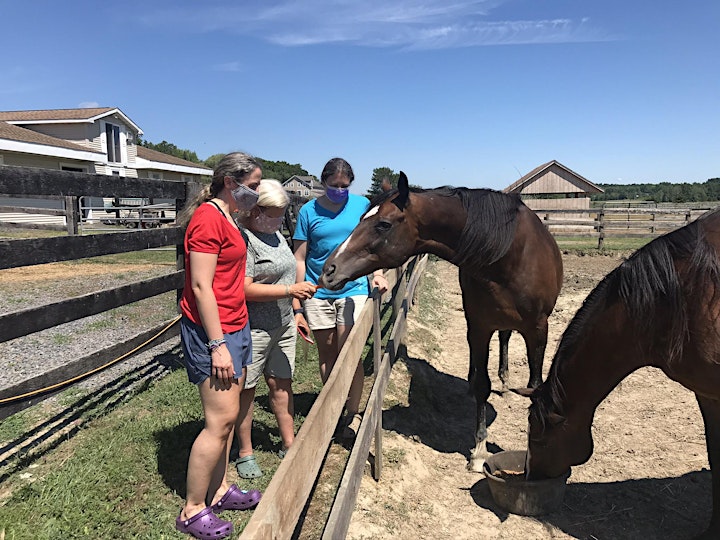 IJADA & ZOOM ZOOM ZELDA will greet you with smiles and oodles of #smoozzles 🐴💕