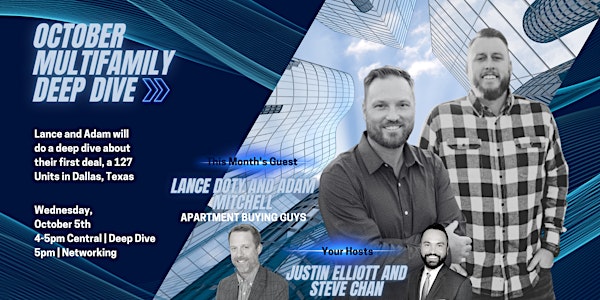 October Multifamily Deep Dive - Lance Doty and Adam Mitchell
A Deep Dive with Lance Doty and Adam Mitchell
About this event
In October, we are excited to have Lance Doty and Adam Mitchell of Apartment Buying Guys. They will deep dive about their first deal, a127 units in Dallas, TX.
Lance Doty grew up in Garland, TX and graduated from Abilene Christian University. He have been a high performing salesman since receiving his bba in Finance in 2006.
He met Adam Mitchell in 2012. They have been best friends ever since. Adam mentored Lance through the purchase of his first home, his first investment flip, and through all that- the birth of their Single Family Business - Home Buying Guys.
While Adam Mitchell grew up in Arlington, TX and still lives in the DFW area. He have been a real estate investor since 2004 starting his investing career with single family rentals. He began to transition out of a day job about 5 years ago and into real estate full- time with a single- family real estate business.
Their single family business, Home Buying Guys is where they buy houses off market to flip, rent and jv with other investors. They do about 60-70 transactions per year and our Gross Profit for 2021 - $1MM. Currently, they have 3 homes in inventory valued at $845k.
While their company, Apartment Buying Guys has 215 MF units acquired as GP.