October CI/Branch Luncheon: OC Streetcar Construction
About this event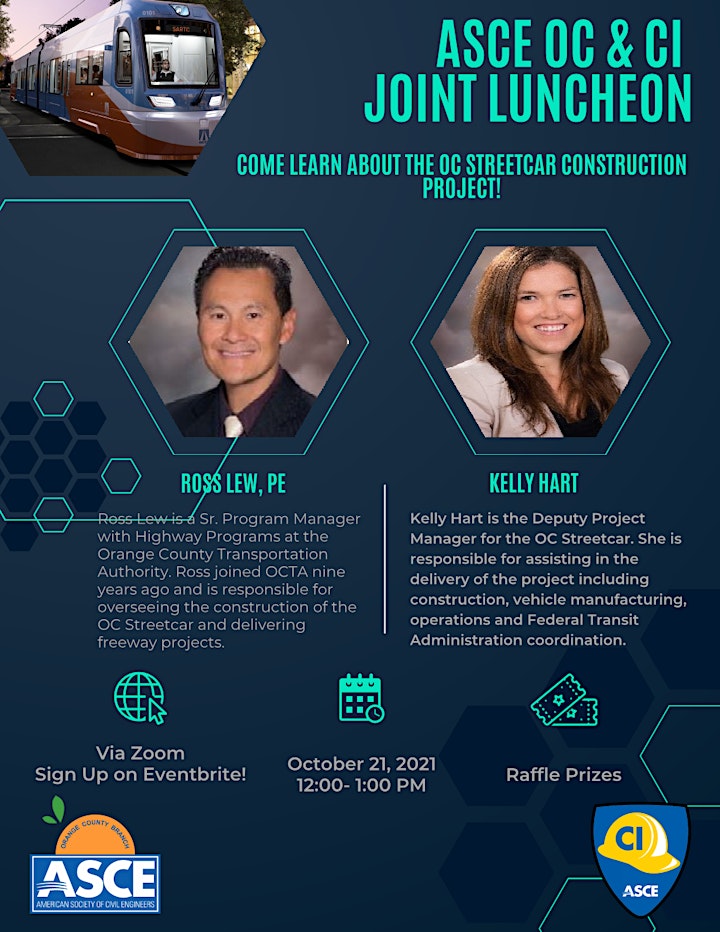 Ross Lew, PE
Sr. Program Manager at Orange County Transportation Authority, OCTA
Ross Lew is a Sr. Program Manager with Highway Programs at the Orange County Transportation Authority. Ross joined OCTA nine years ago and is responsible for overseeing the construction of the OC Streetcar and delivering freeway projects. In recent years Ross also delivered the construction of the OC Bridges Grade Separation Program that was budgeted at $666.5 million. Ross is a graduate of the University of California, Irvine and has 31 years of management and project delivery experience in the transportation industry. He has been in the lead role on multiple complex projects in various phases of project implementation from planning through construction, working in partnership with many public agencies.
Kelly Hart
Project Manager at Orange County Transportation Authority, OCTA
Kelly Hart is the Deputy Project Manager for the OC Streetcar. She is responsible for assisting in the delivery of the project including construction, vehicle manufacturing, operations and Federal Transit Administration coordination. Having been at OCTA for over 16 years, she has served in various management positions within Government Relations, Planning, Capital Programs and Operations. Prior to OCTA, she served as staff to multiple elected officials at the local, regional and national levels of government. Kelly holds a Bachelor's in Political Science from UCLA and a Master's in Business Administration from UCI.