Sales Have Ended
Registrations are closed
Registration for the October 28 SAME San Antonio Post Centennial Golf Tournament have closed.
Sales Have Ended
Registrations are closed
Registration for the October 28 SAME San Antonio Post Centennial Golf Tournament have closed.
Our Thursday, October 28, Centennial Celebration Post Golf Tournament will be held at the Silverhorn Golf Course
About this event
Thank you for registering for this year's SAME San Antonio Post Halloween Centennial Golf Tournament and your support of our scholarship programs. This is our first post-COVID major social activity and we are looking forward to a great event. We want to relay some important information about the tournament to help everyone arrived prepared and to have a great day on the course.
REMINDERS
Golf Club Rentals – you must contact the course ((210) 545-5300) ahead of time to have rental clubs ready for you. They do not have a supply of rental clubs on hand. If you do not call them ahead of time, they will not have clubs for you to use.
Costumes – this is a Halloween themed tournament and arriving in costume is ENCOURAGED! There is a Centennial themed prize ($100) for the best one.
SCHEDULE OVERVIEW
0645 – 0730 – Golfer registration. It is important that all players are registered no later than 0730 so there's sufficient time for everyone to get to their assigned holes so we can start on time. We have 45 minutes to get approximately 100 golfers checked in, issued goodie bags and aid packages, and assigned carts/holes. If too many people arrive after 0700 it will be a struggle to get play started on time.
0730 – 0800 – Golfers will be gathering their teams and disbursing to their assigned starting holes. Sunrise that day will be at 7:44, so we want everyone to be in place to start soon after that.
1200 – 1300 – Wrap up of play, rally at the club house, and lunch.
1300 – close – Announcement of tournament winners, door prize/raffle selections, and closing activities.
People that arrive and register early will have more time to get breakfast, pickup their rental clubs, etc. If you plan on using rental clubs, you MUST call the pro shop ahead of time to let them know. They do not have a supply of clubs to rent in the pro shop.
Thank you to all of the players and sponsors for your support! We are looking forward to a fun tournament for everyone.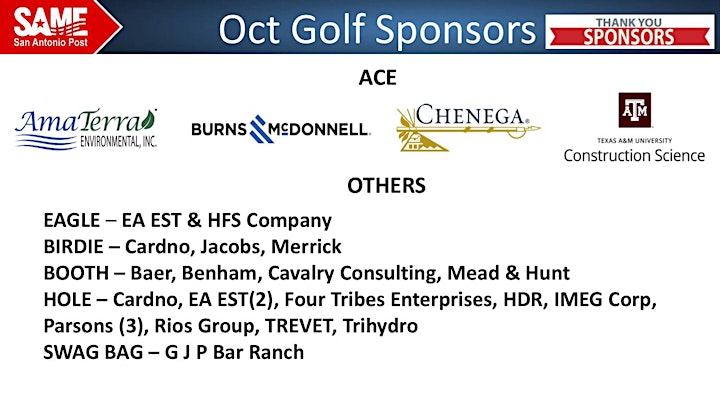 CONTACTS
Event - Tae Parrish, tparrish@trevetinc.com, 210-441-9783
Sponsorships - Michele Torres, michele@hfscompany.com, 703- 583-4407
Registration/Payments - Dick Kochanek, samesatx@gmail.com, 210-884-9731
Door Prize Donations - Tae Parrish, tparrish@trevetinc.com, 210-441-9783
Goody Bag Donations - Mike Beach, mbeach@broadbentinc.com