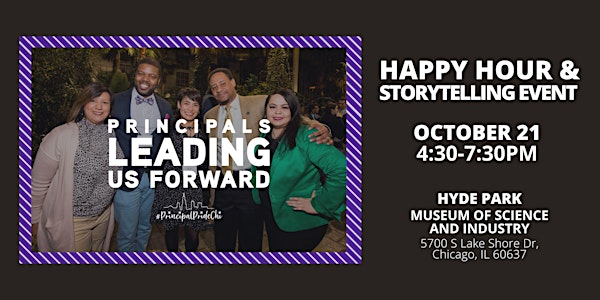 October 21 - Principal Happy Hour & Storytelling Event: Hyde Park, MSI
Location
Museum of Science and Industry, Chicago
5700 South Lake Shore Drive
Chicago, IL 60637
This special three-hour Principal Appreciation Month happy hour will end with a storytelling event -- which can also be attended virtually!
About this event
Looking for time to connect and bond with your principal peers? Looking for a fun and casual way to unwind after a long school day? Or just looking for a good drink?
In honor of October, Principal Appreciation Month, The Chicago Public Education Fund (The Fund) is excited to host four happy hours for Chicago public school principals on Thursdays from 4:30PM-7:00PM. Every week, the happy hour will rotate to a different part of the city: West, North, South, and Loop.
OCTOBER 21 -- HYDE PARK, MUSEUM OF SCIENCE AND INDUSTRY
This special three-hour principal appreciation month happy hour, taking place in the Museum of Science and Industry's Henry Crown Space Center, will end with a live storytelling event titled, "Principals: Leading Us Forward." From 6:00-7:00PM, in the Giant Dome Theater, a group of principals will share their personal stories of strength and leadership. Any individuals unable to attend the event in-person will also be able to register for a virtual ticket to watch the event's storytelling section.
For In-Person Happy Hour & Storytelling Event Attendees:
Tickets: When registering for a ticket, please click "In-Person Storytelling and Happy Hour Attendance."
COVID-19 Safety: We are implementing all possible measures to make sure that these events are COVID-19 safe. Masks will be required whenever not eating or drinking, and all guests will be required to show physical or digital proof of vaccination before entry. Guests unable to show proof of vaccination will be denied entry.
Invitations: Because of COVID-19 restrictions, we are capping attendance at each happy hour -- so please sign up ASAP! That being said, we are allowing principals to invite one guest -- feel free to come alone, or invite your AP, a teacher on your team, or your partner! Or, message your peers to make sure to come to the same happy hour!
Free Parking: Attendees of the October 21 Happy Hour will be able to park in the Museum of Science and Industry. Further details will be sent out in event reminders; we highly encourage all attendees with guests to carpool.
Photography: We will have an event photographer at each venue, so come prepared to take some nice photos.
Social Media: Share any photos that you take on Facebook, Instagram, or Twitter and tag #PrincipalPrideChi.
For Virtual-Only Storytelling Event Attendees:
Tickets: When registering for a ticket, please click "Virtual Storytelling Attendance (6:00-7:00PM)." Zoom links to the broadcast will be sent out the day of the event.