Description
October Luncheon: AMA presents Georgia-Pacific's Data Driven Story Orchestration
The art of creative brand building through story orchestration.
Georgia-Pacific has mastered the art of creative brand building through using story orchestration, as well as the science of targeted brand building by leveraging analytics, data and technology. Douwe Bergsma, CMO Georgia-Pacific Consumer Business, will share their journey and talk about their vision for using story orchestration and data science to drive business success on brands like Brawny, Quilted Northern and Stainmaster.
Walk-in registrations will be available the morning of the event at Maggiano's Buckhead.
Speaker:
Douwe Bergsma, Chief Marketing Officer Consumer Business at Georgia-Pacific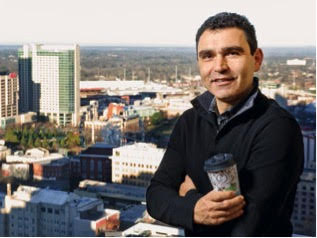 Douwe joined Georgia-Pacific Consumer Business as the first CMO and leads many brand building-, marketing technology- and innovation capabilities for iconic brands like Dixie, Vanity Fair, Angel Soft, Quilted Northern, Sparkle, Brawny, Stainmaster cleaning products, Mardi Gras and private label. This includes consumer knowledge, content, media, marketing technology, promotions, shopper marketing, design and the in-house agencies.

He began his career at P&G in the Netherlands and enjoyed marketing and sales positions in Europe and North America as he led local and global brands and was a pioneer in category management and shopper marketing, partnering with national and global retailers. He was responsible for driving growth through brand building and innovation on Pringles, before joining Georgia-Pacific.

Georgia-Pacific's brand building efforts have been recognized through the induction in the Shopper Marketing Hall of Fame, through many publications, incl. Ad Age's Creativity 50, and through many awards, including Effie-, HALO- and Cojones awards, The Drum's Honorees and the CMO "Story Telling & Creativity" awards. On top, their brand builders present at many conferences, including the Cannes Lions, ANA Masters of Marketing Masters, ARF Conference, Salesforce Summit and the White House (2016).

Douwe is an active member of ANA's Alliance For Family Entertainment, AMA Atlanta advisory board, GSU CMO Roundtable, Marketing 50, CMO Club, has been a Effie-, Edison- and Max award juror and enjoys helping students, start-ups and charities with brand building challenges.

Douwe graduated at the School of Economics and Business at the University of Groningen, Netherlands.
Agenda:
11:00am - 12:00pm New Member Orientation (optional)
11:00am - 12:00pm Networking/Registration
12:00pm – 1:00pm Lunch and Presentation
Follow AMA Atlanta on Facebook, Twitter, LinkedIn and Instagram.
@AMAAtlanta
#AMAATL
Parking: Maggiano's has a parking garage which is complimentary. It is located in the back of the restaurant. When you enter you will get a ticket and Maggiano's concierge will provide a voucher to you. Please note when parking in the garage you MUST use the stairs and elevators on the south side (to your right if you are in the garage looking out towards Maggiano's) in order to access the correct exit to enter the venue. Valet parking is also available for lunch at $2 per car. Finally, there is also parking lot that is adjacent to Maggiano's which offers paid public parking at $7(not owned by Maggiano's).
.
Cancellation Policy: Due to pre-registration costs and guarantees, refunds or credits are not extended for this event. However, registrations are transferable. On the day of the event, the substitute attendee must present a copy of the registration receipt or e-mail verification to be admitted to the event.