Description
October 2017 Functional Forum Meetup, West L.A. Chapter
Please join us!! Looking forward to meeting you as we build a vibrant, active community on the Westside of Los Angeles! This is an exciting opportunity for practitioners to network, share, and support each other as we create awareness about natural approaches to healing and living well.
Please register so we can plan accordingly for this FREE EVENT. Deliciously healthy food is included.
---
THIS MONTH'S FEATURED LIVE PRESENTATION -
Dr. Brooks Michaels, Board Certified Family Medicine Physician practicing complementary and Integrative Medicine
Topic: SIBO: Clinical Cases and Functional Medicine Evaluation
If you'd like to be a featured speaker for an upcoming monthly meeting, please let us know. You can share your journey to the practice of functional medicine or speak on a topic relevant to better approaches to health and healing.
---
As we look out to the future of Functional Medicine, the fundamental question to ask ourselves is, "How do we take functional medicine from something for the very rich and the very desperate to a way of delivering to the masses?" We at the Evolution of Medicine believe coaching and community will be two of the major factors that will impact the future of Functional Medicine. We recommend watching this episode of the Functional Forum in a community setting to facilitate the important conversations these talks will spark.
At the West L.A. meeting, w will show brief highlights from this episode, featuring a coaching panel from the Future of Functional Summit in Utah, including functional medicine coaching leaders Dr. Sandra Scheinbaum, founder of the Functional Nutrition Alliance Andrea Nakayama, Tracy Harrison, and the Living Proof Institute's Dr. Sachin Patel.
---
A Message from Your Hosts

Terri Crystal, Certified Integrative Mind-Body Nutrition Coach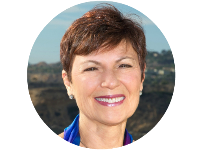 Janis Lueken, Registered Buteyko Breathing Educator

Please join us as we create a community for health professionals and industry insiders who are passionate about the evolution of medicine.

Curating the industry's leading innovators, the Functional Forum brings together the latest health news, functional medicine research, practice development and health technology in an upbeat, entertaining way.
---
Additional Event Information:
Street Parking and a small lot behind the library are available.
IMPORTANT: When you RSVP - As part of our educational mission, the Evolution of Medicine will also email you resources on clinical, practice development and other relevant topics for practitioners in functional integrative medicine. As a reminder, you can always adjust email frequency in the footer of each email.