October 2017 DFW-REA Event | Alvaro Luque & Ivonne Kinser, President and He...
Sales Have Ended
Ticket sales have ended
Pre-registration has ended. Walk-ins are welcome at a price of $50 (includes parking, a light meal and complimentary soft drinks, beer and wine). Please arrive by 6:30 to register.
Sales Have Ended
Ticket sales have ended
Pre-registration has ended. Walk-ins are welcome at a price of $50 (includes parking, a light meal and complimentary soft drinks, beer and wine). Please arrive by 6:30 to register.
Description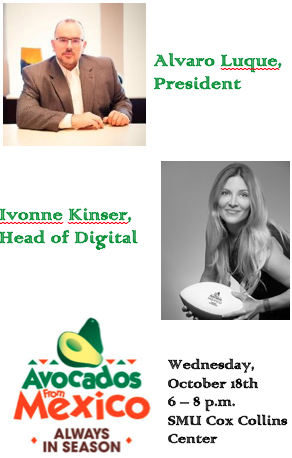 ABOUT
Avocados From Mexico Inc. is the leading avocado brand in the market and the single most important marketing and trade organization for fresh produce in the U.S. The company built a world class team of marketers and catapulted avocados grown in Mexico to have a +70% market share in the US.

Alvaro Luque - President
As ADWEEK stated in a recent article: "Avocados From Mexico boasts one of the most dramatic and impressive rises to prominence in recent marketing industry". The person responsible for leading that rise has been Alvaro Luque, the brand's president & CEO.
In less than four years, Luque has turned the produce industry on its head by delivering the kind of marketing strategies that not only defy established paradigms, but also deliver impressive results.
Within the few years that Luque has lead Avocados From Mexico's business, the industry has seen a fruit become a brand, and a market increase its consumption of avocados to a record number of 2.3 BILLION pounds a year.
Luque built the AFM marketing group from the ground up, recruiting highly talented professionals that have re-defined produce marketing in just 4 years. Within that period of time, his team positioned AFM as a leader in the U.S. fresh segment and became a pioneer in trade, shopper, and digital programs for the industry.
Alvaro is responsible for making AFM the first fresh brand to ever advertise in the Super Bowl, successfully achieving the top two Super Bowl digital campaign for three years in a row. Avocados From Mexico has achieved these results while keeping consumption up in volume and value for the category and with an impressive consumer positive sentiment. AFM Super Bowl campaigns have also won multiple accolades and media recognition for their unprecedented performance.
Luque's marketing career of over 25 years in the packaged consumer goods and produce industries has influenced his current approach to marketing. His CPG experience has given him a very unique perspective to successfully building a brand in a brandless category. That unconventional perspective has become the hallmark of his success with the Avocados From Mexico brand.
The impact of his leadership has been noticed by top industry organizations and publications in the U.S, such as The Packer, which named him one of the 25 most influential leaders in the fresh U.S. market in 2015. Alvaro was also recognized in the Change Agents Marketing segment for Forbes magazine in 2014.
Prior to AFM, Alvaro spent 15 years holding marketing leadership positions in multiple countries throughout the U.S. and Latin America with Gruma's Maseca and Mission brands. During his tenure with the organization, he became not only the youngest top executive of the company, but he also accomplished significant achievements whose impact remain relevant for the organization even today. Among some of his most important achievements are the development and launch of more than 60 new products for the company in 7 different countries, and the development of the Super Soft tortillas in the United States, which has become one of the most successful launches in the history of the company.
As a native of Costa Rica, Alvaro holds a Marketing degree from University of Costa Rica and Advanced Management Program from INCAE.

Ivonne Kinser - Head of Digital
In 2017, the American Advertising Federation included her in the list of "20 Women to Watch in Dallas Advertising" and awarded her the Shining Star Award, which recognizes women in the Dallas advertising community who are breaking the glass ceiling.
In 2002, after spending several years in traditional advertising, she led the first digital marketing efforts of American Airlines in 19 countries across the Latin American region. Since then, she has specialized in the interactive space.
Through the span of her 18-year marketing career, Ivonne has played leadership roles in multiple corporations as well as in top advertising agencies such as Lintas, McCann Erickson Worldwide and The Richards Group, working with well-known brands in almost every category. From top CPG brands such as Unilever, to some of the largest retail corporations such as The Home Depot, and everything in between from automotive to transportation, tourism, food service, telecommunications and manufacturing.
In 2014, Ivonne joined Avocados From Mexico as the Head of Digital Marketing, and built the organization's digital practice from the ground up, based on the principles of digital transformation.
At AFM, she oversees all things digital, keeping the company on the cutting edge of the web across the organization's four business segments: general market, Hispanic market, Foodservice and Shopper.
Under her leadership, AFM's digital work has won multiple accolades including: the only brand earning the top #2 position as Merkle's "Best Digital Super Bowl Campaigns" for three consecutive years, 2015, 2016 and 2017; a Gold (Sol De Oro) for #Avosecrets (AFM's 2017 Super Bowl digital campaign), in the category of Real Time Content at the FIAP competition in Buenos Aires. This festival is recognized in the Latin American region as one of the two most important festivals, together with Cannes. Additionally, during the three years she has led the organization's digital efforts, AFM has been recognized as: "The most engaging Cinco de Mayo brand on Facebook", and it has won a Silver Communicator Award for AvocadosFromMexico.com and a Gold Stevie in the Food and Beverage Websites category.
Ivonne also seats in the board of the Dallas/Fort Worth Interactive Association, advises the Board of Directors of Traction Labs, one of the most innovative digital marketing tech companies in Silicon Valley; and has addressed dozens of keynotes - across the nation and internationally - about Avocados From Mexico's digital marketing successes, best digital marketing practices, and digital transformation strategies. It's what she calls her small contribution to help push the industry forward.
Innovation, disruptive creativity and a non-traditional approach to digital marketing are the hallmarks of Ivonne's work.
AGENDA
6:00 p.m. Networking*
7:00 p.m. Welcome and introduction of speaker
7:05 p.m. Speaker presentation
7:50 p.m. Q&A
*The networking hour will include complimentary hor d'oevres, beer, wine and soft drinks
*************************************************************************
Save with early bird registration by noon on Friday, October 13th.
Pre-registration (advanced) ends at 10 a.m. on Wednesday, October 18th.
Walk-up pricing on-site for the October meeting is $45.
By registering for this event I'm (i) granting REA and its representatives the right to take photographs of me and my property while I'm attending the event, and (ii) authorizing REA and its representatives to copyright such photographs and to publish and use them in print and electronic media (with or without my name) for any lawful purpose, including publicity, advertising and promotion of REA and its events.
Organizer of October 2017 DFW-REA Event | Alvaro Luque & Ivonne Kinser, President and Head of Digital of Avocados from Mexico
The Dallas/Fort Worth Retail Executives Association (DFW-REA) is the leading professional development and networking organization in North Texas for executives in the retail, restaurant and hospitality industries, and for those providing services to such industries.
Follow us on LinkedIn: http://bit.ly/2fld4OB