Description

Event Program (all times ET):
12:00pm Welcome remarks, Agenda, and Kick-off,

Thomas Marks, Member, Trade Ideas Advisory Board

12:05pm "Behavioralizing money when making client key decisions",

Hugh Massie, CEO DNA Behavior International

12:35pm Q&A, Lunch served, Networking

12:45pm "Innovation in the Investment Process: Securing Alpha with Artificial Intelligence",

David Aferiat, Co-Founder, Managing Partner, and Thomas Marks, Advisor, Trade Ideas LLC

1:15pm Q&A, Dessert

1:25pm Sponsor Remarks

1:30pm Networking, Conclusion of Event
Why Attend?
Gain insight into the development of Financial DNA (www.financialdna.com) the world's
first complete all-in- one online behavioral finance platform to provide financial advisors and investors with a deep set of validated financial personality insights to make improved life and financial decisions.
Additionally see an overview of a Virtual Analyst to aid in the investment decision process. Fund Managers and Advisors must have a plan for leveraging Machine Learning analysis and A.I. technology for clients or risk having such technology used against them. A key part of such a plan is to identify technology that identifies alpha and manages risk.
Who Should Attend?
Join fellow advisors and portfolio managers from the region for a discussion over lunch on the impact new advances in behavioral finance and Artificial Intelligence on investment management. This is the second of four events around the country exploring the intersection of technology and advisory services especially for practices with less than $150M AUM.
Attendees will come away with at least 3 new insights into their client practice and the potential for improving performance results. It's food for thought and more. We look forward to greeting you on October 18 and networking with you and your peers.
More Details
Trade Ideas is the first financial technology company to bring artificial intelligence and machine learning to active investors and investment advisors who aren't attached to multi-billion-dollar hedge funds.
The Trade Ideas AI, named 'Holly' as a play on the idea of a Holy Grail, debuted in January 2016. Since her inception, Holly has soundly beaten the S&P. In 2016 the net return of the Holly's simulated portfolio for the 2016 calendar year was 52% after commissions. And she's putting in another great performance in 2017, returning 22% compared to the SPY's 8%.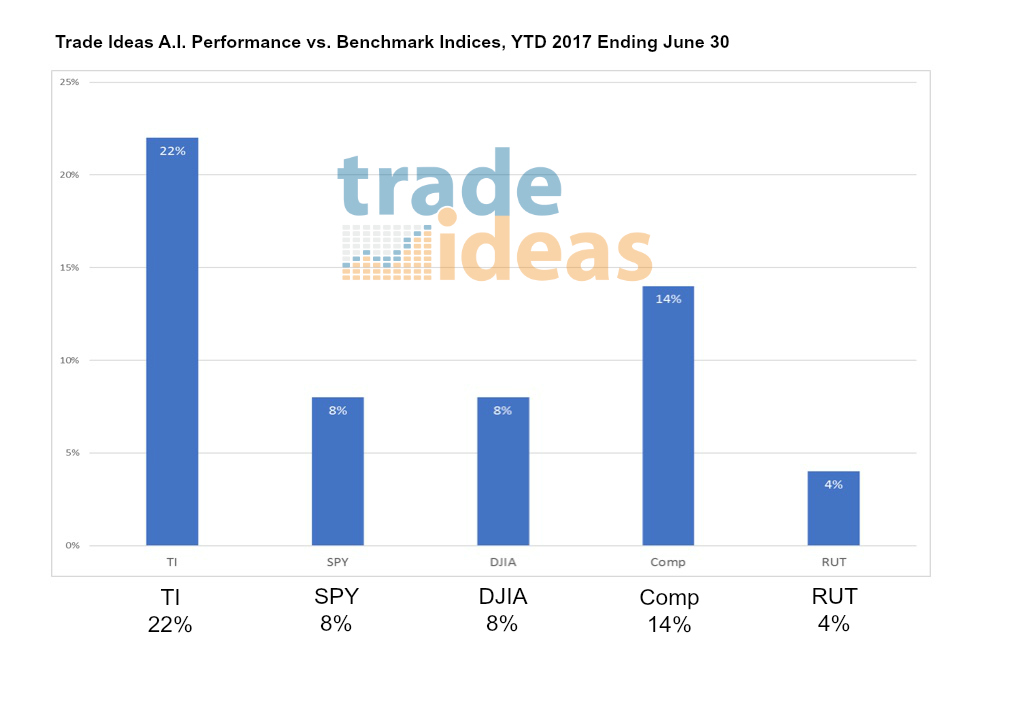 This democratization of powerful A.I. technology is enabling thousands of Trade Ideas clients to succeed in an increasingly difficult trading climate. As a result our subscription rate is skyrocketing, making us the true forerunner of machine learning for the retail active investor and asset manager with under $200M AUM.
See you there.