About this Event
Carpool Comedy Drive Up Show
An affordable comedy concert in the middle of Los Angeles! Tickets only $25 per person (non refundable) with national headliners as seen on The Tonight Show, Comedy Central, MTV, VH1, FUSE, Showtime, FOX and more! Come watch these amazing comedians and laugh your socks off! You can take off your socks; you are in your car!
Drive up, turn into your car FM radio and watch 6 comedians that will elevate your spirits and make you get over the Covid 19 depression. Let's all laugh together!
Our first event, a month ago, was a SMASH HIT!!!!!!!!!!
Nothing equals Comedians standing on a pick up truck (Stage) like "Taliban" figures doing their "Shtick"!!
You can also buy food and other stuff (like washing powder etc) at the nearby Liquor store as well as wash your clothes (Wet from laughter tears) and the lavenderia next door!
Why should you come to this great comedy concert?
1. Tired of sitting at home with your wife/other half/cats/dogs/alligator/snakes…
2. Love to sit in the car and see comedy and not be stuck in a traffic jam in the car!
3. Laugh laugh laugh; even if you were crying for the past 9 months…
4. Honk like crazy when you hear a good joke...
5. Just bored!
This is a ticket for you in the car , by buying a ticket for your car, you understand that you promise not to leave your car unless necessary, that you will wear a mask at all times out of the car or in car if your car windows are open, that you will keep social distancing out of the car and you understand that we have a Covid 19 epidemic and we cannot be responsible in any way shape or form if you get sick for any reason. You waive any rights to ask for compensation if you get infected.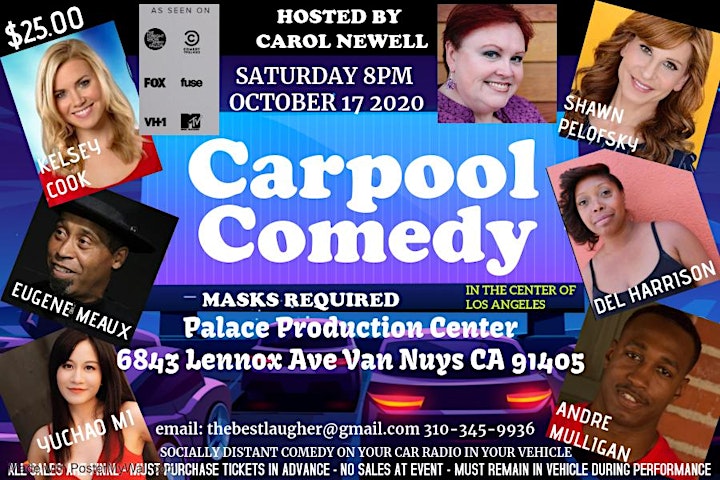 Event Line up:
Carpool Comedy October 17 BIOs
Shawn Pelofsky
By the age of 20, Shawn Pelofsky was performing sketches and improv with comedic giant, Will Ferrell. Shawn is a current paid regular at The World Famous Comedy Store, has toured and performed for the troops in places like Afghanistan, Bosnia, Bahrain and Guantanamo Bay. Currently, she's producing the hilarious monthly show Social Media Meltdowns at the Comedy Store and on You Tube and she is a producer for the hilarious CBS game show Funny You Should Ask. Her television and film credits include her new hit one-hour comedy special: Stretch it Out! (Amazon), Community (NBC), Chelsea Lately (E!),  The Gossip Queens (LOGO), Comics Unleashed (ABC),  Last Comic Standing (NBC),  and Free Enterprise starring William Shatner. https://youtu.be/LrxXSwAHIkc
Kelsey Cook
Kelsey made her late night debut on The Tonight Show with Jimmy Fallon. Her other television appearances include Comedy Central's This is Not Happening, AXS TV Presents Gotham Comedy Live, Punchline on FOX, Uproarious on FUSE and Greatest Party Story Ever on MTV. She has spent the last five years touring in over 60 cities across the country. Kelsey splits her time between Los Angeles and New York where she is a paid regular at The Comedy Cellar, The Stand, Gotham Comedy Club, The Laugh Factory and the Comedy and Magic Club. https://youtu.be/PNQHBxChjD0
Yuchao Mi
Straight outta China, Yuchao Mi first started her dream of making people laugh as a standup comedian in Hollywood. She is a very experienced host with a lot of experience emceeing and hosting celebrities on shows and special events in both China and America. As a comedian she loves to share her perspective any chance that she can, including on Tik Tok (@yuchaomi) where she has over 100k followers and counting. https://youtu.be/zVRwslOHN8U
Del Harrison
Voted one of the Top 35 Funniest Black Female Comedians in the US by Ranker.com (2019) Currently airing on LaffMobb's LaffTracks on TruTV, Del is no stranger to being on TV:  Comedy Live Gotham (AXS TV), Laughs (FOX), The Mo'Nique Show (BET) and so much more.  Hear Del regularly on the Sirius XM network and now, see Del Harrison co-hosting the newest award-winning, talk and lifestyle show "Let's Talk Hair" on Amazon Prime Video. Del Harrison is a comedian, actress, producer, director, voiceover artist, soul singer & songwriter and she has both her debut comedy album "Oh Yeah, Girl!" and her single "Boom Boom" out on radio now and they're both hot!!!  See more and download her album & single at www.iamdelharrison.com
Andre Mulligan
Born in Kentucky to a single mother of two and grew up in the projects of Louisville. Andre often found himself living alone or struggling as his mom fought a on and off drug habit. In 1997, Andre was shot close range almost ending his life. Changing the pace, Andre enrolled in college and was bit by the acting, writing, and comedy bug. Andre moved to Irvine California and has appeared locally at Flappers, The Comedy Store, and The Hollywood Improv. Andre Mulligan is also known for his work on The Dummy (2019), The Chef (2019) and Power Rangers: Shattered Grid (2018). https://youtu.be/NtRftmy8gjQ
Eugene Meaux
Eugene Meaux is a comedian and an actor. He has been on Comedy Central and opened for Prince, Dave Chapelle, Kat Williams and Roseann Barr among others. He just finished Clown Motel 2 Death Do Us Part (2020) and is known for Monday Morning (2012) and Everyday Men (2006). https://youtu.be/cf9VK3imLRE