Description
The STONEYARD® Certified Thin Stone Installer program provides masonry professionals with tools and important tips for the most efficient and effective install. Lunch is provided.
This is a FREE course offered by STONEYARD® that will discuss important topics such as:
Marketing opportunities with STONEYARD®

Learn proper natural thin stone installation methods and procedures

Learn why and how to use LATICRETE® MVIS system to install natural stone

See hands-on demonstrations of tools that make trimming and fitting efficient and visually appealing

How and where to use pre-cut 90 degree corners

When and how to mitre a non-90 degree corner

See large format 4 x 3 ft displays of all colors and shapes

Understand the advantages and selling features of natural stone

Learn how to educate your customer on the benefits of natural stone thin veneer

Use your Stoneyard Installer Certificate to demonstrate your knowledge and training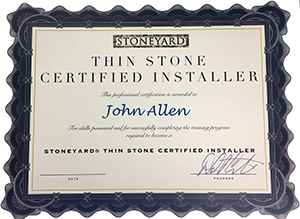 Call 978.742.9800 or visit www.stoneyard.com/certified to learn more about the course.
Save
Save
Save
Save
Save
Save