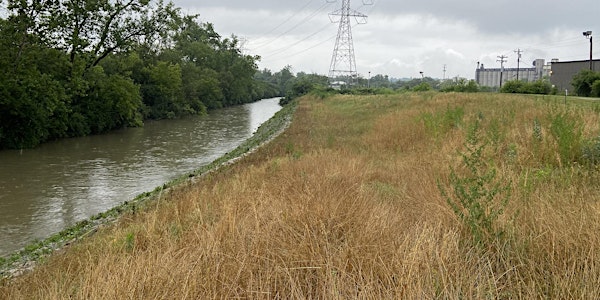 October 15th 2022 Urban Stream Adventure
Paddle with the Mill Creek Yacht Club
When and where
Location
Mill Creek 2600 Riesenberg Avenue (Put-in at Haffey Field) Cincinnati, OH 45215
About this event
Paddling with the seasoned guides of the Mill Creek Yacht Club is the best way to experience the wonders of the Mill Creek while learning about our long-abused but surprisingly resurgent urban stream. Join the Commodore and other Yacht Club veterans on Saturday, October 15th, as we explore the Mill Creek in our boats. On this urban stream adventure you will see surprising beauty of tree-lined riparian corridor running along side Cincinnati's major highways.
The paddling voyage will start at Haffey Field, the site of a recently completed restoration project in Reading, OH. The 4 1/2 mile journey will end at Caldwell Playground Park in Carthage. We will spend about 3 hours on the water with educational stops along the way, plus about an hour of combined time on the land before and after paddling.  This section includes passage over 2 soon-to-be-mitigated low head dams, past the confluences of the West Fork Mill Creek and Congress Run, and views of another MCA restoration project near the old Hartwell Golf course. Water level may create need for last minute changes in route plan and/or dragging of canoes at times.
View a paddle map of this section of the Mill Creek.
Registration for the paddle is open now through noon on Thursday, October 13th, or until all available seats have been reserved. Register today, seats are limited! 
See below for important safety information before registering*.
Prepare for an unforgettable adventure on the Mill Creek. Contact Linda Keller at the Mill Creek Alliance at lkeller@themillcreekalliance.org or 513-563-8800 with questions about the event.
See below for important safety information before registering*.
Our current MCA water quality monitoring program results indicate that the Mill Creek meets secondary recreational contact standards. (The secondary contact recreation classification describes aquatic activities when immersion is unlikely, such as boating, wading, and rowing.) Until we are able to achieve primary contact standards (under which swimming and full body immersion is considered safe), we recommend paddlers take care not to ingest or swim in the water and wash carefully after recreation activity.
In full disclosure, there are inherent risks involved in paddling local streams. Paddlers may need to climb out of the canoe to get past shallow spots and low-head dams.  You will need to be sure-footed in some places.  Potential safety hazards include sudden drop-offs, hidden holes, foot entrapments, slippery algae, submerged obstacles, jagged objects and sealed bottles with volatile ingredients.  Germicidal gel and a simple first-aid kit will be available.
* In 2012, Ohio EPA recommended no contact with waters of the Mill Creek because it can have high levels pathogens from time to time, especially within 48 to 72 hours of a rainstorm heavy enough to cause combined sewer overflows.  Many improvements have been made since 2012 but Ohio EPA has not yet lifted these recommendations.
It is your personal choice on whether to participate, based largely on the strength of your immune system and your willingness to take a calculated risk. If you have an open cut or weakened immunities, you should not go.  You should be 18 or older to be on the water with us or be paddling with a parent/guardian.