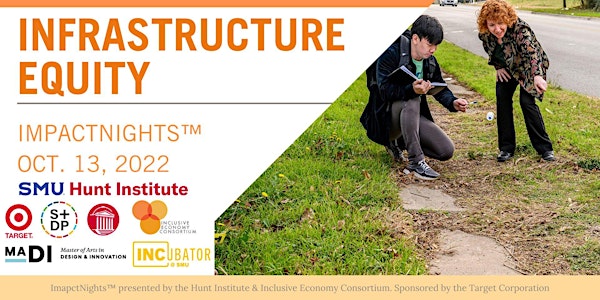 October 13: Infrastructure Equity
We will be exploring this timely topic in both the global and local contexts in the usual format of small expert-led discussion sessions.
When and where
Location
Hunt Institute for Engineering and Humanity 3145 Dyer Street, Room 206 Dallas, TX 75205
About this event
Save the Date!
Join us for ImpactNights™ Infrastructure Equity, October 13, 2022.
FOR ZOOM ATTENDEES: JOIN AT 6PM FOR INITIAL REMARKS. Each facilitator will share some conversation background about their breakout session topic.
https://smu.zoom.us/j/96955061105
Zoom Meeting ID: 969 5506 1105
Our October ImpactNights, with guest faciliator and co-host Dr Barbara Minsker, focuses on inequities in the built and green infrastructure of Dallas neighborhoods. SMU's National Science Foundation-funded research has discovered the existence of 62 infrastructure deserts in Dallas, which are low-income neighborhoods with significantly worse built and green infrastructure (sidewalks, public transit, street trees, parks, etc.) than high-income neighborhoods. The research also found that predominately Black and Hispanic neighborhoods are far more likely to have highly deficient infrastructure than predominantly White neighborhoods. These inequities are critical because neighborhood infrastructure provides services essential to community well-being, including health, safety, social connectedness, and resilience to shocks (e.g., economic downturns and disasters).
In-person: Check-in around 5:30 PM, grab a cup of coffee and network with like-minded professionals. Around 6:30, we break out into our subject-specific sessions. At 7:15, we wrap things up and everyone is invited to a reception to continue the conversation.
Remote: Please designate your intention to attend remote on your RSVP, we will send out information on specific breakout sessions once available.
Excited to share three breakout sessions!
We will be exploring this timely topic in the usual format of small expert-led discussion sessions. We are back in person with the remote option available for specified breakout sessions. The breakout sessions are:
Affordable Housing (facilitator: James McGee): Zoom Link
Inclusive Green Infrastructure (faciliator: Robert Kent): Zoom Link
Neighborhood Infrastructure as a Community Support System (faciliator: Janille Smith-Colin, PhD): Zoom Link
Take a look below to see our wonderful facilitators!
We will elaborate further on breakout session content during ImpactNights reception.