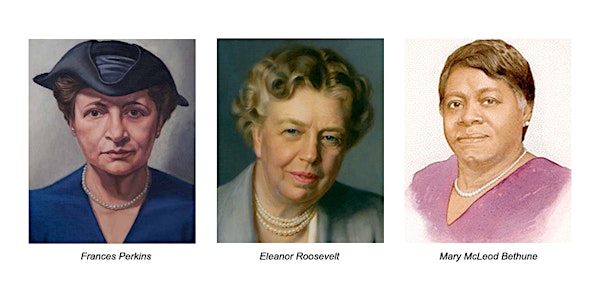 Oct 5-6, 2018 "Women and the Spirit of the New Deal"
Description
Many women played prominent roles during the New Deal, yet their lasting contributions to the social welfare of the nation go largely unsung. The Living New Deal, in collaboration with the Frances Perkins Center and the National New Deal Preservation Association, is hosting a conference, "Women and the Spirit of the New Deal," bringing together authors, scholars, historians, activists and those in public life to fill in a significant gap in our understanding and appreciation of the women who led the New Deal and provide an inspiring model for today.

The conference is open to the public with a limited number of tickets available on a sliding scale for those who wish to attend only the lectures and panel sessions. Tickets for additional conference events may be purchased separately. Please click on SELECT A DATE and then click TICKETS to register for the events you plan to attend.


"Women and the Spirit of the New Deal" will feature leading writers, scholars, and activists. Please click here to view the program, presenters and conference schedule.


PROFESSOR ROBERT REICH
former Secretary of Labor and author of The Work of Nations; Saving Capitalism; and the documentary, Inequality


KIRSTIN DOWNEY
co-winner of a Pulitzer Prize and biographer of Frances Perkins—the first woman to serve in a presidential cabinet


SUSAN QUINN
author of two books about women of the New Deal: Eleanor and Hick and Furious Improvisation, about the director of the Federal Theatre Project, Hallie Flanagan.


DYANNA TAYLOR
documentary filmmaker of Grab a Hunk of Lightning, about her grandmother, Dorothea Lange


ROBIN GERBER
author of "Leadership the Eleanor Roosevelt Way"

DR. EILEEN BORIS
Professor of Feminist Studies, UC Santa Barbara and author of numerous books and articles on women and work.


We invite you to join us to learn about how women shaped the New Deal and how the New Deal spirit can be revived to meet critical challenges today. You can register at this website by clicking the SELECT A DATE, then you can click TICKETS to sign up and make a donation.

The "Women and the Spirit of the the New Deal" conference is made possible solely by your generosity. The suggested donation amounts cover our costs.
Thank you for your support!
COSPONSORS
Gray Brechin and Robert Chlebowshi
Tom Given
Linda Gregory
Alfred and Ruth Heller
June Hopkins
Grace Roosevelt
David Rumsey
Art Deco Society of California
City of Berkeley
Department of Gender & Women's Studies, UC, Berkeley
Department of Geography, UC, Berkeley
Department of History, UC, Berkeley
Department of Sociology, UC, Berkeley
East Bay Regional Park District
Friends of the Berkeley Rose Garden
Frances Perkins Center
National New Deal Preservation Association
Philz Coffee
Rubicon Bakery