Oct 15: "CREATIVE AGING" Ricki Tannen, Ph.D., Depth Psychologist

Saturday, October 15, 2011 from 9:00 AM to 4:30 PM (EDT)
Event Details
Saturday, October 15, 2011
9:30 am – 4:30 pm; Sign-in 9:00 am
All Saints Episcopal Church, Ft. Lauderdale
Workshop: $75 (add $18 for 6 CEUs); Student: $60; (Lunch included)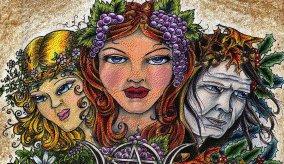 "CREATIVE AGING"
Ricki Tannen, Ph.D., Depth Psychologist
 
"We cannot live the afternoon of life according to the programme of life's morning,"
Jung, CW, 8, P. 784.
Jung's psychology deals primarily with the individuation process and the second half of life. Jung
saw his most creative writing period during the last seventeen years of his life. When Jung was
born life expectancy was 47, but now in America, it is 79 for men and 83 for women. Is there a
disconnection between what the collective consciousness believes and what those growing older
creatively are actually experiencing?
In this workshop Dr. Tannen will explore the creative aging process and the tasks of
individuation that must be accomplish in order not to become a cartoon of one's younger self
as one ages. "For the aging person it is a duty and a necessity to devote serious attention to
himself," Jung stated. To what type of serious attention was Jung referring? Face-lifts and
spinning classes? No. He suggested that as the first half of life is an outbound journey, the
second half takes us inward, requiring time, patience, a reorientation towards the shadow and
inferior functions, and the development of the relationship with the Self.
Jung's focus on the Self stands in opposition to the collective consciousness bombarding us with
messages about how not to grow old. Images of grandmothers who look 40 are shown playing
tag with their grandchildren. 30 and 40-year-olds are having more plastic surgery to appear even
younger. These images do not promote the reflection and contemplation necessary to release
creativity. In primitive cultures, older people were the guardians of the tribe's mysteries and
cultural heritage. Today in our culture, many of the elderly say they feel invisible. Images of the
wise old man (Senax) and the wise old woman (Crone) are sorely lacking.
This program will explore Jung's seven tasks of aging in light of modern gerontological research,
timeless philosophy, gender issues and modern depth psychology. It will include the trickster
approach to aging and the Baby Boomer demographic. In addition to exploring shadow dynamics
using Jung's typological functions, we will consider the perspectives of James Hillman's The
Force of Character and the Lasting Life, Helen Luke's Old Age: Journey into Simplicity, Marion
Woodman's The Crown of Age, Jane Pretat's Coming to Age: The Croning Years and Late-
life Transformation and other Jungian sages. How is it that people with few years to live find
themselves happier than they have ever been and happier than most 30 year-olds? We hope you
will come and discover the answer! Register above.
Learning Objectives: Following the completion of this program, participants will be able to:
1. Deepen their understanding of Jung's definition of creative aging and his perspective on the stages of life;
2. Demonstrate familiarity with the psychological tasks necessary for creative aging both in one's own life and in the lives of clients;
3. Demonstrate a broader understanding of the role of the shadow and inferior functions in creative aging both in one's own life and in the lives of clients.
4. Explain what is meant by "the trickster" approach to creative aging;
5. Describe perspectives on creative aging in earlier cultures and times in history; and
6. Understand the importance of "wise old man" and "wise old women" cultural images, and identify these images in one's own life and/or the lives of one's clients.
Ricki Tannen, Ph.D., has a doctoral degree in Depth Psychology from Pacifica Graduate
Institute and is also a Harvard trained attorney. She served as President of CJS-SEF in 2003-
2004 and has presented for the Center many times. She is the author of many books and articles
including her most recent book, The Female Trickster (Routledge). She has taught creative aging
at the University of North Carolina-Asheville. She teaches and writes and maintains a small
private practice in Hollywood, FL.
Register above or mail this form (save Paypal fee) with your check made payable to CJSSF to:
Patrick Parham, Treasurer, P.O. Box 669, Hallandale, FL 33008
For more information, visit our website: www.jungcentersouthflorida.org ; OR Call our
Message Phone: 954-525-4682 and someone will return your call.
Directions to All Saint's Episcopal Church-333 Tarpon Drive, Ft. Lauderdale, FL 33301:
Take I-95 to Broward Blvd. (Exit 27) East to Right on Andrews Ave., to Left on Las Olas Blvd.
(go past the Riverside Hotel for 4 blocks) and turn Right on 333 Tarpon Drive. This event will be in the Chapel on the far Eastern end of the property. There is plenty of FREE parking in front and back.
When & Where

All Saint's Episcopal Church
333 Tarpon Drive
Fort Lauderdale, FL 33301


Saturday, October 15, 2011 from 9:00 AM to 4:30 PM (EDT)
Add to my calendar
Organizer
Center for Jungian Studies of South Florida
The Center for Jungian Studies of South Florida, Inc. is a non-profit educational association that serves licensed mental health professionals and the greater community by fostering the study of the psychology of Carl G. Jung. The Center presents educational services including lectures, seminars, discussions and workshops to address the psychological, social and spiritual issues of our time while providing a forum for personal reflection and development. For more information: Call the Center's Message Phone:954-525-4682 http://www.jungcentersouthflorida.org
Oct 15: "CREATIVE AGING" Ricki Tannen, Ph.D., Depth Psychologist