OCHACKERZ - Semantic Technologies, Design UI/UX

Thursday, May 2, 2013 from 7:00 PM to 9:00 PM (PDT)
Who's Going

Loading your connections...
3 of your friends are going.
Share it to get more people on board!
Share

Sara Haughty
San Francisco, California

Luke Picard
London, United Kingdom

Rick Vespucio
Florence, Italy
Event Details
Tony Sarris  the founder and principal at N2Semantics (n2semantics.com), an OC-based consultancy in the field of semantic technologies. He has a particular fondness for 'intelligent software agents' and other semantically-fueled applications, and feels the time is right to begin developing them.
Tony got his start in knowledge representation and semantics through challenges encountered at Northrop Grumman Corporation and Price Waterhouse Coopers designing, modeling and integrating enterprise databases and developing component-based software/web services. At Ontek (Ontological Technologies) Corporation, he developed a number of architectures, processes and tools for building and managing conceptual schemas, metadata repositories and ontologies, and applied those to projects in product engineering, healthcare and intelligent transportation systems. He then applied those to modernizing the database management systems of a Fortune 500 IT vendor (Unisys) and its customers, primarily in the financial and transportation industries, and later headed the company's open source engineering initiatives.
In 2010, Tony temporarily moved to Canada and took on the role of VP of Development and IT Operations for Primal.com, a Toronto-area start-up with an innovative approach to bringing semantic data to everyday use in applications that find, filter and consume content from the Web. He led the successful transition of Primal's technology from R&D prototype to MVP/Alpha release and now to commercial use. Late last year he returned to SoCal where he continues to work with Primal and other semantic start-ups. For example, he recently worked with Frost Venture Partners to help incubate a start-up doing semantic indexing and search over Big Data (in HDFS), vetting their initial idea, developing a technical approach and architecture, and pitching to VCs for seed funding.
In this talk, Tony will give a brief background and history on semantic technologies and then introduce the leading approaches, which he characterizes as constructive (e.g., W3C/semantic web), inductive (e.g., Big Data analytics/ML) and generative (e.g., Primal). He will discuss use cases and resources associated with each. He'll conclude with a hands-on demonstration of the generative approach using Primal's semantic data service.
The second half of this months meeting will be focused around design and will include a presentation from:
Rhett Ruseski, an independent Software User-Interface (UI) User-Experience (UX) Design, Evaluation and Usability Professional committed to improving the end-user software interface experience.  I have over 20 years of experience evaluating the usability of software, apps and websites.  I have witnessed the shifts and trends in software evolution and have listened to and experienced the frustrations of end-users. I work alongside other designers and developers to enhance software making it more user-friendly utilizing user-interface, user-experience/customer experience concepts.I believe the concept of User-Friendly has been lost over the years, creating a huge gap between programmers/designers and end-users.  I can help fill the gap with my user-interface best practice criteria list which I compiled based on the hundreds of apps, software, and websites with which I have interacted.  Not surprisingly, very few software programs meet these criteria.  I am often horrified by the needless complexity of software, apps or website navigation from a user interface perspective. My Human-Computer Interaction skills and insight can help improve and simplify these software programs. With the proliferation of Smart-Phone and Tablet devices, the Virtualization explosion, and the increased introduction of SaaS and other Cloud based services, User-Friendly initiatives will be of critical importance for companies to win over the end-user.  Usability is often a compelling factor behind software purchase decisions and adds enormous value by reducing the Total Cost of Ownership (TCO) and improving the Return on Investment (ROI).  User-Friendly software reduces training and tech support costs.  End-users can be more productive doing their jobs rather than wasting time trying to figure out how to use the software.

All you need is a positive mind, the desire to challenge the status quo and willpower. If you have an internet device or any other technology you wish to share with the group, feel free to bring it, although we can use the equipment at the store.
Apologies in advance as we will have to cap this group at 30 due to the space we have available. To be fair RSVP will be on first come first serve basis. Please keep your RSVP current so others that maybe on the waiting list can still make it. Thanks

Anil
FOUNDER @OCHACKERZ
Refer to www.OCHackerz.com for more information
Click on meetup icon, Join www.meetup.com/ochackerz to become a member and view location information.
Organizer
Anil Pattni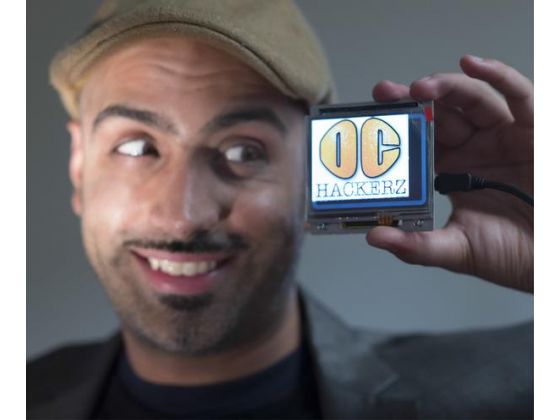 Anil Pattni is an entrepreneur with a strong background in International Business and Technology. He has held senior positions at the Retail, Corporate and Government level for many firms.
He is currently part of the Socal Elance team and primary representative for Orange County, CA.
With a focus on Design, UI, UX, CX and IA, he is currently the Founder & CEO at WirelessAppz a smartphone technology startup.
He founded OCHackerz in 2010, one of the first startup focused technology communities in OC 600+ members. Also one of the main drivers for OCMiniMakerFaire 2012 with over 1200 attendees.
He is also a student mentor at the Leatherby Center for Entrepreneurship at Chapman University.
More recently Mr Pattni is Chairman for the new Center for Multidisciplinary Innovation at IEEE, the worlds premier organization for technology professionals. Learn more at www.anilpattni.com www.ochackerz.com