Description
Ocean State Pops Orchestra: 2019 Opening Night Concert
Join new Music Director Dr. Brian Cardany as he launches his inaugural season with the Ocean State Pops Orchestra. For the opening night of our 19th season, Dr. Cardany and the Orchestra are planning a special celebratory program, featuring musical masterworks and audience favorites, including Verdi's Triumphal March, Bizet's Carmen Suite No.1, music from Broadway, and more.
The setting for this concert is the dazzling and historic St. Ann Arts and Cultural Center in Woonsocket, RI. Constructed in the French Renaissance style, this former Catholic church is dubbed 'The Sistine Chapel of North America.' It is adorned with the largest collection of frescos in North America, meticulously executed to perfection by the Italian artist Guido Nincheri.
In 2011, Yankee magazine designated the St. Ann Arts and Cultural Center as "Best Attraction," noting: "The walls, vaults and ceilings of this former church are covered in frescos beautiful enough to convert an atheist."
The Ocean State Pops Orchestra looks forward to welcoming you to this special evening, featuring great music and high couture in a stunning and historic venue.
Tickets: $16 + processing fee
Children under 12 admitted free at the door, subject to seating availability.
---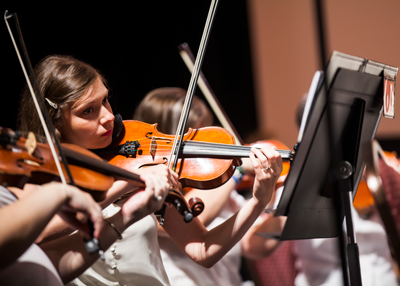 Organizer of Ocean State Pops Orchestra: 2019 Opening Night
The Ocean State Pops Orchestra is a 60-piece touring orchestra based in Rhode Island, which performs throughout Southern New England.
Our mission is to educate, entertain and inspire through music. We are committed to presenting the highest quality performances of great music and educational programming to enhance the cultural vitality and quality of life of our community, and to further the public's knowledge and understanding of orchestral music.
The Orchestra's summer concert season begins in June and ends at Labor Day. The Orchestra also performs special Holiday-themed concerts in December. Our repertoire includes a broad variety of light classical pieces, as well as movie and show music, marches, Big Band, and other pops-style selections. 

Performance locations vary and have included municipal and corporate-sponsored events, churches, private concerts, regional and national conventions, fireworks displays, and numerous other venues. 
 Smaller instrumental ensembles are also available for special events, such as weddings.
Email: info@OceanStatePops.org