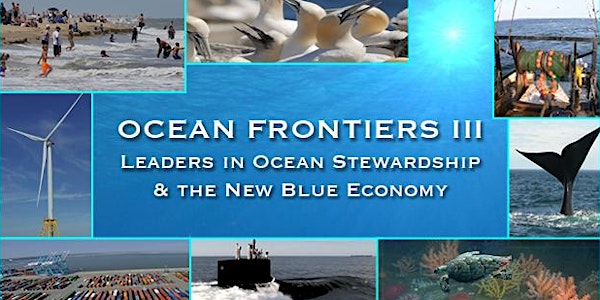 Ocean Frontiers III – Film & Panel Discussion at Farmingdale State College
Description
New York's ocean use is growing rapidly, with massive new ships, soaring demand for offshore sand mining, and proposed wind energy development offshore. Our busy waters are also home to endangered whales and sea turtles, and support thriving fishing and recreation industries. It's more important than ever that we plan ahead for responsible ocean growth.
Join us for a special screening of Ocean Frontiers III. This hopeful film explores the challenges at the heart of ocean conservation and development, presenting solutions from a range of people who are leading the way to a healthy and sustainable ocean future. Participate in the post-film conversation and learn how you can get involved.
Free and open to the public!
TIMELINE

6:30pm – Light reception
7:00pm – Introduction & Ocean Frontiers III film
8:00pm – Panel discussion and audience Q&A on the new Mid-Atlantic Regional Ocean Action Plan
PANELISTS
The interactive panel discussion with regional experts includes:
Karen Chytalo – Assistant Director of the Division of Marine Resources, NY Dept. of Environmental Conservation &
Mid-Atlantic Regional Planning Body Member
Jennifer Garvey – Long Island Development Manager, Deepwater Wind
Carl LoBue – NY Oceans Program Director,

The Nature Conservancy on Long Island

John McMurray –

Owner/Operator of One More Cast Charters, Conservation Writer, Prior Mid-Atlantic Fishery Management Council Member and Current Legislative Commissioner on Atlantic States Marine Fisheries Commission

Adrienne Esposito – Executive Director, Citizens Campaign for the Environment (Moderator)
CO-HOSTS

Renewable Energy and Sustainability Center at Farmingdale State College, Long Island Sierra Club, Citizens Campaign for the Environment, The Nature Conservancy on Long Island, New York State Marine Education Association, SUNY Maritime College, The Safina Center, New York Sea Grant, Stony Brook University's School of Marine and Atmospheric Sciences, South Shore Audubon Society, Surfrider Foundation - Central Long Island Chapter, Save the Great South Bay, Renewable Energy Long Island, Wildlife Conservation Society's New York Aquarium, New York Offshore Wind Alliance, Gotham Whale, All Our Energy, American Littoral Society, Deepwater Wind, North American Marine Environment Protection Association, New York League of Conservation Voters, Natural Resources Defense Council, Coastal Research and Education Society of Long Island (CRESLI) and Green Fire Productions.
~ ~ ~
FAQs
Where on campus is the event?
This event takes place in Roosevelt Hall. The reception is in the Multi-Purpose Room and the film screening and panel discussion take place in the Little Theater.
What are my transportation options for getting to and from the event?
Farmingdale State Collecge is accessbile by train, bus and car. The cost for a taxi from the train station to the college is $8 per person, according to the college's website. Find detailed information on transportation options at http://www.farmingdale.edu/about/directions.shtml.
Where can I park?
Please park in one of the following lots that are closest to Roosevelt Hall: staff lots #8 and 9A and student lots #9 and 7. Note: Parking before 5:30pm requires a permit. Parking map / Campus map
Please note: the marker on the map below does NOT point to the correct building. Roosevelt Hall is the circular building adjacent to the Great Lawn.

Organizer of Ocean Frontiers III – Film & Panel Discussion at Farmingdale State College
The Ocean Frontiers film series, produced by Green Fire Productions, brings you face to face with inspiring stories from the U.S. and Canada of citizens, scientists, fishermen, tribal leaders, conservationists, industry leaders and government representatives – all working together to find solutions that benefit our marine environments and our marine economies.