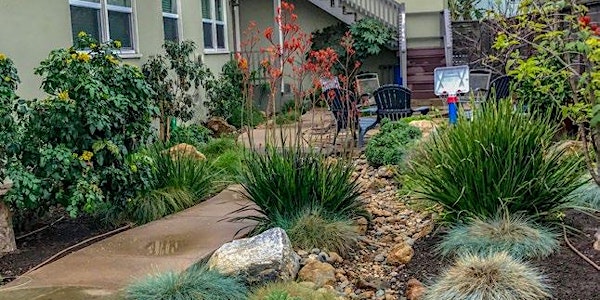 Ocean-Friendly Gardens: Taking the Watershed Approach (STORMS Seminar)
When and where
Location
CalEPA Building, Sierra Hearing Room 1001 I Street Sacramento, CA 95814
Description
Ocean Friendly Gardens (OFG) offer beautiful, simple solutions to the water quality problems created by stormwater and urban runoff. OFG take a watershed approach, considering every yard, lot, and garden as a mini-watershed. Creating healthy, living soil is the foundation of this approach. By transforming our landscapes and hardscapes, we can help restore the natural water cycle, protect local water supplies, prevent pollution from reaching rivers and oceans, reduce flooding, and sequester carbon. Come learn how you can be an ocean-friendly gardener!
Please RSVP to join us online or in-person. Event will be webcast: https://video.calepa.ca.gov/
SPEAKERS:
Pamela Berstler
Executive Director, Pacific Horticulture Society / CEO, G3
Pamela Berstler is a highly-experienced landscape expert who is now Executive Director of Pacific Horticulture Society, a 50 year old organization devoted to expanding horticultural and environmental literacy about climate change. Pamela co-founded and continues to manage G3, Green Gardens Group an EPA WaterSense Partner and Professional Certifying Organization that conducts outreach and education on the Watershed Approach to landscaping for homeowners and professionals throughout the U.S. and Canada. In 2017, G3 was awarded EPA WaterSense Certifying Partner of the Year for its Watershed Wise Landscape Professional Training certification. Through G3, Pamela promotes the principle that every landscape can be utilized to create soil security, water security, and resilient communities. To date, Pamela has written and published six "Watershed Approach to Landscape" handbooks.
Mara Dias
Water Quality Manager, Surfrider Foundation
Mara Dias is the Water Quality Manager for the Surfrider Foundation, an international, grass-roots, environmental NGO. She currently leads the Surfrider Foundation's Clean Water Initiative which includes managing their volunteer-run water quality monitoring program, the Blue Water Task Force, and the Ocean Friendly Garden program that educates homeowners, professionals and elected officials on sustainable landscaping practices that conserve water resources and protect local waterways from polluted runoff.
The STORMS Seminar Series supports our mission to advance the perspective of storm water as a valuable resource by featuring the latest research, technologies, policies, and news relating to storm water. The STORMS Seminar Series will engage storm water professionals and the public on topics of statewide relevance such as sustainable storm water management, drought resiliency, and low impact development.