Description
EXTENDED! OCEAN CUBE HAS EXTENDED UNTIL OCTOBER 23! Check it out in New York City this fall!
ATTENTION EVERYONE!
We do not have a specific time slot for each individual day, tickets are valid on the attending date for 1-hour visit. Feel free to join us from 10 AM to 8 PM with valid tickets!
Daily last call entrance at 7:30 pm.
Check our feature story on The NEW YORK TIMES!
Have you ever dream of living in the deep sea in centuries?
If you have, your dream will come true in the Ocean Cube.
Ocean Cube is an immersive pop-up exhibit coming to NYC in June 2019 that offers participants a futuristic under-sea world
In this exhibit, you can shuttle between land and sea by coral traffic tunnel and are protected from external pollution under the protection of fishing nets wall. Besides, you can also take whales and jellyfish as "vehicles" to transfer to other rooms. In addition, don't forget to do some shopping in the "pearls and bubbles" mall.
It is the first oceanic pop up in NYC. It is incredible because everything is bioluminescent here! All the beautiful creatures emit the soft light. This is the place you don't want to miss this summer!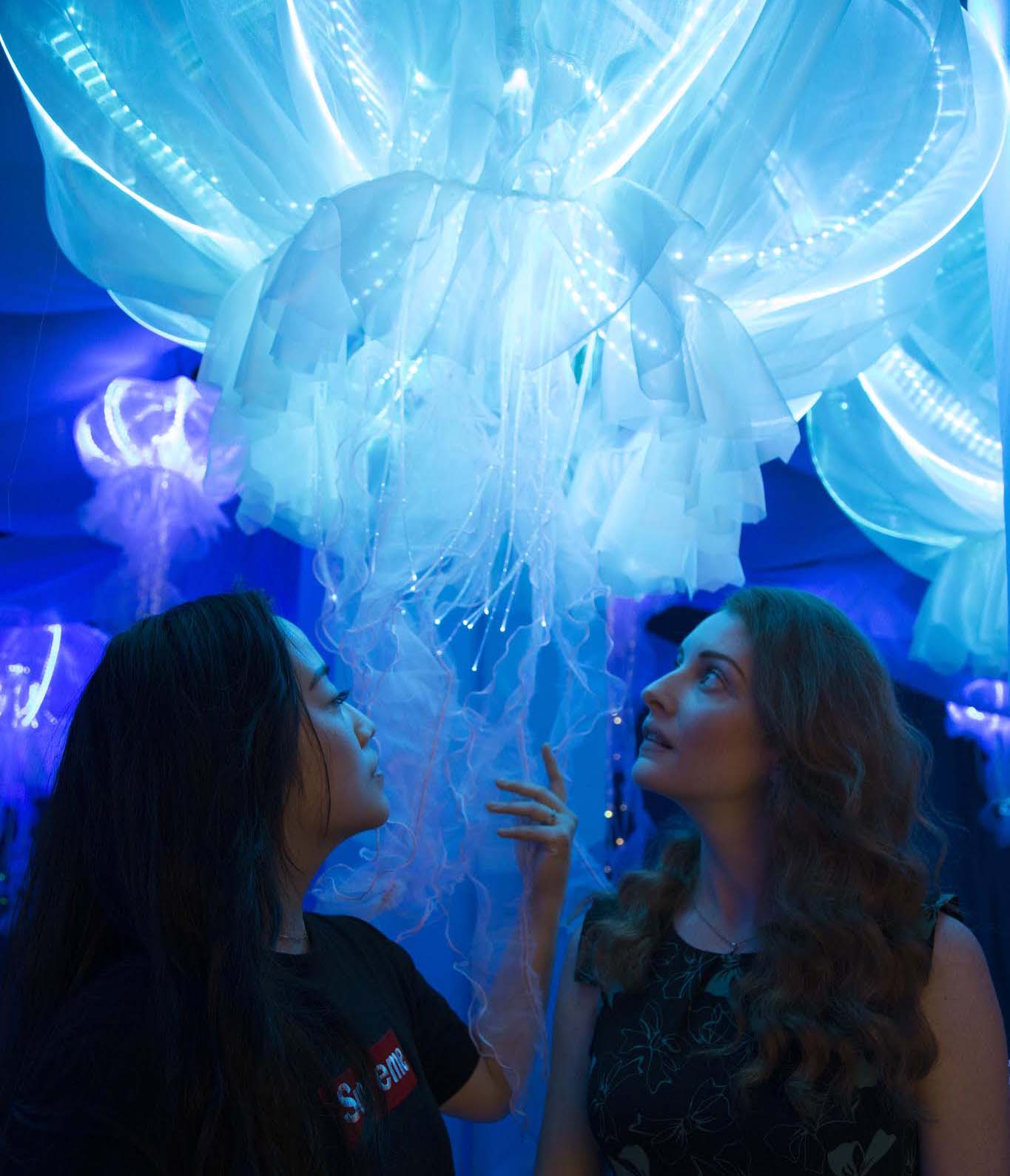 FAQ
What includes in my ticket?
Your ticket includes entrance into Ocean Cube. Entrance only valid for the date on your ticket. There will be no re-entrance.
Will there be a line?
Like many live events you've been to, there might be a line. IF our space is too crowded, our staff will shut the door for 10 minutes to maintain a better experience for everyone. So, weekday is a great choice to join our exhibit.
Can I transfer my tickets to others?
Tickets are non-refundable and non-transferrable. One person's ID in your party must match the name on one ticket (the rest of the names are interchangeable).
How long will it take to experience Ocean Cube?
It varies for each guest, but visits usually last about an hour. You are also welcome to hang out at our reception area where there are souvenirs and our behind-scene books for sale.
Do you have any discount ticket for children, senior or military?
Children age two years and under do not need a ticket. We have discount tickets for seniors age 60+ and militaries, just purchase student tickets.
Is baby stroller allowed in Ocean Cube?
Due to the limited space, no baby strollers will be allowed inside. We recommend you wear a baby carrier or hold the baby while exploring.
Is Ocean Cube pet-friendly?
Certified service animals are permitted.
How can I purchase student tickets?
We accept high school and college student ID from the US only to qualified to purchasing student tickets. When you arrive at the exhibition, please bring your physical student ID or at least a photocopy of it. One ID can only get one student ticket.
What's the refund policy?
All tickets are sold as non-refundable. You may redeem your tickets on another date, but we do not offer refunds regardless of circumstances.
Will there be food?
We are sorry to say that outside food or drinks may not be brought into Ocean Cube Exhibit.
Is photography allowed?
We want you to have fun and take in every moment. Please take as many photos as you like, but please be considerate of others enjoying the exhibit. Any commercial or product shoots, media shoots, press interviews, and all professional video equipment are prohibited without advance approval and accompaniment from an Ocean Cube Exhibit representative. Contact us at info@oceancubenyc.com for requests.
Is the Ocean Cube Exhibit appropriate for all ages?
Ocean Cube Exhibit is made with all audiences in mind. Children under the age of 18 must be accompanied by an adult at all times. There are some installations with features that are more about looking or listening than touching, so we ask that adults supervise accordingly. Wall text and our staff are there to guide you through to ensure you experience all the colors.
Do you have a group discount?
We have discounts for groups over 10. Please contact info@oceancubenyc.com for details.
Have a question we didn't answer?
Find us on Instagram @oceancubenyc DM us or visit www.oceancubenyc.com
Date and Time
Location
Refund Policy