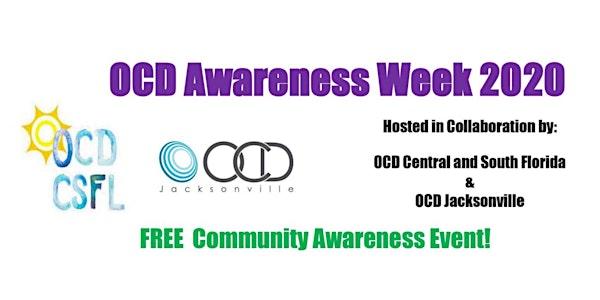 OCD Awareness Week 2020 Florida - FREE Online Conference
OCD Awareness Week 2020 - FREE Virtual Conference - Presented by OCD Central and South Florida & OCD Jacksonville
About this event
In recognition of OCD Awareness Week 2020, this FREE virtual conference will be held October 11th, 2020, and will include two presentations, which will be followed by Q&A with our speakers.
For our keynote address, Dr. Jonathan Hoffman, Ph.D., ABPP, will deliver a presentation entitled "What I've Learned About OCD in 30+ Years of Practice." Dr. Hoffman will discuss the ever-changing landscape of OCD and its treatment, historically and to present day. He will also address the many challenges that can arise in OCD treatment, as well as the power of community, collaboration, and advocacy.
A second presentation by Ashley Ordway LMHC, Victoria Schweiger, M.Ed/Ed.S, and Frank Morelli, LMHC entitled "Paradoxical Love: How to Support and Challenge a Family Member with OCD" will focus on family accommodation, family dynamics, and tips to help families navigate many of the problems faced when living with someone with OCD.
All registrants will be entered into a contest to win items from Natural Life's Fearless line. Sample items can be found here: https://www.naturallife.com/fearless
*Note: Continuing Education (CE) credits "may" be offered for Dr. Hoffman's presentation. Further information will be provided if/when available.