OCC Latino Business Committee: Estrategias para Incrementar Ventas

Thursday, August 7, 2014 from 3:30 PM to 5:00 PM (PDT)
Event Details
COMO ATRAER MAS CLIENTES
¿Tiene necesidad de conseguir más clientes para su negocio?
¿No sabe que medios de promoción puede utilizar para poder atraer clientes para su empresa?
¿Está desesperado por hacer crecer su negocio pero no sabe realmente como hacerlo?
¿No sabe a donde ir por ayuda para hacer crecer su negocio?
¿Ya se le terminó el dinero para promocionar su negocio y ya no sabe que hacer para conseguir nuevos clientes?
¿Los clientes que tiene hasta ahora se los han recomendado pero ahora está buscando opciones para conseguir más?
Si alguna vez se ha hecho alguna de las preguntas anteriores y aún sigue sin encontrar las respuestas apropiadas, tiene que asistir a éste seminario donde va a poder aprender consejos prácticos que le van a ayudar a atraer más clientes para su negocio.
1. Se prorpocionará una estrategia de marketing tradicional que si funciona.
2. Se enseñará como utilizar herramientas disponibles en Internet que son efectivas y que en varios casos no cuestan.
3. Se mostrará un sistema que permite atraer clientes las 24 horas al día los 7 días de la semana.
La presentación será ofrecida por:
Tayde Aburto
Fundador - Cámara Hispana de Comercio Electrónico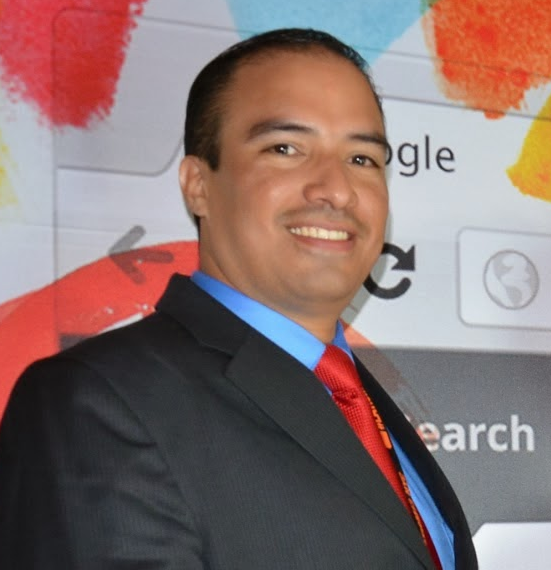 Licenciado en Economía con Maestría en Mercadotecnia. Tayde cuenta con extensa experiencia laboral en la administración pública y privada. Tayde se ha especializado en los últimos años en estudiar modelos de negocios que ayuden a los pequeños negocios a poder promocionar sus productos y/o servicios a través del uso de herramientas de bajo costo. Como dueño de un negocio pequeño, Tayde entiende perfectamente las necesidades que se tienen cuando se comienza un negocio o cuando se tiene poco tiempo en el mercado. Sus consejos estan 100% enfocados a responder esas nececidades de una manera que sea efectiva y económica.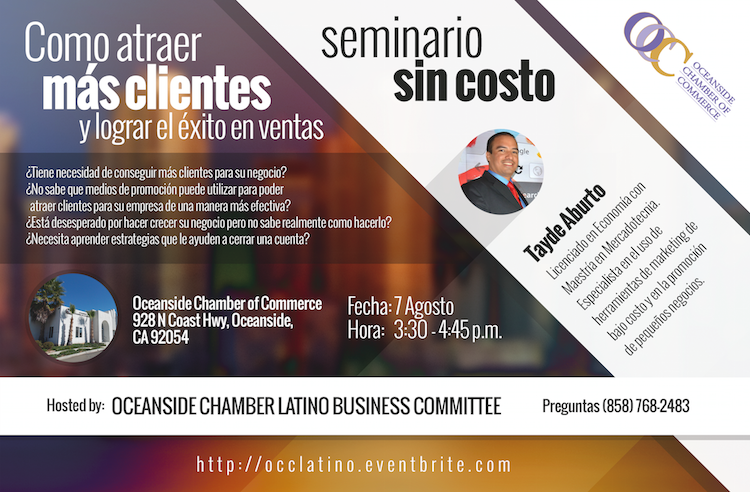 When & Where

Oceanside Chamber of Commerce
928 N Coast Hwy
Oceanside, CA 92054


Thursday, August 7, 2014 from 3:30 PM to 5:00 PM (PDT)
Add to my calendar
Organizer
The Hispanic Chamber of E-Commerce is a social enterprise using the power of business for social good. The mission of the Hispanic Chamber of E-Commerce is to promote the use of the Internet as a business tool and to help family-owned businesses to become more competitive in the marketplace. For more information please visit https://www.hiscec.com
Consent to use photographic images:
Registration for, participation in and/or attendance at HISCEC meetings and other activities constitutes an agreement by the attendee to HISCEC's use and distribution (both now and in the future) of the registrant or attendee's name, likeness, image, voice, comments and/or appearance in any and all media, including the Internet, for any purpose consistent with the HISCEC's mission, without compensation.
Consentimiento para usar imágenes fotográficas:
La inscripción, participación y/o asistencia a las reuniones de HISCEC y otras actividades constituyen un acuerdo entre los asistentes y HISCEC para el uso y distribución (tanto ahora como en el futuro) del nombre del solicitante o registro, imagen, voz, comentarios y / o aparición en todos los medios, incluido Internet, para cualquier propósito consistente con la misión de HISCEC, sin compensación.
All of our events are photographed and videotaped. By attending the event, you consent to your image being used by the Hispanic Chamber of E-Commerce & HISCEC Foundation for future marketing and social media campaigns. Thank you!
Todos nuestros eventos son fotografiados y grabados en vídeo. Al asistir al evento, usted autoriza a la Cámara Hispana de Comercio electrónico & HISCEC Foundation a utilizar su imagen en futuras campañas de marketing y en redes sociales. ¡Gracias!