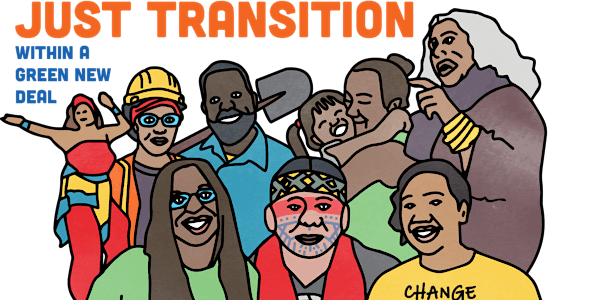 OCAC General Assembly: Just Transition to a Regenerative Oakland
OCAC General Assembly: Just Transition to a Regenerative Oakland, a quarterly opportunity to unite Oaklanders working for justice & ecology.
Refund Policy
Contact the organizer to request a refund.
Eventbrite's fee is nonrefundable.
About this event
Join the Oakland Climate Action Coalition for our Spring General Assembly: Just Transition to a Regenerative Oakland.
The General Assembly is our quarterly opportunity to bring together Oaklanders working for justice and ecology to build our power and coordinate our strategies as a coalition! We are inviting our Coalition members and trusted community allies to strengthen our bonds, coordinate our organizing, and grow our movement.
This online convening will begin with a workshop by Movement Generation (MG) on their Just Transition framework, followed by four breakout discussions of facilitated by community leaders from diverse sectors, on how we can collectively apply these principles and strategies in our work.
Breakout Sessions
1. Community Responses to the Pandemic
Facilitator: Anita "Needa Bee" de Asis, The Village
Before the corona outbreak our communities were already under attack and in turmoil. Decades of economic, racial and environmental injustices all came to a head with the housing affordability crisis and homeless state of emergency. the lack of deeply affordable housing for our people has created a Public Health crisis like we've never seen. Now in the era of Corona, access to the basic human right of housing is a health issue more than ever.
2. Resilience in Pandemic Times
Facilitator: Lil Milagro, Mycelium Youth Network
Much like climate change, COVID19 has exacerbated already existing inequities in society - predominantly around race, class, and gendered lines. Information that is released isn't readily accessible to low-income communities as it fails to use a culturally relevant lens that can directly appeal to communities who are already experiencing trauma from both economic instability, environmental racism, and lack of adequate health care. Our aim is to have open, honest conversations around both the needs of our community as well as ways in which our communities' culturally relevant ancestral teaching, creative ingenuity, can provide not just real healing in our community but a regenerative path forward.
3. Crafting a City-wide Resilience Plan
Facilitators: Mark Hall, Revalue.io and Crystal Huang, People Power Solar Cooperative)
In this breakout session, we will explore opportunities to execute actual projects based on our shared mission of community resilience using a community-based geospatial strategy. This can include highlighting connections and opportunities between distinct campaigns of environmental and social justice, clean community-'powered' power and economic inclusion projects in Oakland. This can also include urban agriculture, cooperative housing, cooperative clean energy and other efforts to develop Resilience Hubs in preparation for the upcoming wildfire fire season alongside the Pandemic. In addition to the threat of dirty energy, pandemics, and natural disasters such as wildfires and power shut-offs, we can explore which sections of our communities are most impacted by environmental health hazards and suffer from socio-economic stress leading to large populations being deemed 'hard to reach'.
4. How do we move our movements?
Facilitator: Phoenix Armenta, West Oakland Environmental Indicators Project, Mycelium Youth Network
This breakout session will be a practical discussion of how we move our movements -- meta-coalition organizing to save us all time and become better coordinated with each other. We will discuss various proposals for organizing our movements more effectively, including possible monthly meetings for Environmental Justice, Food Sovereignty, Housing Justice, Energy Democracy, Transportation Justice, Cooperative & Solidarity Economies, etc.
Additionally, we will explore the following questions, among others:
- How do we coordinate our fundraising?
- What are the barriers to working together?
- What would make your work easier?
- What are other creative ways we can coordinate as a movement of movements working for justice in Oakland?
Report Backs, Group Conversation & Updates
After report-backs, we will have an opportunity to discuss the answers that we all came to, and hear updates and announcements from diverse movements in Oakland, including folks advancing: Oakland's 2030 Equitable Climate Action Plan, community-owned energy resilience work in preparation for Fire Season, East Bay Clean Power Clean Energy Alliance's work to stop Nuclear Energy in the East Bay, the Earth Day Youth Climate Strike, Housing Justice work by The Village, mutual aid and community self-defense, health and healing work by Community Ready Corps, and more.