Virtual OC Youth Service Providers Consortium is a free event that addresses the needs of our community.
About this Event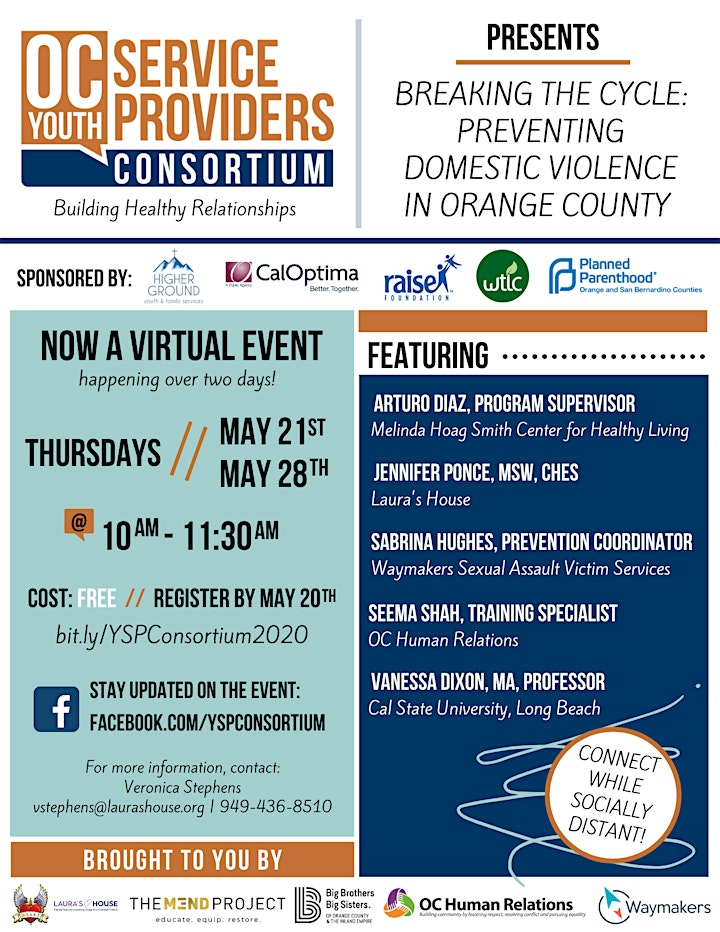 ZOOM REGISTRATION REQUIRED: https://bit.ly/YSPConsortium2020 (Registration link will register you for both dates.)
We are changing the date and going virtual! Due to COVID-19 concerns, the 2020 Consortium has switched to a FREE 2-part online series. The OC Youth Service Providers Consortium, presented by Laura's House, Waymakers, OC Big Brothers Big Sisters, OC Human Relations, and The Mend Project gathers local community organizations, non-profits, governmental agencies and outreach programs to work together in addressing the needs of our communities.
This years' topic, the Blue Shield Foundations study "Breaking the Cycle: A life course framework for preventing domestic violence", will provide a comprehensive and in-depth overview of the necessity and benefits of timely intervention strategies, and the need for a collaborative response from community partners.
New Dates and Time:
Thurs. May 21st from 10am - 11:30am
Thurs. May 28th from 10am - 11:30am
ZOOM REGISTRATION REQUIRED: https://bit.ly/YSPConsortium2020
Thank you to our Sponsors:
• Higher Ground Youth & Family Services
• CalOptima
• The Raise Foundation
• Planned Parenthood
• WTLC
• Bracken's Kitchen