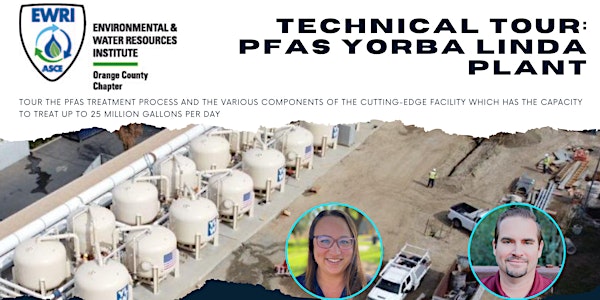 OC EWRI Presents Yorba Linda Water District PFAS Treatment Tour
Topic: OC EWRI Technical Tour - Yorba Linda Water District PFAS Treatment Tour Speaker: Danielle Logsdon Chris Olsen
When and where
Location
Yorba Linda Water District 1717 E Miraloma Ave Placentia, CA 92870
Refund Policy
Refunds up to 7 days before event
About this event
Topic: OC EWRI Technical Tour - Yorba Linda Water District PFAS Treatment Tour
Speaker:
Danielle Logsdon, PE, PMP, Principal Engineer, Yorba Linda Water District
Danielle Logsdon is the Principal Engineer for Yorba Linda Water District with over 18 years of experience in land development and municipal civil engineering, working for both private consulting firms and a public agency. She earned her BS in Civil Engineering from Cal Poly Pomona. She is a registered engineer in the State of California and a Project Management Professional. Ms. Logsdon is responsible for managing the District's asset management plan and capital improvement projects from planning, feasibility, engineering design, through construction management. She also manages the District's inspectors, GIS department, and design consultants. Ms. Logsdon's focus on the Yorba Linda Treatment Plant was bridging the gap between the Engineering and Operations departments. She involved key staff during design and construction of the treatment plant to ensure smooth operation and maintenance once the project was complete.
Chris Olsen, PE, Director of Engineering, Orange County Water District
Chris Olsen is the director of engineering for the Orange County Water District. His responsibilities include planning, directing, managing, and overseeing the activities and operations of the engineering department, including long-term strategic planning, capital improvement program development, engineering design, and construction management. He also manages engineering projects which includes planning projects, calculating project costs, determining project feasibility, preparing request for proposals, selecting and managing design consultants, setting direction and course for design effort, determining project schedules, reviewing plans at various stages of completion, coordinating construction bidding and award, recommending approval of design, and preparing agenda submittals. Mr. Olsen has 24 years of experience in the engineering field and began working for the District in 2006. He earned a bachelor's degree in environmental engineering from the University of California, Riverside, and is a registered civil engineer in the state of California.
Project:
The widespread occurrence of per- and polyfluoroalkyl substances (PFAS) has been detected in the Orange County groundwater basin, causing the shutdown of more than 60 municipal water supply wells due to exceeding advisory health thresholds established by the State of California. The Yorba Linda Water District (YLWD) had all 10 of its groundwater wells impacted by PFAS. These shutdowns have resulted in a temporary increase in the use of treated imported surface water, which carries a wholesale water supply cost approximately twice that of local groundwater. To quickly restore the local groundwater supply, OCWD established a program where the District manages the design and construction of PFAS wellhead treatment facilities, and subsequently transfers facility ownership to the impacted retail agencies for operation under a cost-sharing agreement. The program's (and nation's) largest wellhead treatment facility is located at the Yorba Linda Water District and came online in December 2021. This technical tour will walk attendees through the PFAS treatment process and the various components of the cutting-edge facility which has the capacity to treat up to 25 million gallons per day.
Location: Yorba Linda Water District 1717 E Miraloma Ave, Placentia, CA 92870
Time: Lunch @ 11:30 am; Tour ends @ 1:00 pm
Cost: $35 advanced payment by mail, PayPal or credit card, Students $15 at the door with school ID
For PayPal payment, please send payment to: HHTG_OC@yahoo.com
Mail checks payable to "ASCE HHTG" and RSVP to:
Jenny Robinet, EWRI Treasurer
17520 Newhope Street, Suite 200, Fountain Valley, CA 92708
Confirm: Call (714) 481-7236, or e-mail to: asceocewri@gmail.com