OC event: EUROPEAN OPPORTUNITIES TO FOSTER INNOVATION IN MEDICAL DEVICE DEVELOPMENT

Wednesday, December 8, 2010 at 5:30 PM (PST)
Event Details
Location: Hyatt Regency Irvine, 17900 Jamboree Road, Irvine, CA 92614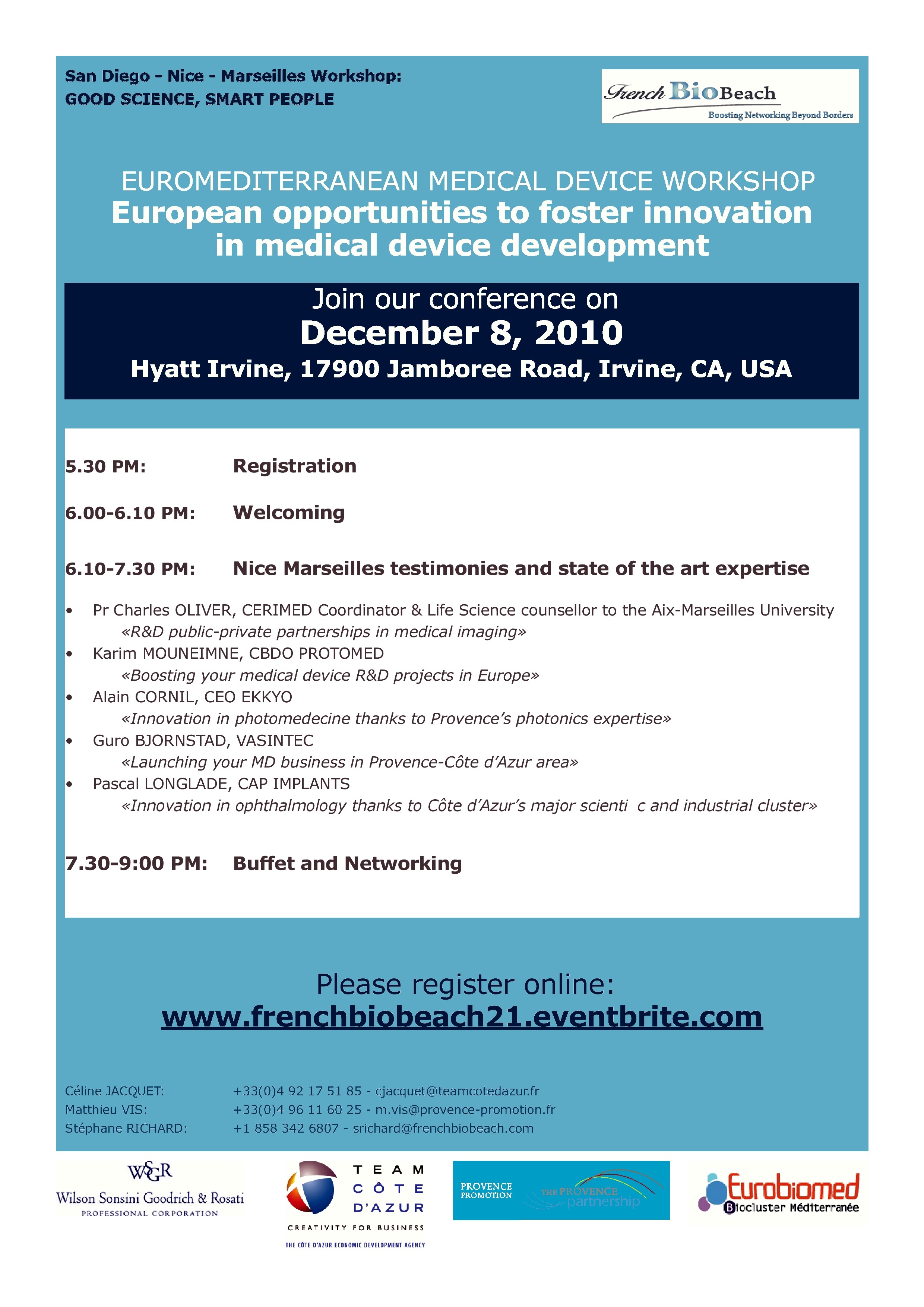 About CERIMED: http://cerimed.web.cern.ch/

CERIMED, the European Centre for Research in Medical Imaging, based in Marseille, France. CERIMED is a project of an european center of excellence for the development of molecular imaging technologies and will create and promote a multidisciplinary community working in the field of medical imaging. This large 30M€ infrastructure is presently in construction in the heart of the university hospital Timone in Marseilles, France, and will be fully operational at the end of 2011. It will run as a facility for research laboratories and industries but also liaise with large national imaging centers in Europe and as such, contribute federating the different actors working in the field of biomedical imaging..
About PROTOMED:
PROTOMED is a technology accelerator, specialized in the development of innovative solutions for the medical device industry. PROTOMED provides turnkey product development opportunities in line with clinical needs and market trends to device industry players, investors and entrepreneurs.  The company has created a unique platform of expertise to handle all stages of device development cycles with close relationships with opinion leaders, renowned researchers and industry experts.
- Karim MOUNEIMNÉ – Chief Business Development Officer and Board Member leads all business development efforts at Protomed and negotiates strategic partnerships with key industrial players.
He joined PROTOMED in October 2008 following a merger with VENTURE MEDICAL SOLUTIONS and after two years of close technical and commercial collaboration between the two companies. He holds a MS. in biomedical engineering from Arizona State University and brings to PROTOMED over twelve years of experience in the biomedical industry, gained from groups such as Edwards Lifesciences and Johnson&Johnson. He has played a significant role in developing and commercializing medical devices in both the US and in Europe, notably endovascular prosthesis and radiofrequency ablation navigation systems..
About Ekkyo: http://www.ekkyo.com/

 Ekkyo is a photomedicine company that develops and markets first-in-class scar-healing devices to reduce scarring and improve post-surgical comfort.
- Alain Cornil is the CEO and founder of Ekkyo. After 20 years in the medical device industry, including 5 tears in the US, he co-founded Ekkyo with scientist in 2006. Ekkyo is dedicated to deliver miniaturized and portable laser based solutions for various dermato-cosmetic and therapeutic indications. Its first product, EkkyLite, is now commercialized for the prevention and treatment of surgical scars. Ekkyo has also developed a unique technological know-how to develop innovative light based solutions for the cosmetic industry.
About VasinTec:
VasinTec Inc is the startup company currently setting up and R&D facility in France. The current projects are TAA and AAA endovascular devices that address the problems current aortic endovascular devices have. VasinTec Inc is owned by a team of physicians and engineers holding multiple patents within the vascular and endovascular field. They have all sold of several earlier startups with great success.
- Dr Guro Bjornstad, Director of Applied Engineering at VasinTec Inc (Miami, Florida, USA) is responsible for setting up VasinTec in Provence.  Technology Development, Testing and transfer to production, Clinical Program. Background:  32 years in Vascular and Endovascular device development Vascular Innovation Inc  VP R&D  Endoart Sarl  Director Clinical Development;  Boston Scientific Technical Director Endovascular;  Mintec Inc  Clinical Director ; Intervascular Inc Clinical Director; WL.Gore  Manager Northern Countries.
About Neurelec: http://www.neurelec.com/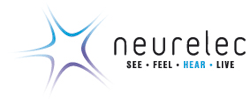 Neurelec is a medical device company and a subsidiary of the MXM Labs. The company is engaged in the research, development, manufacture and marketing of the hearing aids for the ENT markets. It develops products such as cochlear implants, auditory implants and implantable neuro-stimulation devices. The company's products are sold through its subsidiaries and network of distributors across the world. Neurelec has its operations in France, Germany and Egypt. It is headquartered in Vallauris, France.
About CAP Implants:
Cap Implants is a R&D company dedicated to the development of micro-implantable devices as an answer to various unmet medical needs. Its primary focus is in the field of ophthalmology. Created by experienced professionals in ophthalmology and clinical research, and recently incorporated in South of France within the Cote d'Azur Cluster of Ophthalmology, our aim is to provide diagnostic and monitoring tools for the management of glaucoma.
- Dr. Longlade's career includes 16 years of  international experience in Research and Development, Medical Marketing, Medical Affairs, Drug Safety and Pharmacovigilance in France, Switzerland Belgium and in the US in major pharmaceutical (Boehringer-Mannheim-Roche), medical devices (Cordis-Johnson & Johnson, Abbott Vascular Devices) and biotech (NicOx)companies, holding positions of growing responsibility in a range of therapeutic areas. Prior to joining the pharmaceutical industry he has also been a practicing physician in ER and ICU in several hospitals in Paris area. Dr Longlade graduated from the Lariboisiere-Saint-Louis School of Medicine of the University Diderot in Paris and he also holds a diploma in clinical trials investigations as well as in aeronautical medicine.
About Provence Promotion: http://www.investinprovence.com/en_US/home.html
Provence Promotion, the economic development agency of the Bouches-du-Rhône, was created by the Marseille-Provence Chamber of Commerce & Industry and the Conseil Général (Departement Council) to assist, free of charge, both French and foreign companies relocate in the region. Its field of activity is the economic development of the Bouches-du-Rhône through territorial, national and international marketing activities, promotion, marketing, business relocation, territorial development.
About Team Cote D'Azur: http://investincotedazur.com/en/team-ca/index.php
Team Côte d'Azur is the promotion and economic development agency of the Côte d'Azur Nice Sophia Antipolis region. Created in 1983 (formerly under the name of Côte d'Azur Development), it is a joint initiative of the Alpes-Maritimes county council and the French Riviera Chamber of Commerce and Industry. Its mission is to promote the Côte d'Azur territory towards international markets and help foreign companies establish themselves successfully in the region. Team Côte d'Azur provides a full range of services (confidential and free of charge) enabling investors to discover the Côte d'Azur - a leading, innovative and highly international territory and to establish successfully their business here. The Côte d'Azur and its major science park, Sophia Antipolis, are widely recognised as the leading French region for R&D investments of foreign companies.
About French BioBeach: http://www.frenchbiobeach.com
French Bio Beach is a San Diego based Biotech Networking Organization collaborating with French development agencies, French and US based Biotech companies and academic institutions to put together transatlantic partnerships and collaborations as well as helping the creation of French funded biotech from US based scientific IP.
Not a member yet? Become a French BioBeach Member ..
it's easy and it will make you look good.
French BioBeach: Helping BIO people look good since 2006
Have questions about OC event: EUROPEAN OPPORTUNITIES TO FOSTER INNOVATION IN MEDICAL DEVICE DEVELOPMENT?
Contact French BioBeach
When & Where

Hyatt Regency Irvine
17900 Jamboree Road
Irvine, CA CA 92614


Wednesday, December 8, 2010 at 5:30 PM (PST)
Add to my calendar
Organizer
French BioBeach is a San Diego based organization aiming at promoting scientific exchange and partnering between US and European biotech communities with a focus on France. http://www.frenchbiobeach.com