Ecstatic Dance event in Costa Mesa, Orange County CA with Cacao Ceremony, Group Meditation, Movement Class and Sound Bath!
About this event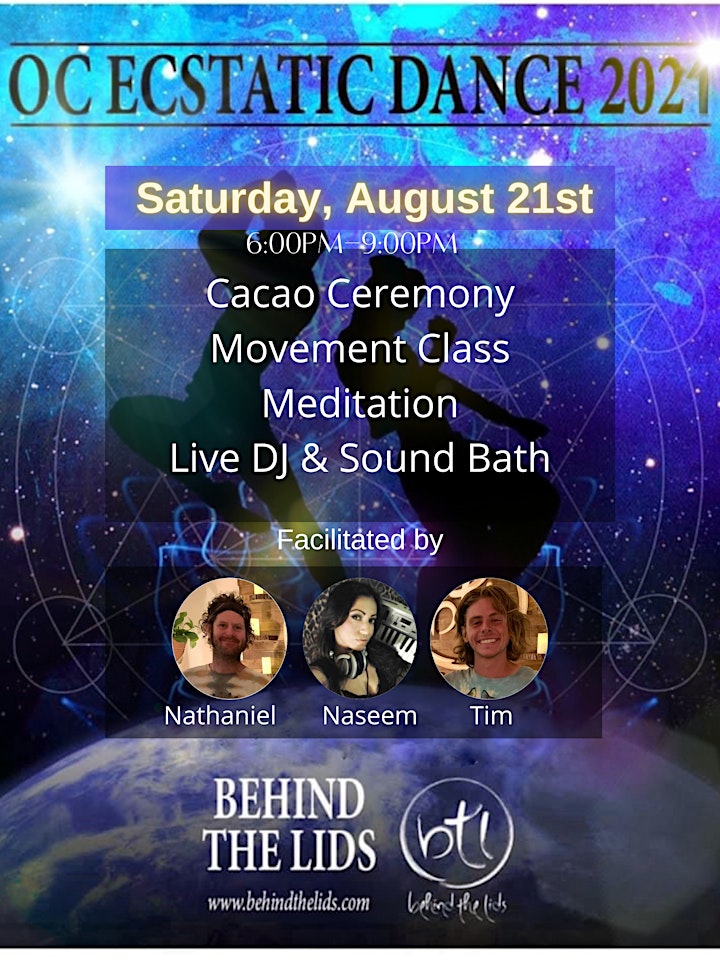 Saturday, August 21st, 2021
6:00 PM~9:00 PM
Behind The Lids Meditation
1733 Monrovia Ave, Unit L Costa Mesa, CA, 92627
OC Ecstatic Dance is a monthly immersive dance and free form musical movement journey! By bringing together people of all backgrounds and ages, we co-create a substance free Light Club environment that promotes the activation of higher consciousness, personal empowerment and healing. Through self-expression and movement we form a sacred space, fully connecting our mind, body and spirit.
Ecstatic dance will activate your spirit, helping you to go beyond the boundaries and limitations of the mind. It's about being free to express yourself through dance. No talking on the dance floor, turn off your cell phones and be fully present. Turning our attention inward deepens our awareness of ourselves and connection with others. Let your body speak for you! You may interact with others through movement but no chatting on the floor. Let the music move you to deeper connections and inspirations within yourself!
We will start with a heart opening cacao ceremony. We use a high quality ethically produced ceremonial grade cacao.
We will then move on to a light warm up, stretch breath and movement lead by Nathaniel and Tim aka Sunshine to open up our energy centers before the set and end with a soul nourishing and grounding guided meditation sound bath and closing ceremony. All are welcome, no dance experience necessary!
Live Ecstatic DJ set of Tribal Sounds and World Fusion + sound bath meditation by Naseem to complete our experience.
COST $25
Register here https://tinyurl.com/OCEDance8
COVID SAFETY PROTOCOLS:
Because of safety restrictions by our authority please adhere to the following guidance.
By attending this event you acknowledge that you are solely responsible for your own health and no one will be held accountable. If you have any symptoms of cold like fever, coughing, and sneezing please consider getting well first before attending any of our events.
Use your own judgement and be mindful about the social distancing and face covering mandates. It is mandated not the law, however please respect each other that everyone has different beliefs, opinions and comfort levels. If you feel uncomfortable with the risks and feel not the right thing to do you should honor it and stay home.
Please wear your mask If you feel safer dancing with individuals outside of your 'safety bubble' so that others may know and respect your space and maintain distance.
Register here https://tinyurl.com/OCEDance7
Organizer of OC Ecstatic Dance August 2021
Naseem is a mind-body-soul alchemist who works with the vibrational medicine such as sound, nutrition, energy healing and offers bodywork, intuitive counseling and life coaching for a personal transformation and healing. She is a certified reiki master, sound healer, CMT, coach and an intuitive.