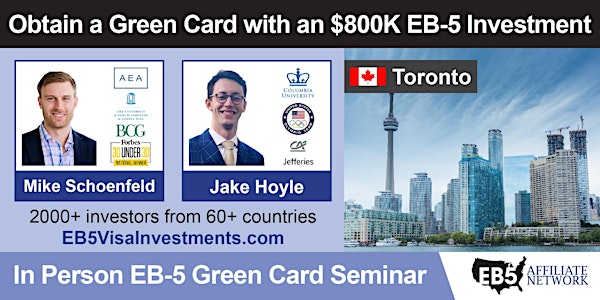 Obtain a U.S. Green Card With an $800K EB-5 Investment – Toronto
Meet in-person with our managing partners to learn how to obtain a U.S. Green Card with an $800K Regional Center EB-5 Investment.
When and where
Location
Startuptive - Coworking Space in Downtown Toronto 123 Edward Street #Suite 205 Toronto, ON M5G 1E2 Canada
About this event
Obtain a U.S. Green Card With an $800K Regional Center EB-5 Investment
We invite you to attend our EB-5 Visa Info Session with EB5AN's managing partners.
More than 2,000 families from 60+ countries have selected EB-5 projects sponsored by EB5AN.
Join us for this event to learn how you can get green cards for yourself and your family through the EB-5 visa program with an $800,000 investment. You will also learn why EB5AN is the most recommended regional center project sponsor.
The EB5AN team will answer the following common questions.
How much money do I need to invest?
Can I use borrowed or gifted money to make an investment?
How soon can I move to the United States? How long does my money need to be invested?
What are the risks?
What is exemplar approval and why is it important?
When can I become a U.S. citizen?
Can I bring my family?
Can I live anywhere in the United States?
What if I am already residing in the U.S. on a nonimmigrant visa such as F-1, H-1B, or L-1?
Benefits of the EB-5 visa include:
Permanent U.S. residency for the investor, spouse, and children under age 21;
Ability to live and work in the United States;
Ability to start a business;
Access to U.S. federal and state government programs;
Eligibility for U.S. citizenship after five years;
Visa-free travel to 130+ countries with a U.S. passport;
Higher chance of admission to U.S. universities;
Lower tuition fees at public U.S. universities; and
Possibility of bringing extended family members to the United States.
Get the essential facts and hear your questions answered by EB-5 experts!
Get introductions to experienced EB-5 immigration attorneys. You will need an attorney to help prepare your source of funds report and file your EB-5 visa petition with USCIS.
Share this page with your friends so they can register and join the session. Space is limited, so you must register in advance to reserve your seat. We recommend you reserve now; many of our other events are already sold out.
Mike Schoenfeld is the managing partner of EB5AN. He has extensive private equity investment, business diligence, management consulting, and entrepreneurship experience. Prior to EB5AN, Mike worked for AEA Investors, a leading middle-market private equity firm with $6 billion under management. Mike was previously employed by Boston Consulting Group, one of the top management consulting and business strategy firms in the world, where he worked directly with Fortune 500 Companies. Mike holds a B.A. in Economics and a B.S. in Business Administration from the University of North Carolina. Mike was also recognized by Forbes Magazine as a Forbes 30 Under 30 National Winner for Social Entrepreneurship.
Jake Hoyle is a Vice President at EB5AN. He has extensive experience in finance, consulting, and EB-5 project structuring. Jake recently represented the United States at the 2020 Tokyo Olympic Games on the fencing team. Prior to joining EB5AN, he worked in fixed income sales and trading at Jefferies Group, a middle-market investment bank. Jake also was previously employed by Crédit Agricole, a large international banking group, where he worked in international trade finance. Jake holds a B.A. in Economics with a concentration in Business Management from Columbia University.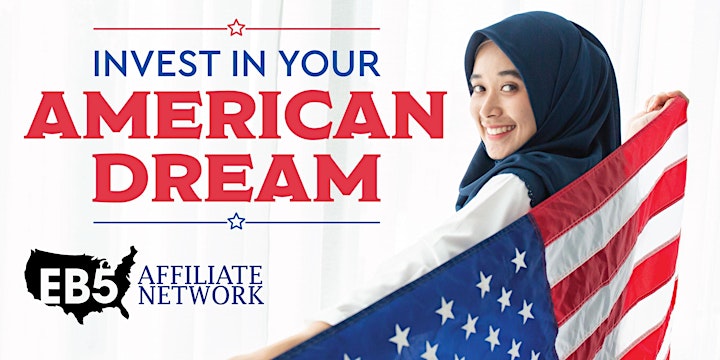 Sponsor: EB5 Affiliate Network (EB5AN)
EB5 Affiliate Network (EB5AN) helps foreign investors obtain U.S. permanent residency, or green cards, through investments in U.S. regional center and direct investment projects within the guidelines of the EB-5 Immigrant Investor Program.
EB5AN is a national regional center operator, EB-5 consulting firm, and global fund manager. The company has offices in the United States, India, Brazil, and China. More than 2,000 EB-5 families from more than 60 countries have selected EB-5 projects sponsored by EB5AN.
https://eb5visainvestments.com/
https://eb5affiliatenetwork.com/
info@eb5an.com