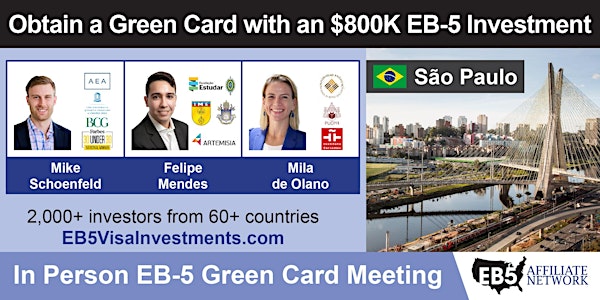 Obtain a U.S. Green Card With an $800K EB-5 Investment – Sao Paulo
Meet in person with our EB5AN team of experts to learn how to obtain a U.S. Green Card with an $800K Regional Center EB-5 Investment
When and where
Location
Renaissance Sao Paulo Hotel 2233 Alameda Santos Jardim Paulista, SP 01419-002 Brazil
About this event
Conheça pessoalmente a equipe de especialistas da EB5AN para saber mais em como obter um Green Card dos EUA com um Investimento de Centro Regional EB-5 de US$ 800 mil.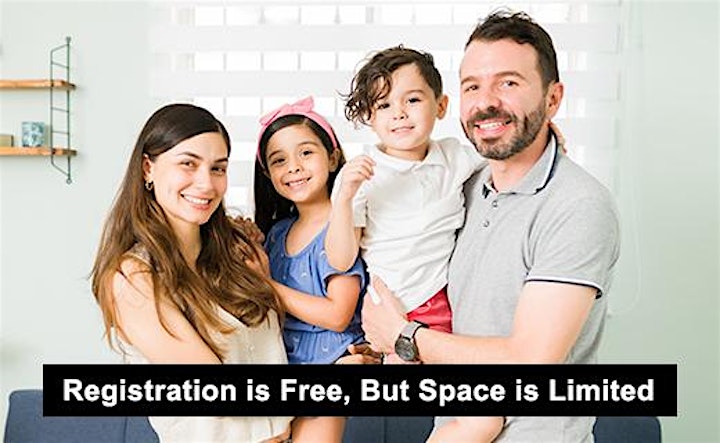 Obtain a U.S. Green Card With an $800K Regional Center EB-5 Investment
Obtenha o Green Card dos EUA com um investimento de US$ 800 mil em um Projeto de Centro Regional EB-5
SIGN UP TODAY – Contact our team by sending an email to mila.deolano@eb5an.com to pick the best time for you and your family to meet privately and in person with our EB-5 investment experts!
We invite you to attend our EB-5 Visa Info Session with EB5AN's team.
More than 2,000 families from 60+ countries have selected EB-5 projects sponsored by EB5AN.
Join us for an informative session to learn how to get a Green Card for yourself and your family through the EB-5 visa program with an $800,000 investment. You will also learn why EB5AN is the most recommended regional center EB-5 project sponsor.
INSCREVA-SE HOJE – Entre em contato com nossa equipe enviando um e-mail para mila.deolano@eb5an.com e escolha a melhor hora para que você e sua família se encontrem pessoalmente com nossos especialistas em investimento EB-5!
Convidamos você a participar da nossa Sessão de Informações de Vistos EB-5 com a equipe da EB5AN.
Mais de 2.000 famílias de mais de 60 países selecionaram projetos EB-5 patrocinados pela EB5AN.
Junte-se a nós para uma sessão informativa sobre como obter um Green Card para você e sua família através do programa de visto de investidor imigrante EB-5 com um investimento de US $ 800.000. Você também aprenderá por que o EB5AN é o patrocinador de projeto de centro regional EB-5 mais recomendado.
The EB5AN team will answer the following common questions.
How much money do I need to invest?
Can I use borrowed or gifted money to make an investment?
How soon can I move to the United States? How long does my money need to be invested?
What are the risks?
What is exemplar approval, and why is it important?
When can I become a U.S. citizen?
Can I bring my family?
Can I live anywhere in the United States?
What if I am already residing in the U.S. on a nonimmigrant visa such as F-1, H-1B, or L-1?
Benefits of the EB-5 visa include:
Permanent U.S. residency for the investor, spouse, and children under age 21;
Ability to live and work in the United States;
Ability to start a business;
Access to U.S. federal and state government programs;
Eligibility for U.S. citizenship after five years;
Visa-free travel to 130+ countries with a U.S. passport;
Higher chance of admission to U.S. universities;
Lower tuition fees at public U.S. universities; and
Possibility of bringing extended family members to the United States.
Get the essential facts and hear your questions answered by EB-5 experts!
A equipe da EB5AN responderá às seguintes perguntas comuns.
Quanto dinheiro preciso para investir?
Posso usar dinheiro emprestado ou dotado para fazer o investimento?
Em quanto tempo posso me mudar para os Estados Unidos?
Quanto tempo meu dinheiro precisa estar investido?
Quais são os riscos?
O que é aprovação exemplar, e por que é importante?
Quando posso me tornar um cidadão americano?
Posso trazer minha família?
Posso viver em qualquer lugar nos Estados Unidos?
E se eu já estiver residindo nos EUA com um visto de não-imigrante como F-1, H-1B ou L-1?
Os benefícios do visto EB-5 incluem:
Residência permanente nos EUA para investidor, cônjuge e filhos menores de 21 anos;
Capacidade de viver e trabalhar nos Estados Unidos;
Capacidade de iniciar um negócio;
Acesso a programas do governo federal e estadual dos EUA;
Elegibilidade para a cidadania dos EUA após cinco anos;
Viagem sem visto para mais de 130 países com passaporte americano;
Maior chance de admissão em universidades dos EUA;
Taxas de matrícula mais baixas em universidades públicas dos EUA; e
Possibilidade de trazer membros da família estendida para os Estados Unidos.
Receba os fatos essenciais e ouça suas perguntas respondidas por especialistas do EB-5!
Get introductions to experienced EB-5 immigration attorneys. You will need an attorney to help prepare your source of funds report and file your EB-5 visa petition with USCIS.
Share this page with your friends so they can register and join a private session. Space is limited, so you must register in advance to reserve your seat. We recommend you reserve now; many of our other sessions are already filled out.
Receba apresentações para advogados de imigração experientes na indústria do EB-5. Você precisará de um advogado para ajudar a preparar seu relatório de fonte de fundos e solicitar sua petição de visto EB-5 junto ao USCIS.
Compartilhe esta página com seus amigos e familiares para que eles possam se inscrever e participar de uma sessão privada. O espaço é limitado, inscreva-se com antecedência para reservar seu lugar. Recomendamos que você reserve agora; muitas de nossas outras sessões já estão preenchidas.
You will Meet One-on-One With:
Você terá a oportunidade de reunir-se pessoalmente com:
Mike Schoenfeld is the managing partner of EB5AN. He has an extensive private equity investment, business diligence, management consulting, and entrepreneurship experience. Prior to EB5AN, Mike worked for AEA Investors, a leading middle-market private equity firm with $6 billion under management. Mike was previously employed by Boston Consulting Group, one of the top management consulting and business strategy firms in the world, where he worked directly with Fortune 500 Companies. Mike holds a B.A. in Economics and a B.S. in Business Administration from the University of North Carolina. Mike was also recognized by Forbes Magazine as a Forbes 30 Under 30 National Winner for Social Entrepreneurship.
Mike Schoenfeld é sócio-diretor da EB5AN. Possui ampla experiência em private equity, business diligence, consultoria gerencial e empreendedorismo. Antes da EB5AN, Mike trabalhou para a AEA Investors, uma empresa líder de private equity de mercado médio com US$ 6 bilhões sob gestão. Mike foi anteriormente empregado pela Boston Consulting Group, uma das principais empresas de consultoria de gestão e estratégia de negócios do mundo, onde trabalhou diretamente com Fortune 500 Companies. Mike possui licenciaturas em Economia e em Administração de Empresas pela Universidade da Carolina do Norte. Mike também foi reconhecido pela Revista Forbes como um vencedor nacional da Forbes 30 Under 30 para empreendedorismo social.
Felipe Mendes has extensive experience in business management, venture capital financing, and civil engineering, putting him in an ideal position to help Brazilian investors immigrate through the EB-5 program. In addition to serving as EB5AN's country business manager for Brazil, Felipe is also an associate at Valor Capital Group, a leading investment firm with a strong presence in both Brazil and the United States. Valor Capital's portfolio companies have attracted more than $6 billion in follow-on capital. In addition, Felipe holds degrees in civil engineering from the Ecole Nationale des Ponts et Chaussées in Paris, France, and the Instituto Militar de Engenharia in Brazil. Felipe is currently a master's candidate in Macroeconomics and Finance at the Pontificia Universidade Católica do Rio de Janeiro. He has also been active as a research fellow at the Brazilian National Council for Scientific and Technological Development.
Felipe Mendes tem vasta experiência em gestão de negócios, financiamento de capital de risco e engenharia civil, colocando-o em uma posição ideal para ajudar investidores brasileiros a imigrarem por meio do programa EB-5. Além de atuar como country business manager da EB5AN para o Brasil, Felipe também é sócio do Valor Capital Group, empresa líder em investimentos com forte presença no Brasil e nos Estados Unidos. As empresas de portfólio da Valor Capital atraíram mais de US$ 6 bilhões em capital follow-on. Além disso, Felipe é formado em engenharia civil pela Ecole Nationale des Ponts et Chaussées em Paris, França, e pelo Instituto Militar de Engenharia do Brasil. Felipe é atualmente mestre em Macroeconomia e Finanças na Pontifícia Universidade Católica do Rio de Janeiro. Também atuou como pesquisador do Conselho Nacional de Desenvolvimento Científico e Tecnológico.
Mila de Olano joined the EB5 Affiliate Network (EB5AN) in June 2022, becoming the firm's first marketing director for Latin America. She leads the expansion of EB5AN's marketing efforts in all LATAM country markets. Previously, Mila was the global development coordinator at InvestAmerica, a Tampa, Florida-based company offering EB-5 investments. In this role, she used her communication skills to help families from Latin America and around the world with their immigration journey to the United States. Prior to her work with immigrant investors, Mila was a key member of ExxonMobil's Latin America customer care team in Brazil and served on the staff of the Everest International School in Curitiba. She moved to Fort Lauderdale, Florida, to attend The Language Academy, and later attended The Atlanta English Institute in Georgia. She began her U.S. career with Promethean, Inc., an educational technology company serving customers in the U.S. and Latin America. Mila holds a bachelor's degree in Education and Development from Universidad Anáhuac, a course of study that culminated with a two-year internship in Monterrey, Mexico. She earned a minor degree in Spanish from Instituto Cervantes and took undergraduate courses in Business and Administration at Pontifícia Universidade Católica do Paraná.
Mila de Olano ingressou na EB5 Affiliate Network (EB5AN) em junho de 2022, tornando-se a primeira diretora de marketing da empresa para a América Latina. Ela lidera a expansão dos esforços de marketing da EB5AN em todos os mercados de países LATAM. Anteriormente, Mila foi coordenadora global de desenvolvimento da InvestAmerica, uma empresa com sede em Tampa, Flórida, que oferece investimentos EB-5. Nesse papel, ela usou suas habilidades de comunicação para ajudar famílias da América Latina e de todo o mundo em sua jornada de imigração para os Estados Unidos. Antes de trabalhar com investidores imigrantes, Mila foi um dos principais membros da equipe de atendimento ao cliente da ExxonMobil na América Latina no Brasil e atuou na equipe da Escola Internacional Everest, em Curitiba. Ela se mudou para Fort Lauderdale, Flórida, para frequentar a The Language Academy, e mais tarde frequentou o Atlanta English Institute, na Geórgia. Ela começou sua carreira nos EUA com a Promethean, Inc., uma empresa de tecnologia educacional que atende clientes nos EUA e América Latina. Mila é licenciada em Educação e Desenvolvimento pela Universidad Anáhuac, um curso de estudo que culminou com um estágio de dois anos em Monterrey, México. Formou-se em espanhol pelo Instituto Cervantes e fez cursos de graduação em Administração de Empresas pela Pontifícia Universidade Católica do Paraná.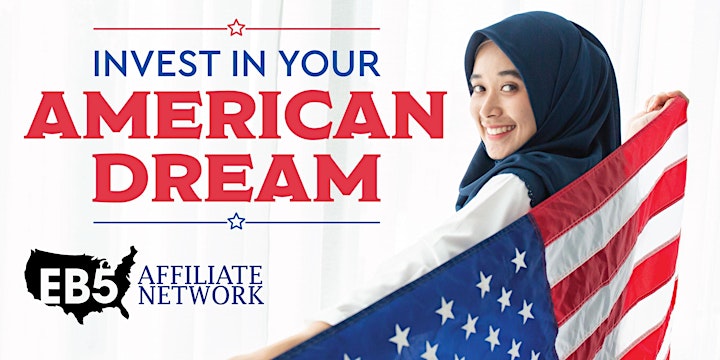 Sponsor: EB5 Affiliate Network (EB5AN)
Patrocinador: EB5 Affiliate Network (EB5AN)
EB5 Affiliate Network (EB5AN) helps foreign investors obtain U.S. permanent residency, or green cards, through investments in U.S. regional center investment projects within the guidelines of the EB-5 Immigrant Investor Program.
EB5AN is a national EB-5 regional center operator, EB-5 consulting firm, and global fund manager. The company has offices in the United States, India, Brazil, Vietnam, UAE, South Africa, and China. More than 2,000 EB-5 families from more than 60 countries have selected EB-5 projects sponsored by EB5AN.
A EB5 Affiliate Network (EB5AN) ajuda investidores estrangeiros a obter residência permanente nos EUA, ou green cards, através de investimentos em projetos de investimento em centros regionais dos EUA dentro das diretrizes do Programa de Investidores Imigrantes EB-5.
A EB5AN é uma operadora nacional de centros regionais EB-5, consultoria EB-5 e gestora global de fundos. A empresa tem escritórios nos Estados Unidos, Índia, Brasil e China. Mais de 2.000 famílias de mais de 60 países selecionaram projetos EB-5 patrocinados pela EB5AN.
https://eb5visainvestments.com/
https://eb5affiliatenetwork.com/
info@eb5an.com