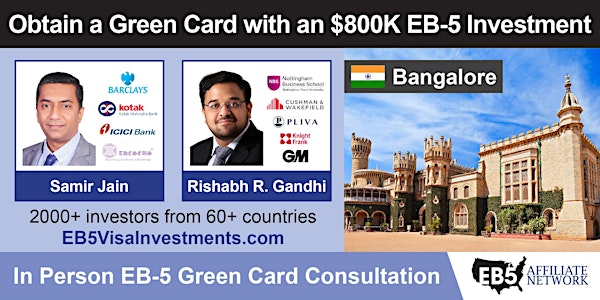 Obtain a U.S. Green Card With an $800K EB-5 Investment – Bangalore
Meet in person with our EB5AN team of experts to learn how to obtain a U.S. Green Card with an $800K Regional Center EB-5 Investment
When and where
Location
The Leela Palace Bengaluru - Garden City's Only Modern Palace Hotel 23 HAL Old Airport Road Bengaluru, KA 560008 India
About this event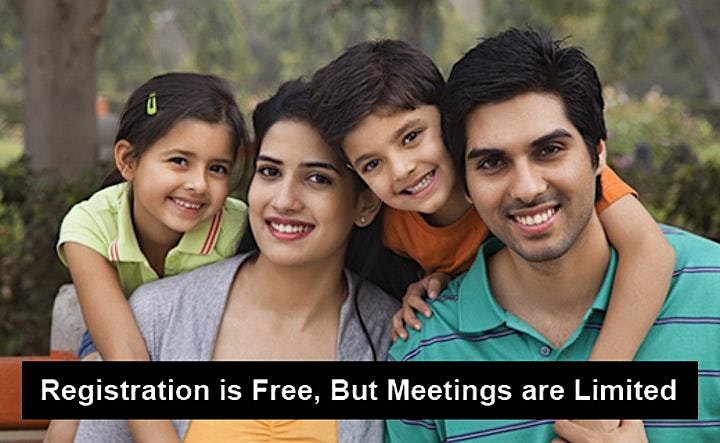 Obtain a U.S. Green Card With an $800K Regional Center EB-5 Investment
SIGN UP TODAY – Contact our team by sending an email to rishabh.gandhi@eb5an.com to pick the best time for you and your family to meet privately and in person with our EB-5 investment experts!
We invite you to attend our EB-5 Visa Info Session with EB5AN's team.
More than 2,000 families from 60+ countries have selected EB-5 projects sponsored by EB5AN.
Join us for an informative session to learn how to get a Green Card for yourself and your family through the EB-5 visa program with an $800,000 investment. You will also learn why EB5AN is the most recommended regional center EB-5 project sponsor.
The EB5AN team will answer the following common questions.
How much money do I need to invest?
Can I use borrowed or gifted money to make an investment?
How soon can I move to the United States? How long does my money need to be invested?
What are the risks?
What is exemplar approval, and why is it important?
When can I become a U.S. citizen?
Can I bring my family?
Can I live anywhere in the United States?
What if I am already residing in the U.S. on a nonimmigrant visa such as F-1, H-1B, or L-1?
Benefits of the EB-5 visa include:
Permanent U.S. residency for the investor, spouse, and children under age 21;
Ability to live and work in the United States;
Ability to start a business;
Access to U.S. federal and state government programs;
Eligibility for U.S. citizenship after five years;
Visa-free travel to 130+ countries with a U.S. passport;
Higher chance of admission to U.S. universities;
Lower tuition fees at public U.S. universities; and
Possibility of bringing extended family members to the United States.
Get the essential facts and hear your questions answered by EB-5 experts!
Get introductions to experienced EB-5 immigration attorneys. You will need an attorney to help prepare your source of funds report and file your EB-5 visa petition with USCIS.
Share this page with your friends so they can register and join a private session. Space is limited, so you must register in advance to reserve your seat. We recommend you reserve now; many of our other sessions are already filled out.
You will Meet One-on-One With:
Samir Jain is EB5AN's Managing Director for GCC, India, and South East Asia. He is a seasoned banker with over 20 years of international experience spanning the U.K, Middle East, CIS and India. He is also the Managing Director of Phikanet Advisors from UAE, advising Corporates on raising funds and restructuring their finance. He is previously the Director of Investment Banking with Theseus Ventures. Samir has also worked with leading banks like Standard Chartered, Barclays, Kotak, and ICICI Bank.
Rishabh Gandhi is EB5AN's Senior Director for India, GCC, and South East Asia markets. He graduated from Nottingham Business School with an MBA in Global Strategic Management, Theory of Constraints (T.O.C), and Entrepreneurship. He previously worked with leading investment companies such as Cushman and Wakefield and Knight Frank. He was also a Vice President with LCR Capital Partners, a private investment and advisory services company supporting clients who are interested in immigrant investor programs. He was also a Consultant with Pliva in Zagreb, Croatia, and Gunn & Moore in the UK.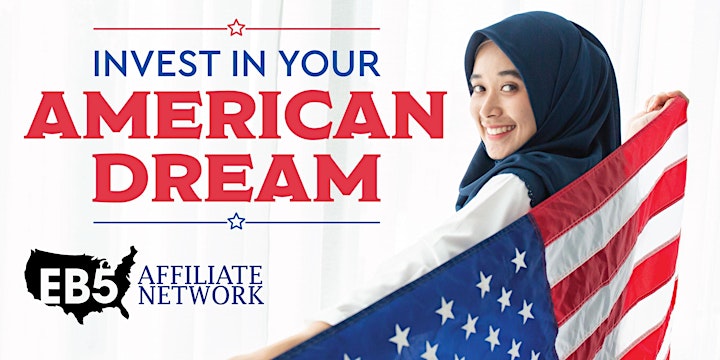 Sponsor: EB5 Affiliate Network (EB5AN)
EB5 Affiliate Network (EB5AN) helps foreign investors obtain U.S. permanent residency, or green cards, through investments in U.S. regional center investment projects within the guidelines of the EB-5 Immigrant Investor Program.
EB5AN is a national EB-5 regional center operator, EB-5 consulting firm, and global fund manager. The company has offices in the United States, India, Brazil, Vietnam, UAE, South Africa, and China. More than 2,000 EB-5 families from more than 60 countries have selected EB-5 projects sponsored by EB5AN.
https://eb5visainvestments.com/
https://eb5affiliatenetwork.com/
info@eb5an.com