Observing Earth: Earth Month event at InfoAge

Saturday, April 12, 2014 from 1:00 PM to 5:00 PM (EDT)
Event Details
Observing Earth: Beyond Hurricane Sandy
Saturday, April 12, 2014, 2:00-4:00 pm InfoAge Science History Museum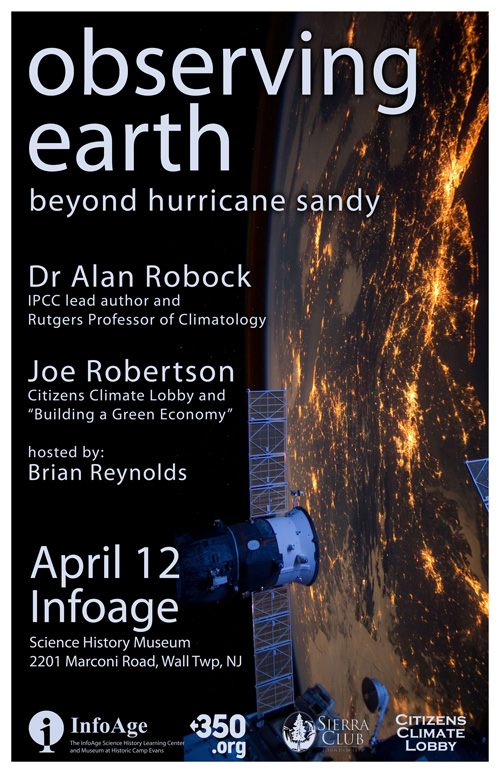 Wall Township, NJ — 'Observing Earth: Beyond Hurricane Sandy' is an Earth Month event to update the public on Earth's changing climate, with a focus on risks and solutions. The event will be held Saturday, April 12, 2014, from 2:00-4:00 pm at the InfoAge Science History Museum in Wall Township, NJ. Last year's 'Earth Day Gathering' event was attended by more than 80 people.
This year's lineup will include Dr. Alan Robock, Professor II in the Department of Environmental Sciences at Rutgers University and the lead author of IPCC; Joseph Robertson, Strategic Coordinator for Citizens Climate Lobby and author of the book Building a Green Economy; and Brian Reynolds (host and moderator), who is a 350.org member and certified Climate Reality Project presenter.
The event will discuss several topics related to climate change, with some new perspectives. Dr. Robock will discuss the parallel dangers of nuclear conflict and climate change in a talk titled "Climatic Consequences of Nuclear Conflict: Nuclear Winter Still a Threat".
Joe Robertson will deliver a presentation titled: "Living the Paradigm Shift: Inventing our Climate Future", addressing the current state of the climate crisis along with technological and political solutions. Joe says "Human beings—with our industry, our technology and our numbers—are enough of a force to affect the integrity of the interlocking web of life supports that makes the Earth friendly to human life. We have real options available to allow us to manage that responsibility intelligently, for the benefit of future humanity; why would we not do that?"
The title 'Observing Earth' makes reference to the extraordinary history of scientific achievement at the InfoAge site. In 1960, Camp Evans was ground station for TIROS-I, the world's first successful Earth-observing weather satellite, allowing for the first time a live feed of images of the Earth from space. That breakthrough in science, engineering and global information gathering, was a major success for NASA only two years after the agency formed, so successful that it expanded to create the vital Earth-observing work of the National Oceanic and Atmospheric Administration (NOAA). Today, the Camp Evans National Historic Landmark exists as part of a science history museum called InfoAge. 
Fred Carl, InfoAge Director, admits most people are not aware of the historical impact the site had on modern society. "Advanced warning of an approaching hurricane gives time for people to flee to safety. Millions of lives have been spared thanks to the technology that was developed here" says Carl.
Saving lives is something the event organizer, Stephen Fowler, says is at the heart of the event. "It is from the vantage point of space that scientists are able to gather data that impacts us all. Whether it is a massive hurricane, man-made CO2 contributing to a greenhouse effect or information for a climate model study on the impact a nuclear blast has on the stratosphere, Earth observing satellites save lives by predicting our climate future."
The historic TIROS radio dish and a 1940s Dymaxion Deployment Unit designed by green architecture pioneer Buckminster Fuller will be open from 1:00-5:00 pm on Saturday. Efforts are currently underway to restore the historic artifacts and optional guided tours will be offered at the conclusion of the program at 4:00 pm.
There will be a Tesla Model S at the entrance, for attendees who wish to see one of the already-existing cutting-edge solutions to the world's climate-energy imbalance. (In May 2013, Consumer Reports gave the Tesla Model S the highest rating of any car ever tested.)
Local New Jersey chapters of 350.org, Citizens Climate Lobby, the Sierra Club and Monmouth Transitions are co-sponsoring the event.
There is a suggested donation of $5 per person. All proceeds go to supporting the museum.
When & Where

InfoAge - Science History Learning Center and Museum
2201 Marconi Rd
Wall Township, NJ 07719


Saturday, April 12, 2014 from 1:00 PM to 5:00 PM (EDT)
Add to my calendar
Organizer
InfoAge is a unique, community-based science history museum, located in Wall Township, on the grounds of the former US Army Signal Corps research and development facility Camp Evans. It was here that Guglielmo Marconi developed trans-Atlantic radio broadcast capabilities, and where advanced radar and satellite tracking were achieved.