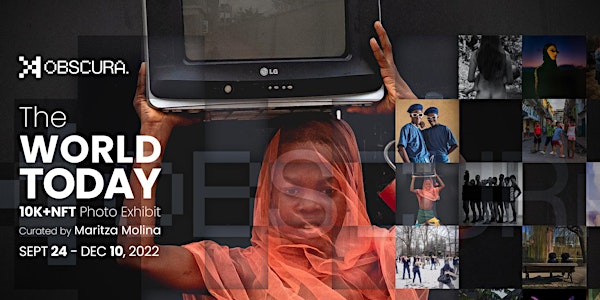 Obscura "The World Today" - An NFT Photography Exhibition
The World Today | PHOTO, NFTS, WEB3 | IRL EXPO OF A 10K+ NFT PHOTOGRAPHY COLLECTION | COMING to MAD Arts September 24th
When and where
Location
Yes We Are Mad 481 South Federal Highway Dania Beach, FL 33004
About this event
Obscura: The World Today 10K+ NFT Photography Exhibit
Opening night: September 24 at 5 p.m.
Live panel open discussion: 5:30 p.m.
FREE and open to the public
Enjoy interactive experiences
Learn about artists' Web3 journeys
Step into the 21st Century's first global visual timestamp
MAD Arts presents:
An IRL gallery show of Obscura's "The World Today" 10K+ NFT photo collection Exhibit features 138 International photographers – the largest NFT photography commission on the Blockchain today.
A live panel discussion will start at 5:30 p.m. This interactive broadcast event features some TWT artists and original curators from Obscura. The live panel will have an open discussion surrounding photography, NFTs, and Web3, and introduce the community that participates in the Web3 NFT art space.
Event details:
Curated by Multi-Media Artist Maritza Molina, this IRL NFT exhibition will showcase the works of 138 international photographers from 6 continents, 39 countries, and 90+ cities, combining world-renown artists, and emerging talent from National Geographic, Magnum Photos, Guggenheim fellows, World Press Photo, Pulitzer Prize, and Emmy Award winners.
Each photographer was given one month, from March-April 2022, during a time when much of the world was experiencing chaos, to capture a microcosm of life. Their work offers a unique glimpse of our connections in the 21st Century to ourselves, nature, earth, death, humanity, culture, technology, politics, war, isolation, architecture, community, family, relationships, children, the past, the present, the future, our ancestors, the imagination, the abstract, and worlds not visible to most. This project is an ode to the 1955 exhibition "The Family of Man" by legendary curator Edward Steichen for the MoMA.
Portions of this captivating visual ledger of 13,800 tokens on the blockchain will be on view at the gallery in an exhibit of interchangeable spaces, creating an infinite combination of images constantly changing, where no moment is ever the same. Visitors will be able to scan the QR code of any image, visit the NFT auction of that artist's work, and become crypto art collectors, supporting TWT projects and artists in their Web3 journey.
The "Talking Space" gallery, a unique feature of the event, will showcase Q&A interviews with over 20 of the participating artists of TWT, giving access to their photographic practice and process, spanning over 15 countries, including Argentina, Austria, Belgium, Brazil, Cuba, Georgia, India, Lebanon, Mexico, Nigeria, Oman, Spain, Trinidad, United Kingdom, and US.
Obscura "The World Today" Exhibit runs from September 24 – December 10, 2022 at MAD Arts Gallery
* To purchase an NFT from TWT, visitors will need a Metamask crypto wallet.
Photo credits:
01. Bruno Morais, Itacaré, Brazil
02. Thomas Dworzak, Paris, France
03. Oksana Parafeniuk, Kyiv and Ukraine
04. Ronald Pizzoferrato, Caracas, Venezuela
05. Showkat Nanda, Srinagar, India
06. Eman Ali, Muscat, Oman