OBO Virtual Small Business Week Conference - Opportunities Out of Crisis
Come join the City of Columbia OBO as we recognize the contributions of Columbia's entrepreneurs and small business owners!
About this event
For more than 50 years, the U.S. Small Business Administration has celebrated National Small Business Week (NSBW), which recognizes the critical contributions of America's entrepreneurs and small business owners. We are facing unique challenges together. However, American small businesses continue to play a central role in building a strong country, prepared for any obstacles in the future.
This year National Small Business Week will be held the week of September 13th. In recognition of National Small Business Week, OBO will host our Annual Small Business Week Conference on Thursday, September 16th from 9am-12pm. This year's theme is Opportunities Out of Crisis and will be held virtually.
We are excited to announce our keynote speaker is Chris Heivly. Chris is one of the nation's leading experts in how to turn startups into multimillion-dollar companies and has been dubbed the "Startup Whisperer."
We'll also have a Small Business Panel featuring some of our amazing local small businesses. This panel will be moderated by the talented Cynthia Pryor Hardy, owner of OnPoint Media, as we discuss how these businesses pivoted during the pandemic. The conference will conclude with informative presentations from local procurement representatives and small business resource partners.
We will have a drawing for giveaways from our local small businesses. Including gift cards and a one-on-one business consultation with Chris Heivly! You must be registered and attend the virtual conference to win!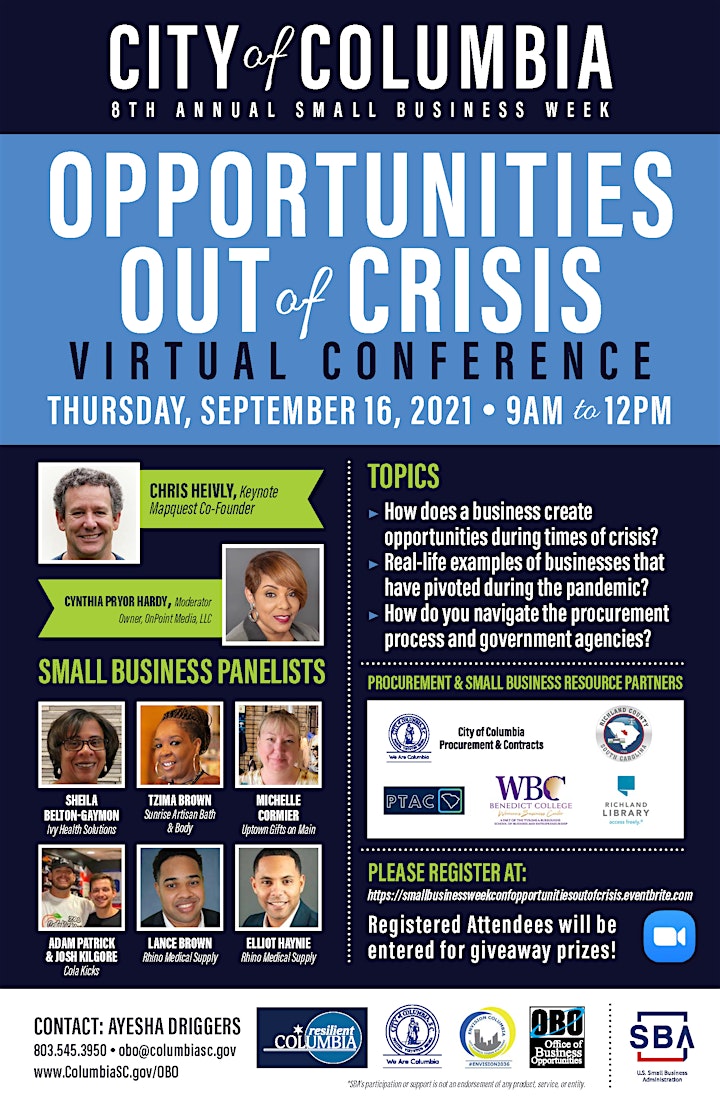 Organizer of OBO Virtual Small Business Week Conference - Opportunities Out of Crisis
The Office of Business Opportunities is committed to supporting initiatives that benefit small, women and minority owned businesses in the City of Columbia.  This objective is accomplished by providing creative financiing, technical assistance and eduction to build the capacity of these businesses. The office has three divisions: (1) Commercial Lending; (2) Technical Assistance, Education and Advocacy; and (3) Contractor and Supplier Diversity.