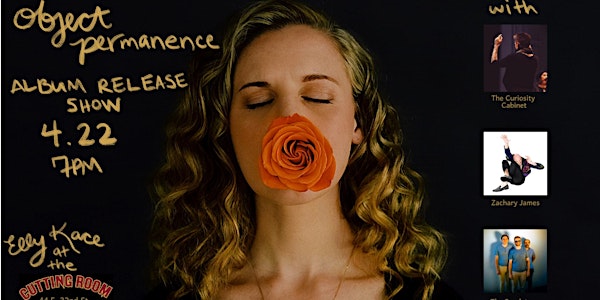 Object Permanence, Elly Kace's Album Release Show
UNDER 21 WITH PARENT OR LEGAL GUARDIAN
feat. The Curiosity Cabinet, Zachary James and The Sundots
Join us as we welcome Object Permanence, Elly Kace's Album Release Show feat. The Curiosity Cabinet, Zachary James, and The Sundots!
When and where
Location
The Cutting Room 44 E 32nd St. New York, NY 10016
About this event
4 hours

UNDER 21 WITH PARENT OR LEGAL GUARDIAN

Mobile eTicket
Come hear what happens when classically trained artists create outside the box at the album release show for Elly Kace's new record 'Object Permanence' via Bright Shiny Things. Elly and her band will play selections from the album supported by new music chamber ensemble The Curiosity Cabinet, Met opera star and indie artist Zachary James, and baroque-pop band The Sundots. It will be an incredible night of genre-bent tunes and high vibrations.
The Curiosity Cabinet
Curiosity Cabinet (proper noun): a chamber music collective whose drawers filled are with the musical curiosities and skills of instrumentalists and singers, each as unique as any wildlife oddity (see definition 1). Founded in 2009 by baroness of creativity Whitney George, the Curiosity Cabinet's interdisciplinary programming champions new works by living composers, featuring performances that invite participation in an immersive drama of sounds, images, and gestures. The Cabinet seeks always to offer its audiences opportunities to indulge in the radical pleasures of spectacle, in the fun of looking as well as listening, and in the disorientating effects of satirical subversion.
Zachary James
Zachary James, BroadwayWorld Performer & Vocalist of the Decade, 2022 Grammy Award Winner, created the role of Abraham Lincoln in Philip Glass' The Perfect American (Teatro Real, English National Opera, Opera Queensland), Terry in Missy Mazzoli's Breaking The Waves (Opera Philadelphia), Oberon in Il Sogno (Teatro Citta Della Pieve), Lurch in The Addams Family (Broadway) and Amenhotep in the Olivier Award-winning English National Opera production of Akhnaten and has performed with The Metropolitan Opera, Lincoln Center Theater, New York Philharmonic, Philadelphia Orchestra, NHK Symphony Orchestra Tokyo, Philadelphia Orchestra, LA Opera, and more and appeared on TV's 30 Rock, Law & Order, The Blacklist, Succession, SNL, Murphy Brown, Live From Lincoln Center, Tony Awards and more. Albums: Call Out, Exordium, Impossible Dream, Intergalactic, Wonder & Joy, and more.
The Sundots
The Sundots are a baroque pop/rock band founded in Detroit, MI, and based in NYC. Their fundamental sonic elements, strong baritone vocal melodies, contrapuntal explorations on piano and guitar, funky electric bass, and powerful rock 'n' roll drums. Their meticulously crafted songs explore the standard universal themes of human existence: love, heartbreak, and fresh fruit. Musical influences from rock, pop, 90s dance, and the Renaissance-Romantic eras form a melting pot of sound and create kaleidoscopic variety while still being undeniably themselves. The trio's energetic and theatrical live act is filled to the brim with grace, quirk, charm, and a healthy dose of baroque 'n' roll. This performance will also serve as a release date for their new LP Flowers in Mythology: Agapanthus, the follow-up album to 2021's Flowers in Mythology: Polemonium.
Elly Kace
Elly Kace's music is anchored by her unshakable openness: her willingness to experience new things, embrace new perspectives and adapt to difficult circumstances. An acclaimed opera singer, she explored new sides of herself when she released her debut pop album in 2021's Nothing I see means anything, a densely conceptual and boundary-pushing collection of songs that explored her meditative, introspective, and danceable side. Straddling experimental indie-pop and contemporary-classical sound world, her new album, "ObjectPermanence" examines the idea of spiritual permanence in the face of death. Through her deeply personal multidimensional songs, other-worldly sound-bending instruments and electronics, and multi-tracked vocals, Kace excavates her grief and turns it into something healing and stunning.