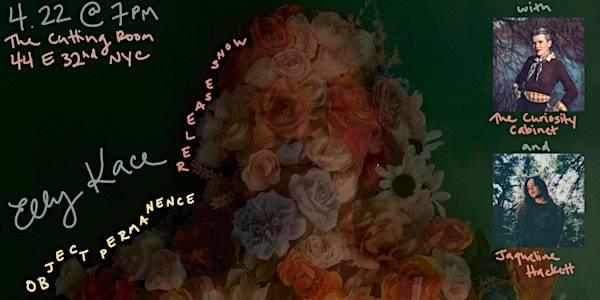 Object Permanence, Elly Kace's Album Release Show
UNDER 21 WITH PARENT OR LEGAL GUARDIAN
feat. The Curiosity Cabinet, Zachary James and The Sundots
Join us as we welcome Object Permanence, Elly Kace's Album Release Show feat. The Curiosity Cabinet, Zachary James, and The Sundots!
Date and time
Saturday, April 22 · 7 - 11pm EDT.
Location
The Cutting Room 44 E 32nd St. New York, NY 10016
About this event
4 hours

UNDER 21 WITH PARENT OR LEGAL GUARDIAN

Mobile eTicket
Object Permanence
Elly Kace's Album Release Show
feat. The Curiosity Cabinet and Jacqueline Hackett
7 The Curiosity Cabinet
7:45 Jacqueline Hackett
8:30 Elly Kace
Curiosity Cabinet (proper noun): a chamber music collective whose drawers filled are with the musical curiosities and skills of instrumentalists and singers, each as unique as any wildlife oddity (see definition 1). Founded in 2009 by baroness of creativity Whitney George, the Curiosity Cabinet's interdisciplinary programming champions new works by living composers, featuring performances that invite participation in an immersive drama of sounds, images, and gestures. The Cabinet seeks always to offer its audiences opportunities to indulge in the radical pleasures of spectacle, in the fun of looking as well as listening, and in the disorientating effects of satirical subversion.
Jacqueline Hackett is a Brooklyn-based singer/songwriter with a nostalgic, slow burning sound that touches on the themes of love and loss - connecting to her audience through unfiltered lyricism and acute moments of vulnerability. Hackett's debut EP, As the Summer Let You Down, submerges her listeners into the complex emotions that are attached to the profound grief of a loved one, personal identity and hope. Lead single, "Garden," is a lyrical recount of the waves of personal hardship attached to the meaning of her late-father's life and death with effortless vocals swimming atop laid back, ethereal instrumentation. Following single, "Stone Cold Mary," is an upbeat musical juxtaposition narrating the challenges of family dynamic/religion and is currently in rotation on Sirius XM's "The Coffee House." As the Summer Let You Down, is available on all streaming platforms now.
Elly Kace's music is anchored by her unshakable openness: her willingness to experience new things, embrace new perspectives, and adapt to difficult circumstances. An acclaimed opera singer, she explored new sides of herself when she released her debut pop album in 2021's Nothing I see means anything, a densely conceptual and boundary-pushing collection of songs that explored her meditative, introspective, and danceable side. Straddling experimental indie-pop and contemporary-classical sound world, her new album, "Object Permanence" examines the idea of spiritual permanence in the face of death. Through her deeply personal multidimensional songs, other-worldly sound-bending instruments and electronics, and multi-tracked vocals, Kace excavates her grief and turns it into something healing and stunning.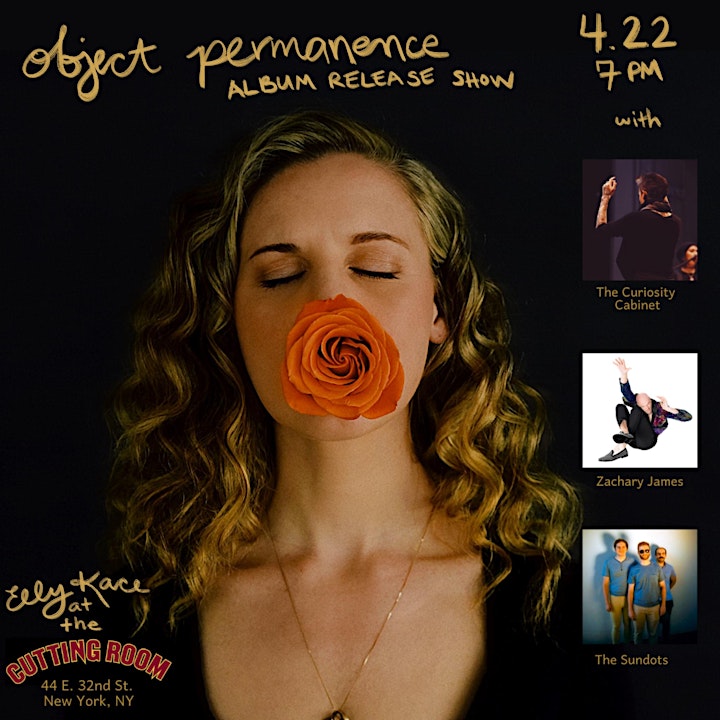 About the organizer
There is a $25 minimum for food and beverage.