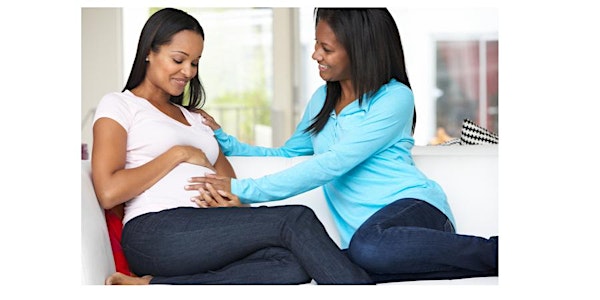 OB & Midwifery Provider Info Session: UHC-HMHBA Las Vegas Doula Program
Webinar for OB docs, Midwives, L& D RNs, MCAH Program Director: How Doulas can help your patients & how to refer them to this FREE program
About this event
Now Enrolling!
United Healthcare and Happy Mama Healthy Baby Alliance have joined forces to offer FREE Professional Doula Support for Las Vegas families through 2024.
OB and Midwifery providers, L & D RNs, MCAH Program Directors, and Health & Human Service Professionals are invited to attend this FREE, 1-hour Zoom webinar to find out more about how Professional Doulas make a difference with birthing moms, and how doctors, nurses, midwives and doulas can work together for the benefit of mothers and babies.
In this one-hour session, attendees will learn how to offer this FREE service to their pregnant patients.
Intended Audience:
OB-GYN Physicians & Providers
L & D RNs
Maternal-Child Health Program Directors
Nurse Practitioners
Physician Assistants
Childbirth Educators
Birth Center Managers
Nurse Managers - L and D and Maternity
Certified Nurse-Midwives (CNMs)
Certified Professional Midwives (CPMs)
Licensed Midwives (LMs)
Lactation Consultants & Counselors
Marriage and Family Therapists (MFTs)
CNAs and MAs
WHAT IS A DOULA?
Doulas ("Doo-Lahs") are trained, non-medical maternity care providers who provide emotional support, health education, advocacy and physical comfort to pregnant and birthing women.
In 2021, ACOG and SMFM Committee Opinion recognized that all laboring women should have a doula present. Since doulas have been found to have such a positive impact on birth outcomes, especially in lowering the high rates of cesarean section, the article made the recommendation that more programs need to be developed in order to provide all laboring women with emotional support. It put the call out to providers and health care organizations to develop programs that will make doulas available to all women in labor; which is what we at United Healthcare Happy Mama Healthy Baby do--regardless of ability to pay.
WHAT DOULAS PROVIDE
• Emotional Support
• Physical Comfort
• Advocacy
• Identification of emergencies of pregnancy and postpartum & referrals to social service and medical providers as needed
• Pregnancy, Childbirth, Lactation and Postpartum Health Education
• Breastfeeding Education and Support
• Screening for Perinatal Mood and Anxiety Disorders
RESULTS OF DOULA CARE
The results of Doula care show that women who had continuous labor support from a Doula had:
• Lower Primary Cesarean Sections
• Increased rates of VBAC
• Shorter Labors
• Less use of pain medication
• Fewer medical interventions
• Increased breastfeeding initiation and duration
• Lower rates of preterm labor and premature births
• Less incidence of low birth weight infants
• Lowered rates of maternal depression
• Better maternal-infant interaction
• Increased satisfaction with their childbirth experience