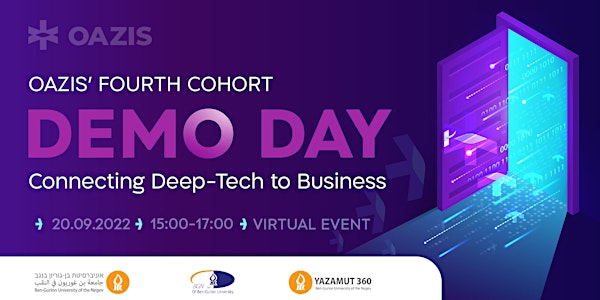 Oazis 4th Demo Day
Oazis Demo Day- Connecting Deep Tech to Business
About this event
Oazis is Ben-Gurion University's Accelerator and Venture Builder that leverages researchers' technological discoveries and entrepreneurship to grow deep-tech start-ups from early stage to funding.
We are thrilled to invite you to join us for our 4th Cohort's Demo Day!
Meet our six startups, graduates of the Oazis' 4th cohort, and discover cutting-edge deep technology innovations - in Quantum technology, Climatetech, Healthtech, Smart Cities, New Materials and more.
Be a part of the Oazis Success Story - incredible yet true:
In just 2.5 years Oazis has created 18 startups, 12 have already successfully raised funds, a total of $16M+, average raised / startup = $1.3M, ~6 months after graduation!
Zoom link to Oazis Demo Day->>https://us02web.zoom.us/j/2869422320
September 20th, 2022 at 3:00 PM.
Oazis is run by Yazamut360 - BGU's Entrepreneurship Center
Don't hesitate to contact us if you have any questions:
oazis@post.bgu.ac.il
www.bgu-oazis.com
We look forward to seeing you!
Presenting by this order :
PhotonicsQ Empowering the quantum technology revolution by designing and fabricating quantum photonic circuits on integrated chips for scalable quantum machines.
bFast A novel and patented method to identify Tract bacteria and their susceptibility to antibiotics within 45 minutes.
SenseGait A multisensory belt that helps people walk normally again by providing missing information of walking sensations through touch stimuli on the waist.
RadarWiz A cloud-based Sensing and Control solution that collects and fuses data from multiple automotive radar networks for Smart City applications.
Skorus
A novel bioinspired anti-reflective coating inspired by nanostructures of moth's eyes for multiple applications.
CarboNegev
A novel and patented technology that converts carbon emissions, solid waste, biomass and waste gas directly into high-quality green liquid fuels and chemicals.